Southeast Museum of Photography to host "Days of Punk" exhibition at Daytona State College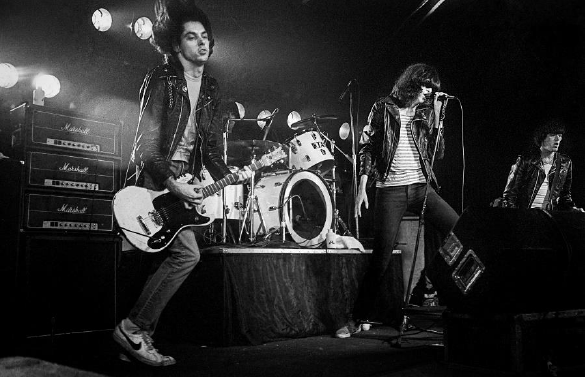 The Ramones performing in 1981.
LOS ANGELES, Calif, (August 16, 2022) – "Days of Punk," Los Angeles-based photographer and director Michael Grecco's multi-media solo exhibition celebrating punk music and culture, opens August 30 at the Southeast Museum of Photography at Daytona State College.
The show is presented in partnership with the Lisbon, Portugal-based production firm Terra Esplendida. It will run through December 17 and marks the first time "Days of Punk" will be shown in the United States. It premiered last fall with a special public installation at the international photography fair Photo London.
On August 30, the Southeast Museum of Photography will host an opening reception for "Days of Punk" from 6-8 p.m. in the Madorsky Theater, including an artist lecture by Michael Grecco. Copies of his book "Punk, Post Punk, New Wave: Onstage, Backstage, In Your Face, 1978–1991" will be available for purchase and signing through the museum's gift shop. The opening event is free and open to the public, but reservations are encouraged. To register, please visit the Eventbrite on the museum's website southeastmuseumofphotography.org or call the museum's front desk at 386-506-3894.
The more than 100 photographs to be featured date back to the late '70s through the early '90s, when Grecco documented the nightclub and concert scenes in New York and Boston as punk roared into the U.S. He was working as an Associated Press photographer, and lensman for legendary rock station WBCN-FM, and was a self-described "club kid" who had a unique opportunity to embed himself into this revolutionary scene as both a chronicler and a participant. Grecco captured for posterity a riotously outspoken time in pop culture history, with all its raw energy and outrageous antics.
Among the punk artists seen through Grecco's lens are Adam Ant, Billy Idol, Buzzcocks, The Clash, Dead Kennedys, Elvis Costello, Joan Jett, Aimee Mann, the Ramones, Siouxsie and the Banshees, the Specials, Talking Heads, Wendy O. Williams, and many more. In addition to the photographs, visitors to the exhibition will experience soundscapes specially created for "Days of Punk" in collaboration with Roger Miller and Peter Prescott of the cult band Mission of Burma. The video component was put together in collaboration with Jeremy Troy, and includes archival footage that Grecco himself shot during the punk era. Additionally, posters, magazines and other memorabilia from back in the day – all from Grecco's personal collection – will be displayed.
Additionally, the Museum intends to encourage public participation by inviting guests to sign or "leave their mark" on a faux brick wall designed to immerse visitors in the action and reinforcing the performance aspect and communal spirit of punk.
These photographs, which are the centerpiece of the exhibition, had been dormant in Grecco's flat files until his archivist suggested revisiting this previously unseen body of work. After they did a deep dive into the past, their efforts lead to Grecco's book Punk, Post Punk, New Wave: Onstage, Backstage, In Your Face, 1978–1991 (Abrams Books, 2020), which introduced these images for the first time. In addition to the 162 photographs, the book features a foreword by Fred Schneider of the B-52s, an essay by veteran rock journalist Jim Sullivan, and Grecco's pithy personal anecdotes from his times hanging out with the musicians he was shooting.
The images then became available as limited-edition prints - on Ilford Gold Fibre Gloss paper – to collectors for the first time, and plans got underway for the inaugural exhibition of "Days of Punk" at Photo London in collaboration with London's Iconic Images. Going forward, "Days of Punk" will continue to travel the world.
Admission is free to "Days of Punk" at the Southeast Museum of Photography. Museum Hours are Tuesdays-Fridays 11 a.m. - 5 p.m. and Saturdays noon - 5 p.m.
About Michael Grecco (b 1958 -)
Michael Grecco is an award-winning fine art and advertising photographer and director based in Los Angeles. He is recognized internationally for his high concept imagery, mastery of lighting, and powerful connections with his subjects in an immense body of work that encompasses fine art, celebrity portraiture, music, commercial, and editorial photography. Born in New York City, Grecco attended college in Boston, where he began his professional career shooting for the Associated Press and covering the music scene for the legendary FM radio station WBCN. Previously unseen photographs from his time as a music photographer comprise his latest book, Punk, Post Punk, New Wave: Onstage, Backstage, In Your Face, 1978–1991 (Abrams), and the accompanying multimedia exhibition Days of Punk, which premiered at Photo London in 2021 and is now traveling the world.
Grecco moved to Los Angeles in the late 1980s when he was invited by People Magazine to come west to be a celebrity photographer for them. He has continued to create new work ever since, and his images have also appeared in publications including Time Magazine, Vanity Fair, Esquire, The Boston Globe, The Guardian, and Rolling Stone, among others. He is represented by Atlas Gallery and Iconic Images in London, The Howard Yezerski Gallery in Boston, Modern Rocks Gallery in Austin, TX, and The Photo Gallery, Halmstad, Sweden.
A father to three, he lives and works in Santa Monica with this wife and their two Russian Blue cats. In his spare time, he can be seen exploring the diverse neighborhoods and subcultures of his adopted hometown on his Triumph Bonneville, with a favorite camera in tow, ready to find, capture, and inspire.
About the Southeast Museum of Photography
The Southeast Museum of Photography's primary purpose is educational outreach. As a department of Daytona State College, the Museum sits on a cultural intersection between the campus and the surrounding community and endeavors to provide educational opportunities for both. The Southeast Museum of Photography exhibits, collects, preserves, and interprets photography to facilitate teaching and learning at Daytona State College, and enhances the community's understanding and appreciation of culture, history, art and photography.
About Terra Esplendida
Founded in 2006, Lisbon-based Terra Esplêndida (TE) specializes in cultural projects and is able to present a diverse portfolio of events and exhibitions. The company is comprised of professionals experienced in fields including production, promotion and management of cultural events, as well as in communication, marketing management, design and advertising. TE works in an integrated manner and has a dynamic network of contacts and partners including museums, universities, foundations, associations and municipalities, among other public and private entities internationally.
About the Book and Publisher
Punk, Post Punk, New Wave: Onstage, Backstage, In Your Face, 1978–1991 By Michael Grecco Introduction by Jim Sullivan; Foreword by Fred Schneider Abrams / November 10, 2020 U.S. Founded in 1949, ABRAMS Books was the first company in the United States to specialize in publishing art and illustrated books. The company continues to publish critically acclaimed and best-selling works in the areas of art, photography, cooking, craft, comics, interior and garden design, entertainment, fashion, and popular culture.
For more information, contact: Laura Grover at 310-994-1690 or LDG@lauragrover.net
###