Bart Sasnett departing as DSC Falcons Men's Soccer Coach; Assistant Coach Joe Avallone named New Head Coach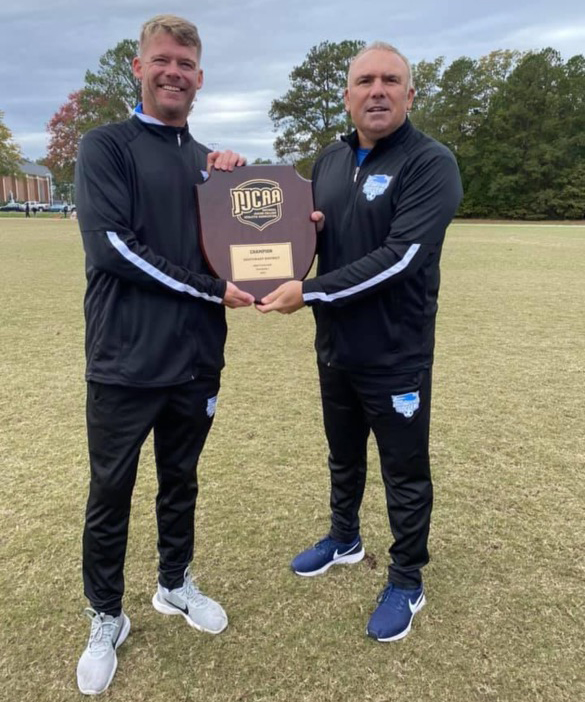 Departing Daytona State Men's Soccer head coach Bart Sasnett (left), will be handing the reins to Assistant Coach Joe Avallone, who has been named the new head coach.
Sasnett, who helped build the team from scratch with DSC President Tom LoBasso, racked up a 91-23-7 record over his seven-year run.
DAYTONA BEACH, FLA. (April 20, 2023) – Bart Sasnett, who has served as head coach of the championship-winning Daytona State Men's Soccer team since the program's inception in 2016, is departing to support a family move to Georgia. Assistant Coach Joe Avallone, who has been with the team since 2021, has been named the new head coach.

"It has been an incredible honor to help build this program and coach so many amazing student athletes," Sasnett said. "Daytona State has been an amazing place to work, and I hold its faculty, staff and administration in high regard. I cannot thank Athletic Director Will Dunne enough for his support and faith in allowing me to start the men's soccer program. I would also like to sincerely thank President Tom LoBasso for trusting his vision, methodology, and belief in me. It has been an absolute joy and pleasure to be a Falcon."
"Bart was the right man at the right time to help us build a men's soccer program that not only excels on the playing field but also serves as ambassadors showcasing the benefits of pursuing an education at Daytona State College," said DSC President Tom LoBasso. "Bart will be missed by athletes, their families and everyone he interacted with, and we're excited to begin our next chapter with new head coach Joe Avallone."
Sasnett quickly established Daytona State as a soccer powerhouse. In the first year of the program, the team took the Region VIII and Southeast District championships and entered the NJCAA national tournament ranked 7th in nation. The program has attracted players from across Florida, around the U.S. and overseas, and team members have gone on to play professionally, as well as competing in Division I, II, III and NAIA.
"In 2015 during the interview process, Dr. LoBasso explained his vision of creating a team that not only focused on athletic achievement, but also emphasized academic success, and that was tremendously appealing," Sasnett said. "Not only have we built a competitive team on the field, but our student athletes have been recognized as All-Americans and the team has maintained a 3.0+ GPA for four of the last six years."
Sasnett posted a record of 91-23-7 in seven seasons, with a home record of 44-8-2. Other program highlights include:
Four National Tournament appearances (2016, 2020-21, 2021, 2022)
Four Southeast District Championships (2016, 2020-21, 2021, 2022)
Three Region Championships (2016, 2021, 2022)
Two NJCAA National Tournament Team Sportsmanship Awards
One FCSAA Student Athlete of the Year
Four Region VIII Player/Co-Player of the Year honors
13 All-Americans
In his 19-year career Sasnett has compiled a NJCAA men's coaching record of 245-90-16.
"I'm so excited for Coach Joe Avallone to be taking over the program," Sasnett said. "Joe is an elite coach with a wealth of knowledge. Players are addicted to Coach Avallone and his style! Without question Joe has been a key component in our program's success the past few seasons. I think Coach Joe is going to do a fantastic job with Daytona State Soccer and I look forward to seeing their continued success."
"I also want to give special thanks to my assistant coaches over the years, Travis Rovillo and Jonathan Lopez," Sasnett said. "These guys have been hard working selfless servants, freeing us up to work outside the office recruiting, visiting players, networking, scouting and traveling. Without their support, our success wouldn't be possible. It has been an honor to coach with these men."
Sasnett and his family are moving to Rabun Gap, Georgia to support a new job opportunity presented to his wife Cortney Dowdle at Rabun Gap Nacoochee School as their new Director of Admissions. He has taken a position as Head Men's Soccer Coach and Assistant Athletic Director.
New Head Coach Joe Avallone takes the reins with more than 30 years of coaching experience. He is co-founder and Director of Coaching for the Florida Kraze/Krush Academy, played professionally with the Orlando Lions for six seasons, racked up 150 wins over 14 years in the United Soccer League, was inducted into the USL Hall of Fame in 2007 and spent 14 years as Head Coach of the Player Development League PDL Kraze team.
"It's been an honor working with Bart over the past three years to build this incredibly talented team of players," Avallone said. "We're getting stronger every year and the future holds incredible promise."
The Men's Soccer team opens the 2023 season in August.
# # #
Offering more than 100 certificate, associate and bachelor's degree programs, Daytona State College is the leader in education and workforce training needs of Volusia and Flagler counties and beyond for more than 60 years. The College enrolls approximately 23,000 students a year at its seven campuses, with graduates serving in critical fields including healthcare, emergency services and public safety, business, education, hospitality, engineering, technology, digital media, and more.

Daytona State has been recognized as a leader in higher education numerous times. U.S. News & World Report ranks the College among the Top Tier Best Online Bachelor's Programs. The U.S. Department of Education's College Affordability and Transparency Center ranks DSC among the top 50 most affordable public four-year institutions in the country, with less than half the tuition of the national average. And U.S. News & World Report has ranked DSC among its Top Online Bachelor's Programs for Veterans multiple times.