Kiwanis Club of Daytona Beach Establishes Endowment for Local Students to Attend Daytona State College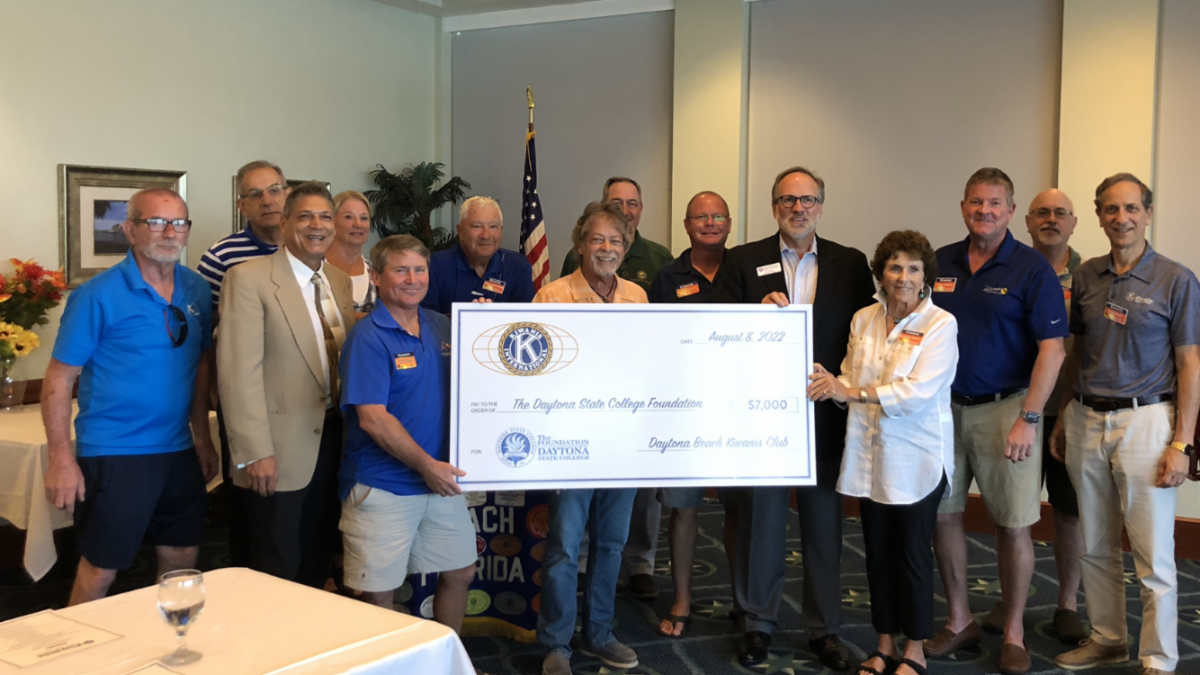 The Kiwanis Club of Daytona Beach presented Daytona State College Foundation with a check for $7,000 for their newly created endowment earlier today at the Halifax Yacht Club.
DAYTONA BEACH, Fla. (August 10, 2022) – The Kiwanis Club of Daytona Beach announced today they are establishing an endowed scholarship fund with the Daytona State College Foundation to support local students pursuing a college education.
The Daytona Beach Kiwanis Club Endowed Scholarship Fund will support scholarships for students to attend Daytona State College. Applicants must have attended Atlantic, Father Lopez, Mainland, Seabreeze or Spruce Creek high schools and have maintained a 2.5 GPA. The scholarships will be awarded for the Fall, Spring and Summer semesters. Preference will be given to students who have been Key Club members in high school.
"Since 2008, we have had a scholarship with the Daytona State College Foundation and have provided more than $68,000 in scholarship support for students attending DSC," said Kelly LaCombe, Club President, Daytona Beach Kiwanis Foundation Board. "Creating this new perpetual fund ensures continued ongoing support for local high school graduates who need a helping hand to pursue their studies at Daytona State."
The Daytona State College Foundation partners with the Kiwanis Club of Daytona Beach for its annual "Score One for the Kids" golf tournament every April, and proceeds from the event have gone toward previous scholarships and their new Daytona Beach Kiwanis Club Endowed Scholarship Fund. The Foundation provides more than $1 million annually in scholarships for DSC students.
"Kiwanis International has done incredible work around the world and our Daytona Beach Kiwanis Club has already helped more than 120 Daytona State students further their education and pursue their career goals," said Tim Norton, Executive Director of the Daytona State College Foundation. "Clearly, the Daytona Beach Kiwanis Club understands and is engaged in investing in education, which is the pathway to meaningful careers in this community and beyond."
Students interested in applying for the Kiwanis scholarships – two of more than 240 scholarships available through the Foundation – should visit DaytonaState.edu/Scholarships and apply through the Foundation Scholarship application.
# # #