Gov. Ron DeSantis awards Daytona State more than $5 million to support Workforce Development initiatives
$3.9 million will expand welding, machining, cybersecurity and apprenticeship programs. $1.3 million will create a new Commercial Drivers License Training Program targeted to start in February 2023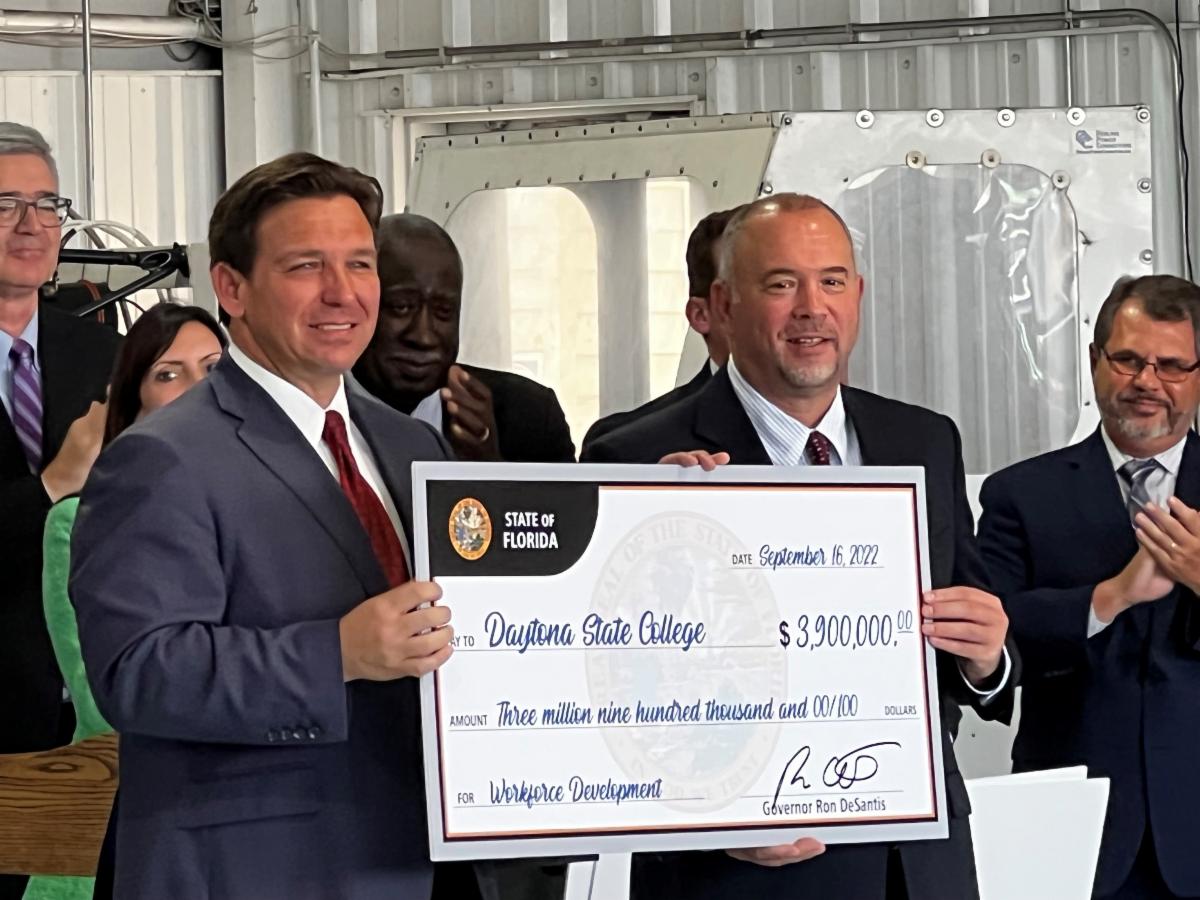 Governor Ron DeSantis (left) presents a check to Daytona State College President Dr. Tom LoBasso.
DAYTONA BEACH, FLA. (September 19, 2022) – In multiple announcements supporting Workforce Development initiatives at Daytona State College, Governor Ron DeSantis awarded $3.9 million to expand the College's welding, machining, cybersecurity and apprenticeship programs, and $1.3 million for a Commercial Drivers License Training program at DSC's Advanced Technology College.
"I set a goal to make Florida the best state in the nation for workforce education by 2030 – and we are doing that by making investments that expand opportunity and meet industry needs," Gov. DeSantis said. "Currently there are over 91,000 manufacturing and aerospace technology-related jobs on the Space Coast and this $30 million investment will build more opportunities for Floridians."
Daytona State's share of the investment is allocated through multiple agencies supporting workforce development across the state.
"A key element of our mission is to anticipate the educational and workforce needs of our communities and regional employers," said Daytona State College President Tom LoBasso. "The funding Governor DeSantis announced last week greatly increases our ability to prepare our students for rewarding careers in a broad range of high-demand fields."
Daytona State is receiving $2.5 million through the Governor's Job Growth Grant Fund to expand the College's machining and welding technology programs, and to expand workforce-related dual enrollment efforts that allow students to earn college credit while still in high school.
Daytona State is receiving $1 million through the Department of Education's Cyber/IT Pathways Grant Program and other state sources to develop a state-of-the-art Center for Cybersecurity at the Advanced Technology College and expand training for cybersecurity professionals to remain current in an ever-changing field.
Daytona State is also receiving $400,000 through the Department of Education's Pathways to Career Opportunities Grant program to work with the Volusia County School District to expand its pre-apprenticeship program and link it with apprenticeship opportunities throughout the region.
The commercial drivers license training program, in partnership with Winter Haven-based Fleetforce Truck Driving School, is scheduled to start in February 2023 and will be capable of training up to 200 drivers annually. Under the agreement being finalized by Daytona State and Fleetforce, the College will provide classroom and office space and a driving pad, and Fleetforce will conduct the training.
The four-week, 160-hour program consists of one week of classroom time and three weeks of time in a truck. Tuition for the program is $6,995 per student and the $1.3 million in funding announced by Gov. DeSantis covers 77% of tuition per student for the first year or while funds are available. Daytona State will work with local employers to create scholarship opportunities for students to have the balance of their tuition covered by the employer in return for an employment commitment for a specified amount of time. Graduates receive a state-recognized certification to operate with a commercial drivers license.
For inquiries regarding the CDL drivers license training program, email CBI@DaytonaState.edu or call 386-506-3858.
# # #
Daytona State College is the leader in education and workforce training needs of Volusia and Flagler counties and beyond for more than 60 years. The College enrolls approximately 25,000 students a year at its seven campuses, with graduates serving in critical fields including healthcare, emergency services and public safety, business, education, hospitality, engineering, technology, digital media, and more.
Daytona State has been recognized as a leader in higher education numerous times, consistently by U.S. News & World Report, which ranks the College among the Top Tier Best Online Bachelor's Programs. The U.S. Department of Education's College Affordability and Transparency Center has ranked DSC among the top 50 most affordable public four-year institutions in the country, with less than half the tuition of the national average. Community College Week, a leading publication in higher education, annually continues to feature the college in its list of Top 100 Associate Degree Producers. And U.S. News & World Report has ranked DSC among its Top Online Bachelor's Programs for Veterans multiple times.