Daytona State Men's Soccer Team earns top seed going into NJCAA National Tournament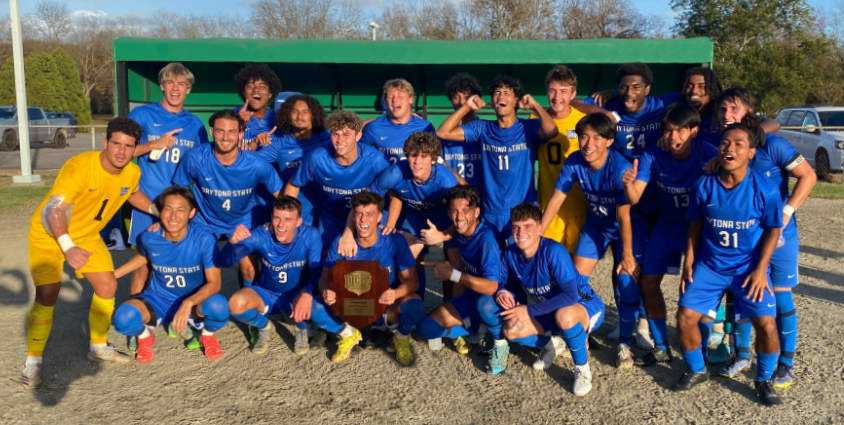 Daytona State College's Men's Soccer team.
DAYTONA BEACH, FLA. (November 12, 2022) - As a result of winning the Southeast District Championship, Daytona State's Men's Soccer team earned the top seed in the upcoming NJCAA Division I National Tournament to be held at Orlando Health Stadium in Melbourne, Florida starting November 13.
"This team has shown incredible growth throughout the season and their hard work has paid off," said DSC President Tom LoBasso. "All of us at Daytona State are tremendously proud and will be cheering them on at the national tournament."
The 12-team tournament runs Nov. 13 through Nov. 19. The DSC Falcons will face off in pool play against 12th seed Montgomery College (16-3) and eighth seed Cowley College (14-4). Daytona State plays Montgomery 10 a.m. Sunday, Nov. 13 and takes on Cowley 10 a.m. Tuesday, Nov. 15. Live stats will be posted on the NJCAA website. The pool winner advances to the semifinals on Thursday, Nov. 17.
"Our team this year has shown growth each week and adjusted to many obstacles," said Head Men's Soccer Coach Bart Sasnett. "We have more depth this year than ever before. We're hoping to make a deep run in the national tournament."
The Falcons enter the tournament 14-2-1, beating the Region 10 champion Richard Bland College Statesmen Nov. 5 in Petersburg, Virginia.
This is the first time Daytona State has earned the top seed in the National Tournament. The program has won three regional championships and four Southeast District titles in its seven-year history.
The tournament will air live on the NJCAA Network. The NJCAA Network is also available to view on Apple TV, Amazon Fire, and Android TV streaming platforms. Full tournament passes are $60 for adults. Day passes for adults are $20. Entry is free for students with a student ID and entry is free for children 14 and under. Parking is free.