Daytona State "Boots 'n Bling" gala raises more than $250,000 for scholarships and programs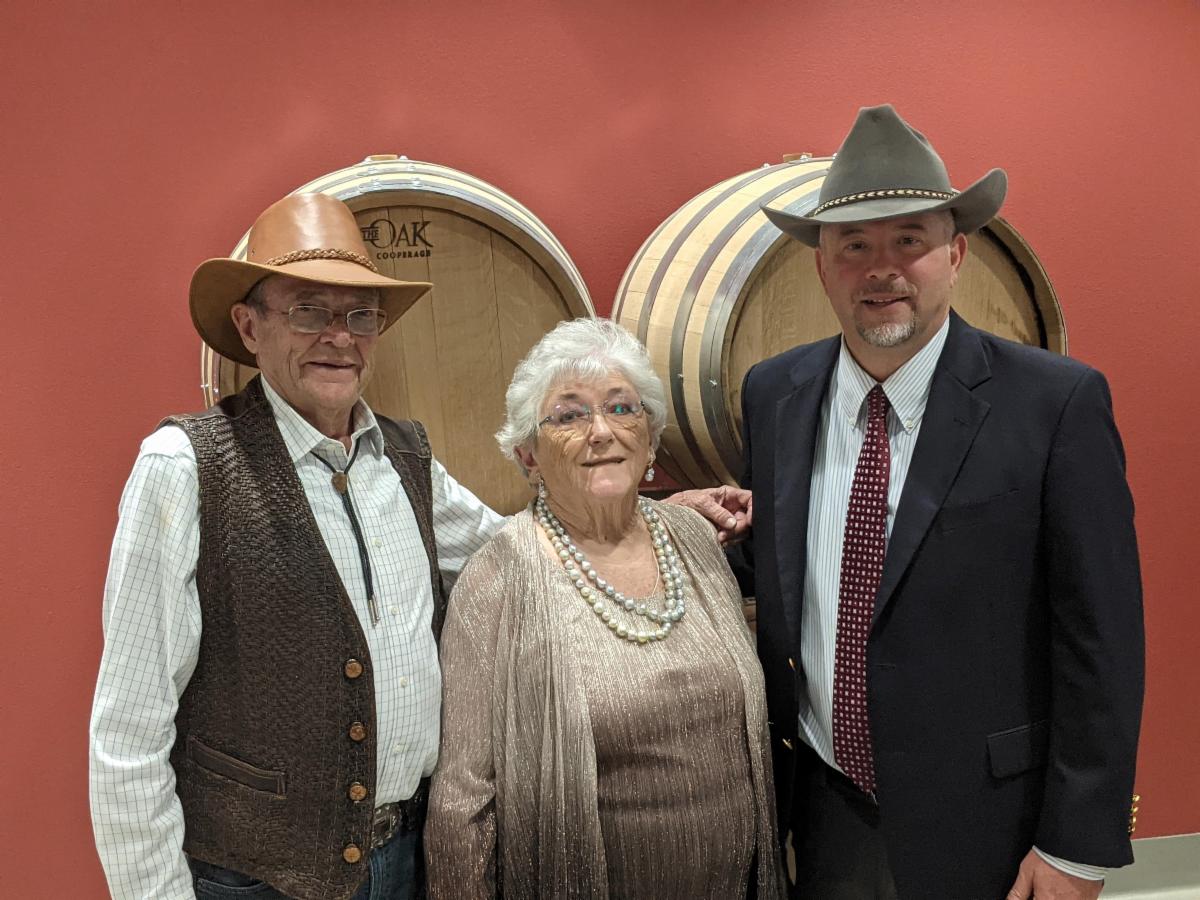 Bill and Mary Lenssen with Daytona State College President Tom LoBasso (right) at the 28th annual fundraising gala.
DAYTONA BEACH, FLA. (November 1, 2022) – An estimated 325 patrons of the Daytona State College Foundation returned to the College after a three-year hiatus to honor local community leaders Bill and Mary Lenssen and raised more than $250,000 to support student scholarships and College programs.
"We've been apart, but we never stopped moving forward with our mission to serve as a resource for our students and our community," said Tom LoBasso, President of Daytona State College, welcoming attendees to the event. "It's an exciting time to be here."
The evening, presented by AdventHealth, included a spectacular array of culinary delights prepared under the guidance of Chef Costa Magoulas, Dean of the Mori Hosseini College of Hospitality and Culinary Management, and delivered through the careful instruction and preparation by students in the Culinary Management program.
Featured was a performance by "Shades of Blue," a student a cappella vocal ensemble, with the highlight of the Gala being remarks by two current students and one alumna. Will Diaz, a 2022 Associate of Arts graduate, who is continuing as a nursing student, and Adrianne Toles-Williams, who has been the College's Student Government Association President since 2021 and has plans to attend UCF following graduation in December.
Madison Miller, an alumna from the Class of 2014 and the 2022-2023 Volusia County Schools Teacher of the Year, stirred the crowd with her story of finding immediate support upon arrival on the College's New Smyrna Beach campus 10 years ago as a 23-year-old single mother whose hopelessness and anxiety had left her with little more than despair.
Turning its focus to the honorees for the evening, Bill and Mary Lenssen, Tim Norton, Vice President for Advancement and Executive Director of the DSC Foundation, said, "One of the things I've loved most about getting to know Bill and Mary is their curious, inquisitive nature about important topics, including history, politics, business and faith. And, I've very much appreciated how they've accomplished so much in their 57 years of marriage, almost all of it done together."
Coming to Florida in 1967, Bill and Mary Lenssen developed property in southeast Flagler/northeast Volusia counties that had been in Bill's family for five generations, going back to Charles Bulow, namesake of Bulow Plantation Ruins Historic State Park.
Florida Governor Lawton Chiles appointed Lenssen to the College's District Board of Trustees in 1991, and, after serving a four-year term, he transitioned to the DSC Foundation Board of Directors, which he has been involved with for 27 years and currently serves as Secretary for the Board. Bill and Mary have served on boards of education, banks, statewide and local non-profit organizations and volunteered time with their church.
The Lenssens have established the Bill and Mary Lenssen Family Endowment, which will provide scholarships for students in any area of study, whether they are seeking a degree or certificate.
"I'm honored to represent and promote Daytona State College, as I see education as an important aspect for everyone aspiring to make an impact in the world," Bill said. "Daytona State College is a gem for our community."
Students interested in applying for the Lenssen Family Endowment scholarships – which are among more than 240 scholarships available through the Foundation – should visit DaytonaState.edu/Scholarships and apply through the Foundation Scholarship application.
# # #
Offering more than 100 certificate, associate and bachelor's degree programs, Daytona State College is the leader in education and workforce training needs of Volusia and Flagler counties and beyond for more than 60 years. The College enrolls approximately 23,000 students a year at its seven campuses, with graduates serving in critical fields including healthcare, emergency services and public safety, business, education, hospitality, engineering, technology, digital media, and more.
Daytona State has been recognized as a leader in higher education numerous times, consistently by U.S. News & World Report, which ranks the College among the Top Tier Best Online Bachelor's Programs. The U.S. Department of Education's College Affordability and Transparency Center has ranked DSC among the top 50 most affordable public four-year institutions in the country, with less than half the tuition of the national average. Community College Week, a leading publication in higher education, annually continues to feature the college in its list of Top 100 Associate Degree Producers. And U.S. News & World Report has ranked DSC among its Top Online Bachelor's Programs for Veterans multiple times.
The Lenssen family at the gala (from left): Ann Dashow Lenssen, Emily Lenssen, Will Lenssen, Mary Lenssen, Bill Lenssen, Alex Lenssen, Mary Grace Lenssen and Sarah Lenssen.