Daytona State Conducts 2020 Commencement Ceremony in Virtual Format
College honors its 60th graduating class in unique online celebration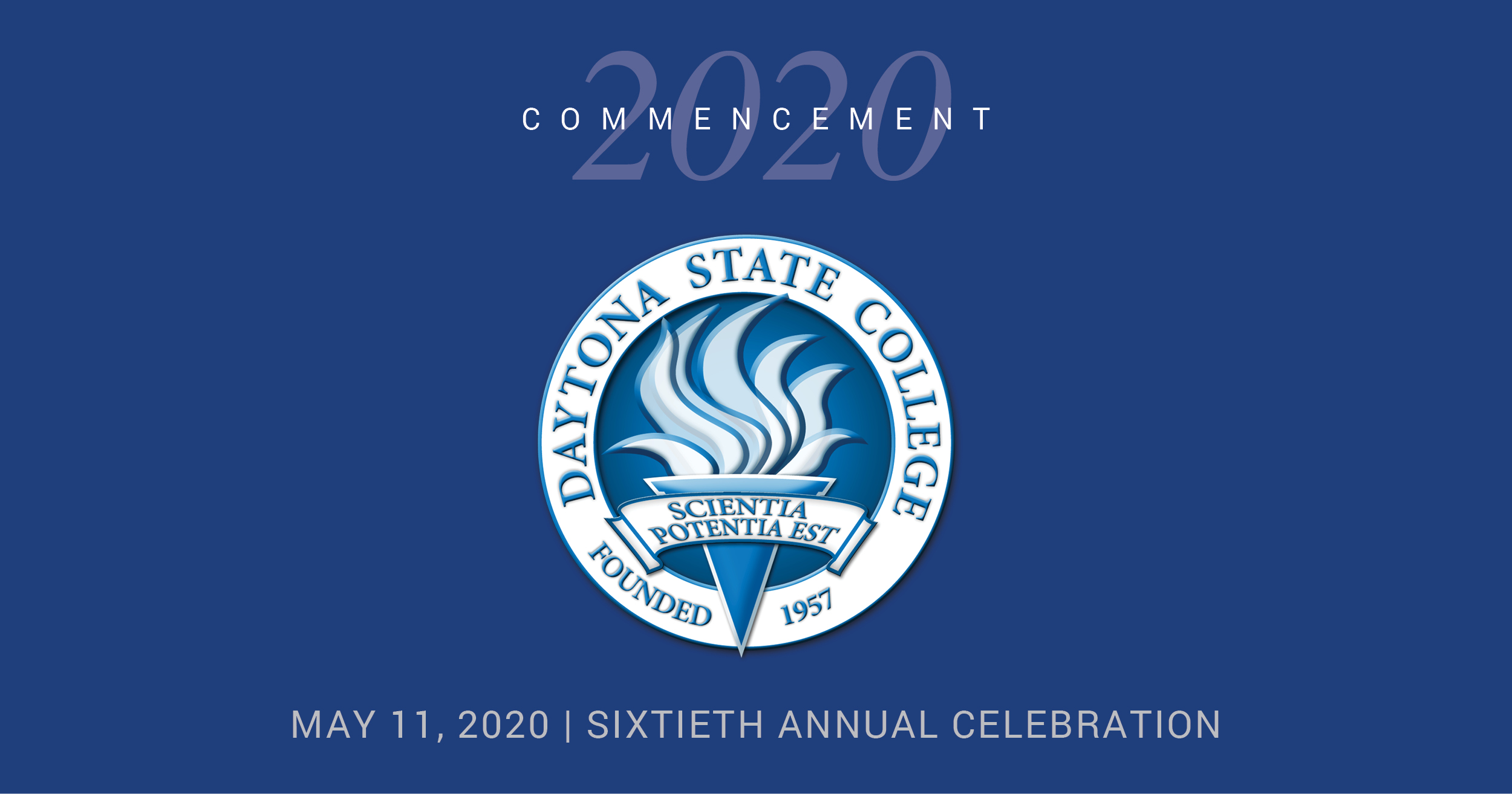 DAYTONA BEACH, Fla. (May 11, 2020) – Daytona State College honors its 60th graduating class Monday night (May 11) with a virtual commencement ceremony that will recognize more than 3,400 students who earned degrees or certificates during the 2019-20 academic year. The ceremony, to be live streamed on YouTube and produced by WDSC Channel 15, will include many of the traditional elements found in a formal ceremony, culminating with the recognition of graduates. Students were asked to submit pictures and a brief message to share with loved ones that could be displayed in digital format as their names were read.
The class of 2020 includes more than 1,300 Associate of Arts degree graduates, more than 500 from Daytona State's Associate of Science programs and 419 bachelor's degree recipients. Nearly 600 students earned certificates through DSC's various workforce programs, 217 who earned associate degrees or certificates as dual-enrolled students while still attending high school, and 358 adult education graduates.
Nearly 1,800 members of this year's class graduate with honors and 481 with high honors. Among them are 14 new members of the Daytona State College Hall of Fame, which is the highest honor the faculty can bestow upon a student. The College also awarded 26 students with the Falcon Engagement Award, presented to those who have been actively engaged in representing Daytona State's values of community, integrity, excellence, diversity, innovation and student success.
In addition to those honors, the College recognized 46 inductees into the Phi Theta Kappa (PTK) National Honor Society based on their leadership skills, scholarship and community service. There were also 16 new members of Kappa Delta Pi, the international honor society for education; seven inductees into Sigma Beta Delta, the highest international recognition a business student can receive; 56 inductees into Alpha Delta Nu, the national honor society for associate degree nursing students; and two new members of the Daytona Beach Black Burses Association.
"Commencement is one of the most important events in the life of a student, and although circumstances prevented us from coming together in person, this was still the special occasion it always has been," said DSC President Dr. Tom LoBasso. "Ceremonies such as these serve to remind us we are part of a larger community and provide a connection we all need. No other graduating class in the history of this College has had to endure the hardships they have, and it makes what they have done even more impressive and all the more rewarding."
LoBasso was one of four speakers who congratulated the Class of 2020 on not only their academic accomplishments, but their perseverance in the face of extreme adversity, which included the transition of the entire College curriculum to an online format in March. The graduates also heard from Dr. Randy Howard, chair of the DSC District Board of Trustees, Dr. Lavaughn Towell, DSC Faculty Senate President, and Stephen Miksits, DSC Student Government Association President.
"The commencement ceremony is a rite of passage, stewed in tradition and symbology," said Miksits. "It presents an opportunity to acknowledge the successes of the graduates, but more importantly symbolizes the graduates' transition into the next phase of their lives. The pandemic may have closed our campuses and canceled our events, but it didn't stop us from achieving the goals we set."
Since its founding in 1957 as Florida's first comprehensive community college, Daytona State has awarded over 100,000 degrees and certificates.
# # #