Anonymous Donor Provides $10,000 Gift for Daytona State College Adult Education Students
'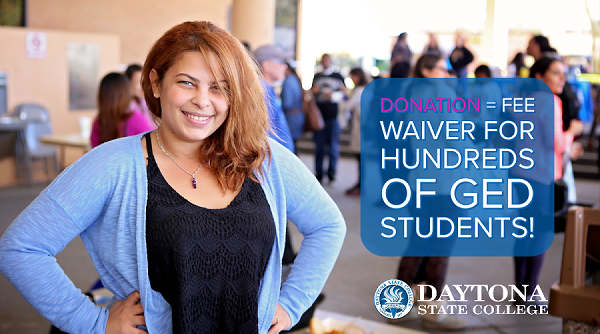 DAYTONA BEACH, FLA. (Jan. 16, 2020) – Daytona State College's School of Adult Education (AE) has received a gift of $10,000 from an anonymous donor that will provide student support for AE programs offered by the College. The funds are available for students who need financial assistance in order to attend GED® Prep, English for Speakers of Other Languages (ESOL), and Adult High School (AHS) classes. Students must enroll in and commit to attending at least 80 percent of the classes.
"This support will enable us to waive fees for hundreds of students, as well as to assist in covering costs associated with the GED test, thereby reducing a major barrier to accessing education and credentials," said Kathryn Clark, Director of DSC's School of Adult Education. "We are immensely grateful for this valuable contribution, and we are eager to help our students reach their education and employment goals."
The School of Adult Education serves more than 2,000 students annually with varying educational needs, including adults with elementary academic levels through those preparing to take the GED. It also prepares students that may have advanced degrees from other countries for how to communicate and actively participate in work, as well as in responsible citizenship activities, including helping their children be successful in school.
Day, evening and online classes are available on DSC campuses in Daytona Beach, Deltona, DeLand, and New Smyrna Beach/Edgewater. Classes are also offered at various off-campus sites through partnerships at CareerSource in Orange City, the Volusia County Correctional Facility, and Food Brings Hope in Pierson. Enrollment is open now.
For more information on the DSC School of Adult Education, contact Kathryn Clark at Kathryn.Clark@DaytonaState.edu or visit DaytonaState.edu/admissions to enroll in the program.
###