Daytona State College Formally Recognizes 1960 Graduate Dolly LaNell DeLoach
Clerical error prevented her from walking in the College's inaugural commencement ceremony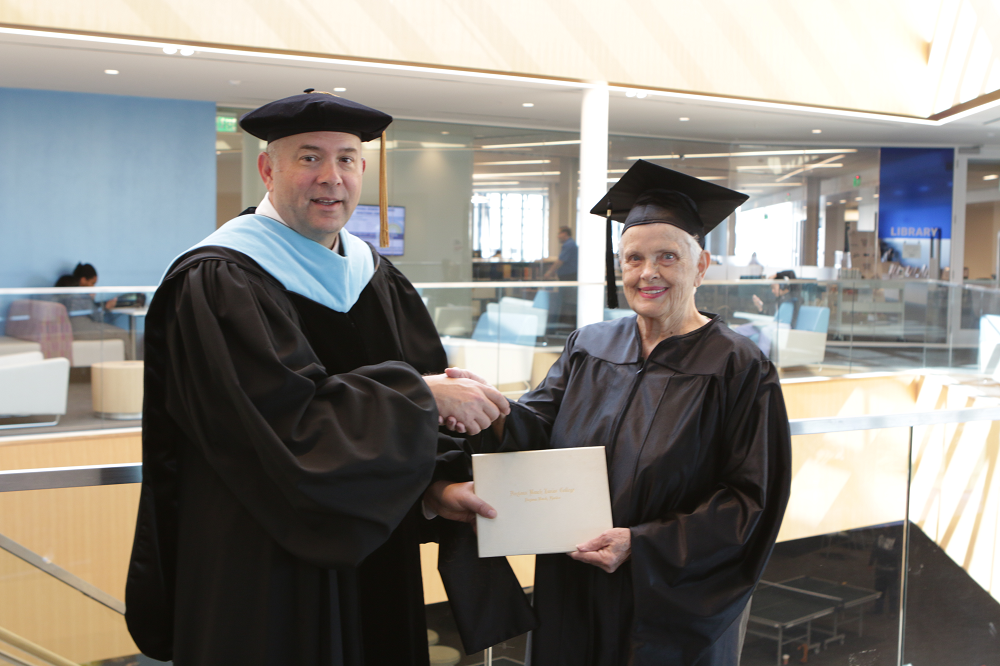 DAYTONA BEACH, FLA. (March 6, 2020) – Sixty years after graduating from what was then known as Daytona Beach Junior College, Dolly LaNell DeLoach formally received her diploma from College President Dr. Tom LoBasso. Dolly was a member of the College's first graduating class in 1960, but a clerical error in the registrar's office prevented her from walking in the ceremony.
Though she had already purchased her cap and gown and was prepared to walk in the graduation ceremony, the College informed her she would not be able to participate because she fell just short of having the required number of hours.
"Somehow a mistake was made, and they had me listed as withdraw/failing from a class," Dolly explained. "They couldn't rectify the situation at the time and told me I could not walk across the stage. I wanted my mother to see me graduate because she was so proud, and I was very disappointed for my mother's sake."
Less than three weeks later, Dolly received a letter from the College registrar informing her the transcript error had been found and corrected, and that they sincerely regretted she was unable to participate in graduation activities. Dolly also received her diploma, dated June 10, 1960, which conferred her A.A. degree.
Now in 2020, wearing a new cap and gown, Dolly formally received the diploma she originally obtained in the mail from the hands of Dr. LoBasso, who presented her with it on February 27. Her two sons, Dale and Deane, both of whom also attended Daytona State, were on hand to witness the presentation.
"It was very kind of the College and Dr. LoBasso to do this," Dolly said. "It's something they really didn't have to do, but I am so happy they did."
"It was a pleasure to award her degree in cap and gown since she was unable to do so when she earned it," said LoBasso. "She was beaming with pride as were her two sons. To think 60 years have passed and she seemed as excited as any other graduate would be was gratifying to all of us."
After graduating from Mainland High School in 1956 and also attending the Mary Karl Vocational School, Dolly moved with her mother to Japan where her brother was in the Marine Corps. When her mother learned a new college was opening in their hometown, they returned to the United States so Dolly would have the chance to further her education. She was given a $25 scholarship to help with the cost of attendance and began taking classes to earn her Associate of Arts degree.
Dolly's husband, Art, is also a graduate of the College and went on to serve in the military. The couple now lives primarily in Lewisville, North Carolina.
# # #