Mascot 'flies' south for climate change research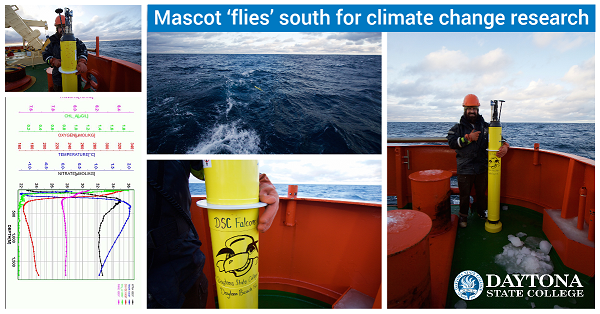 DAYTONA BEACH, FLA. (March 27, 2020) – All of us at Daytona State College have had to adjust to doing the things we normally do in remote fashion, whether it's teaching, learning, or performing our day-to-day jobs. But our own Freddie Falcon has gone more remote than any of us, travelling to the far reaches of the planet for deployment into the Southern Ocean. It's all in the name of science and part of research being conducted by DSC's Institute of Marine and Environmental Studies, led by Dr. Debra Woodall.
Freddie Falcon, along with about 200 similar floats, is part of the Southern Ocean Carbon and Climate Observations and Modeling (SOCCOM) project. SOCCOM is a collaborative program focused on understanding the Southern Ocean and its influence on the global climate. The SOCCOM project is administered by the Princeton Environmental Institute at Princeton University in collaboration with other institutions of high education.
Daytona State has "adopted" one of the organization's ocean floats that collects data on climate change. Students have the opportunity to name the float and follow its progress through blogs written by their paired SOCCOM scientists. Artwork is also submitted for a drawing that further identifies the float.
"While taking my undergraduate research students to the AGU Conference in San Francisco last December, I met with this group and decided that joining their efforts would be a great benefit to student learning about climate change," said Dr. Woodall. "I also like to do things that I think will draw attention to the many great and innovative things we do here at DSC."
The floats are measuring carbon, nutrients and oxygens levels. The research will contribute to the understanding of climate change's implications on ocean ecosystems. Freddie can be followed on his journey through the polar seas on this website by searching for Float #18097.
# # #