Three Daytona State College Students Named to 2020 All-Florida Academic Team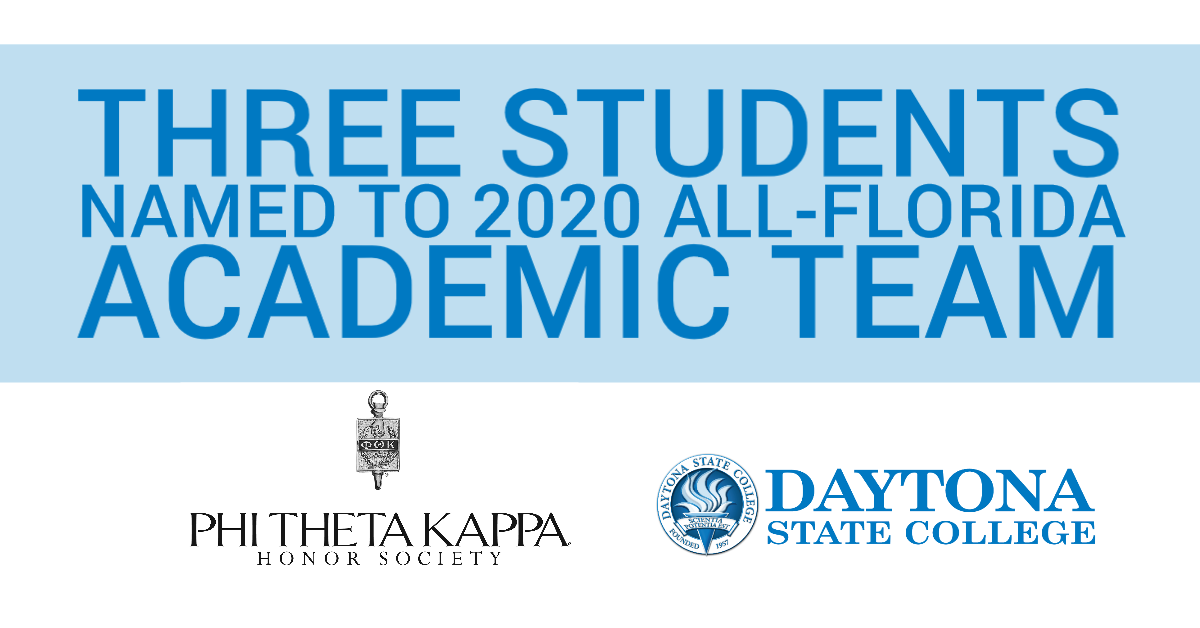 DAYTONA BEACH, FLA. (Feb. 4, 2020) – Three Daytona State College students have earned spots on the 2020 All-Florida Academic Team announced by the Florida College System. The award recognizes outstanding students who are enrolled in associate degree or certificate programs for their academic achievement, leadership and service to the community. Representing Daytona State are Hana Anderson, Zoey Gurvich and Kyle Ryan.
Students are nominated by their respective colleges through the All-USA Academic Team competition sponsored by Phi Theta Kappa (PTK) International Honor Society. To be eligible, a student must be enrolled through December 2019 in a minimum of six semester credit hours of associate degree, college-level coursework at the time of nomination. They must also hold a minimum 3.50 grade point average on all college-level coursework completed in the last five years and be on track to earn an associate degree, bachelor's degree, career or technical certificate prior to fall 2020.
Anderson graduated from DSC in December after earning her AA degree and now attends Stetson University where she is pursuing a bachelor's in Social Science. During her time at Daytona State, she volunteered with Strong Heart International and Habitat for Humanity, and was involved in Volusia County's sea turtle lighting workshops through PTK. Anderson also served as a peer tutor in the DSC Writing Center in the fall of 2019.
Gurvich, who attends DSC's New Smyrna Beach/Edgewater Campus, is scheduled to graduate this spring with her AA degree. She has plans to transfer to the University of Florida with a future goal of becoming a veterinarian. Gurvich, who serves as president for the Daytona State chapter of PTK, volunteers at Ravenwood Veterinary in Port Orange and the Central Florida Zoo & Botanical Gardens.
Ryan is completing his AA degree this spring and is planning to transfer to Florida State University in pursuing his goal of becoming a pediatric orthopedic surgeon. Ryan serves as a youth leader in his local church and has been involved with multiple volunteer programs in high school and during his time at Daytona State.
Anderson, Gurvich and Ryan will be recognized at an awards ceremony in St. Petersburg, Florida on March 6.
# # #