Daytona State Presents 2nd Annual Student Exhibition at the Gary R. Libby Gallery
"Upside Down" – curated by Kassandra Ramirez and Rachel Waesche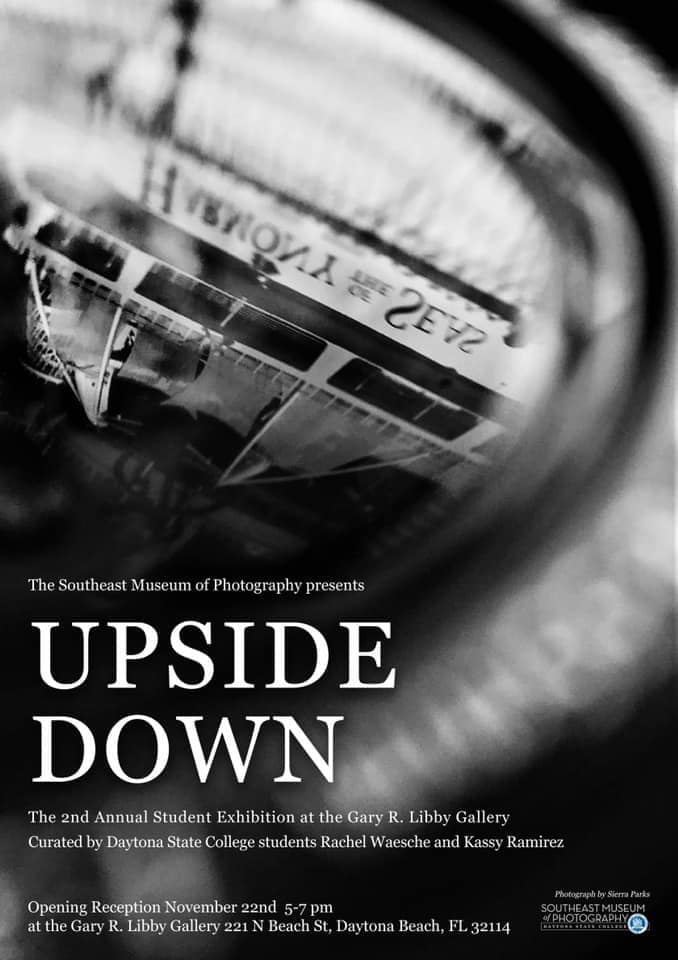 DAYTONA BEACH, Fla. (Nov. 26, 2019) - Two students in the photography program at Daytona State College collaborated to curate the second of an annual series of photo exhibitions at the College's News-Journal Center, located at 221 N. Beach St. in downtown Daytona Beach.

Students Kassandra Ramirez and Rachel Waesche decided on an exhibition theme and then placed a public call for art from DSC students. The two curators wanted to challenge the local pool of photographers and asked for a black and white image that incorporated some sort of reflection. The response from the DSC community was overwhelming.

This project began thanks to the philanthropic efforts of Gary R. Libby. The exhibition currently is on display through spring 2020 in the Gary R. Libby Gallery. Admission is free and open to the public.

Once the final selections had been made, it was just a short trip to the Southeast Museum of Photography to begin the task of framing the works and creating labels and signage. Under the tutelage of museum Director James Pearson, Ramirez and Waesche printed, framed and packed these photographs to transport to the News-Journal Center.

"The installation is a lot like the second draft of this process," said Pearson. "As much as you can conceptualize the exhibit beforehand, it's not until the pictures are in the space that you can tell which ones really fit with your theme and how they work together. Some of the photos make it all the way through the framing process, but still don't make the final cut."

The News-Journal Center is one of Daytona State's seven instructional sites. The facility is used by the College as a rehearsal and performance space for students to conduct musical and theatrical productions, and is where many official college events and ceremonies take place. The building also serves as a civic center, with many programs open to the public.

Libby is director emeritus of the Museum of Arts and Sciences in Daytona Beach, as well as a well-known author and lecturer. He has taken an interest in the education of DSC students by underwriting the 2018 renovation of this section of the center's lobby and funding an annual program for DSC students that culminates in the first of regular art exhibitions in this new gallery space. With his generosity, Libby enables students to gain the experience of curating and installing a photography exhibit, guided by the professionals at the Southeast Museum of Photography and the Southeast Center for Photographic Studies at Daytona State. Libby created and supports a similar program at the University of Florida for graduate students, but this engagement is the first of its kind at a state college level.

When asked about the opportunity from a student's perspective, Waesche was quick to reply, "It's exhilarating! I absolutely love seeing the project come to completion. It was a long process and required a lot of steps, and it has given me a much better appreciation for how galleries and museums operate."

Ramirez stated, "Reflection photography is so powerful and has many elements you can use that are limitless. Upside Down is a way to show your creativity with black and white to make it seem like a dark world. Photography is an escape for me, it allows me to be free and it is my therapy. I hope it is conveyed in this exhibition."

The News-Journal Center is open during regular semester hours and by appointment; closed during major holidays and college closures. For more information call (386) 506-3894, or email museum1@DaytonaState.edu. For details on how to enroll in DSC's Photographic Technology program, visit daytonastate.edu/photography or call (386) 506-3581.
# # #
---
MORE: Offering more than 100 certificate, associate and bachelor's degree programs, Daytona State College is the leader in education and workforce training needs of Volusia and Flagler counties and beyond for more than 60 years. The College enrolls nearly 25,000 students a year at its seven instructional sites, with graduates serving in critical fields including healthcare, emergency services/public safety, business, education, hospitality, engineering, technology, digital media, and more.
Daytona State has been recognized as a leader in higher education numerous times, consistently by U.S. News & World Report, which ranks the College among the Top Tier Best Online Bachelor's Programs. The U.S. Department of Education's College Affordability and Transparency Center has ranked DSC among the top 50 most affordable public four-year institutions in the country, with less than half the tuition of the national average. Community College Week, a leading publication in higher education, annually continues to feature the college in its list of Top 100 Associate Degree Producers. And U.S. News & World Report has ranked DSC among its Top Online Bachelor's Programs for Veterans multiple times.
For enrollment information, visit Admissions' Frequently Asked Questions page.
MEDIA CONTACT:
Chris Thomes, Chris.Thomes@DaytonaState.edu
Marketing & Communications, Marketing@DaytonaState.edu
A Member of the Florida College System
Daytona State College prohibits discrimination and provides equal opportunity in employment and education services to all individuals without regard to age, ancestry, belief, color, disability, ethnicity, genetic information, gender, marital status, national origin, political affiliation, race, religion, sex, sexual orientation or veteran status. For more details, read our policy at DaytonaState.edu/hr/equalaccess.html or contact Lonnie Thompson, Director of Equity and Inclusion, (386) 506-3000 ext. 3973, or Thompsl@DaytonaState.edu. The Office of Equity and Inclusion is located at 1200 W. International Speedway Blvd., Daytona Beach, FL 32114.