DSC's School of Workforce Recognized for Program Accomplishments
Daytona Beach, Fla. (Sept. 25, 2019) – Daytona State College has announced the winner of its Moving the Needle Award, presented to the School of Workforce in recognition of its accomplishments during the 2018-19 academic year.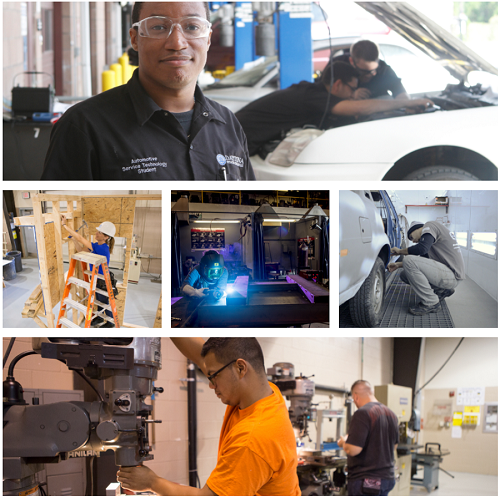 Led by Director Frank Snyder, the School of Workforce revised all student learning objectives (SLOs) to reflect Bloom's Taxonomy, updated curriculum maps, and incorporated new emphasis on writing assignments, math competencies and safety. Those adaptations contributed to placement rates at, or above, the state average in welding, automotive service and machining. In particular, the welding program had a 93 percent placement rate, which was 25 points higher than the state average. The automotive service program registered an 83 percent placement rate, and that number was an astounding 100 percent for machining.
The new measures also contributed to a dramatic increase in persistence rates across the board with the construction program rising from 35 percent to 86 percent, and the HVAC program climbing from 53 percent to 82 percent. Other programs which improved persistence rates are welding, automotive collision and machining. Course success and graduation rates also increased in several programs.
"The work this team of faculty do is integral to the health and future of our community," said Dr. Amy Locklear, Provost. "The faculty are highly skilled with years of experience practicing in each of these professions. These programs train students, usually within one year, to obtain high-demand, high-wage jobs in growing sectors of our economy. The training is extremely technical, takes place in state-of-the-art facilities, and includes options to advance into higher levels of education if students choose to do so."
The School of Workforce includes automotive service technology; automotive collision repair and refinishing; welding technology; machining; air conditioning, refrigeration and heating; and building trades and construction technology.
# # #
---
MORE: Offering more than 100 certificate, associate and bachelor's degree programs, Daytona State College is the leader in education and workforce training needs of Volusia and Flagler counties and beyond for more than 60 years. The College enrolls nearly 25,000 students a year at its seven instructional sites, with graduates serving in critical fields including healthcare, emergency services/public safety, business, education, hospitality, engineering, technology, digital media, and more.
Daytona State has been recognized as a leader in higher education numerous times, consistently by U.S. News & World Report, which ranks the College among the Top Tier Best Online Bachelor's Programs. The U.S. Department of Education's College Affordability and Transparency Center has ranked DSC among the top 50 most affordable public four-year institutions in the country, with less than half the tuition of the national average. Community College Week, a leading publication in higher education, annually continues to feature the college in its list of Top 100 Associate Degree Producers. And U.S. News & World Report has ranked DSC among its Top Online Bachelor's Programs for Veterans multiple times.
For enrollment information, visit Admissions' Frequently Asked Questions page.
MEDIA CONTACT:
Chris Thomes, Chris.Thomes@DaytonaState.edu
Marketing & Communications, Marketing@DaytonaState.edu
A Member of the Florida College System
Daytona State College prohibits discrimination and provides equal opportunity in employment and education services to all individuals without regard to age, ancestry, belief, color, disability, ethnicity, genetic information, gender, marital status, national origin, political affiliation, race, religion, sex, sexual orientation or veteran status. For more details, read our policy at DaytonaState.edu/hr/equalaccess.html or contact Lonnie Thompson, Director of Equity and Inclusion, (386) 506-3000 ext. 3973, or Thompsl@DaytonaState.edu. The Office of Equity and Inclusion is located at 1200 W. International Speedway Blvd., Daytona Beach, FL 32114.