Jeep Beach event to swim with DSC alum's shark mascots, Ruby and Willy
DAYTONA BEACH, Fla. (Jan. 23, 2019) - When thousands of enthusiasts descend on the World's Most Famous Beach in April for the annual rally dubbed Jeep Beach, they will be greeted by a new duo of shark-finned mascots created by recent Daytona State College associate of arts degree graduate Samantha Bodnar.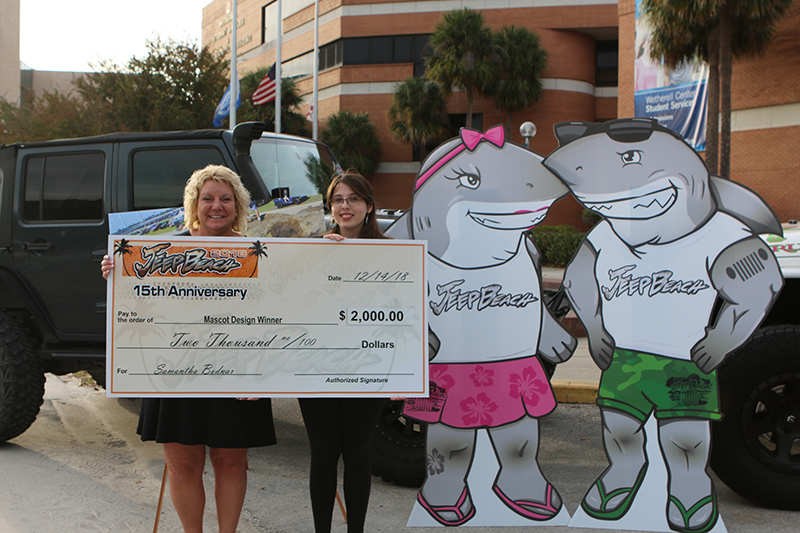 The Executive Board of Directors of Jeep Beach, Inc., the non-profit organization that hosts the annual fundraising event in support of charities throughout Central Florida, chose Bodnar's mascots among several that were submitted by students. Through the DSC Foundation, the board awarded Bodnar a $2,000 scholarship, which will come in handy as she begins work on her bachelor's degree in accounting at Florida Atlantic University.

Two other new DSC alumni, December photography program graduates James Strassberger and Joe Piakowski, both earned $500 awards for their Jeep Beach promotional photography.

"We already had our brand logo, but no mascots," said Jeep Beach executive board member Charlene Greer. "So we decided to reach out to Daytona State, figuring the students will come up with some creative ideas. We gave them a blank slate and asked them to create something that was approachable and family friendly. We asked them to think about the beach, think about the atmosphere of the event, something tough, something fun. Never in a million years would any of our board members have come up with sharks. Samantha's creation fits beautifully with our event location and demographic."

The mascots have been named Ruby and Willy after two of the automaker's iconic models.

Bodnar said her winning creations have not swayed her to pursue art as a career. "No," she said, "my major is accounting. I might start drawing more on the side for fun because I enjoy it, but I'm not sure I can make a career of it."

Jeep enthusiasts converge on Daytona Beach each year in April to check out the newest Jeep products from over 200 vendors and to participate in various activities throughout the weeklong event. The 16th annual Jeep Beach runs from April 22 to 28. Over the years, the event has steadily grown in size and scope. Since 2012, Jeep Beach has donated over $1.5 million to local charities. Past recipients include, Boys & Girls Club of Volusia & Flagler County, Childhood Cancer Foundation, NASCAR Foundation, Mission 22 and over 100 other local charities.

In 2018, the event saw a 60 percent increase in attendance from the previous year and continues to generate tourism revenue for Volusia County. The event anticipates continued growth in attendance and giving power.

###

---
MORE: Offering more than 100 certificate, associate and bachelor's degree programs, Daytona State College is the leader in education and workforce training needs of Volusia and Flagler counties and beyond for more than 60 years. The College enrolls nearly 25,000 students a year at its seven instructional sites, with graduates serving in critical fields including healthcare, emergency services/public safety, business, education, hospitality, engineering, technology, digital media, and more.
Daytona State has been recognized as a leader in higher education numerous times, consistently by U.S. News & World Report, which ranks the College among the Top Tier Best Online Bachelor's Programs. The U.S. Department of Education's College Affordability and Transparency Center has ranked DSC among the top 50 most affordable public four-year institutions in the country, with less than half the tuition of the national average. Community College Week, a leading publication in higher education, annually continues to feature the college in its list of Top 100 Associate Degree Producers. And U.S. News & World Report has ranked DSC among its Top Online Bachelor's Programs for Veterans multiple times.
For enrollment information, visit Admissions' Frequently Asked Questions page.
MEDIA CONTACT:
Chris Thomes, Chris.Thomes@DaytonaState.edu
Marketing & Communications, Marketing@DaytonaState.edu
A Member of the Florida College System
Daytona State College prohibits discrimination and provides equal opportunity in employment and education services to all individuals without regard to age, ancestry, belief, color, disability, ethnicity, genetic information, gender, marital status, national origin, political affiliation, race, religion, sex, sexual orientation or veteran status. For more details, read our policy at DaytonaState.edu/hr/equalaccess.html or contact Lonnie Thompson, Director of Equity and Inclusion, (386) 506-3000 ext. 3973, or Thompsl@DaytonaState.edu. The Office of Equity and Inclusion is located at 1200 W. International Speedway Blvd., Daytona Beach, FL 32114.