DSC board chair earns Association of Florida College's Distinguished Service Award
DAYTONA BEACH, Fla. (Jan. 18, 2019) – The Association of Florida Colleges has presented its 2018 Distinguished Service Award to longtime Daytona State College District Board of Trustees member and current chairperson Forough Hosseini.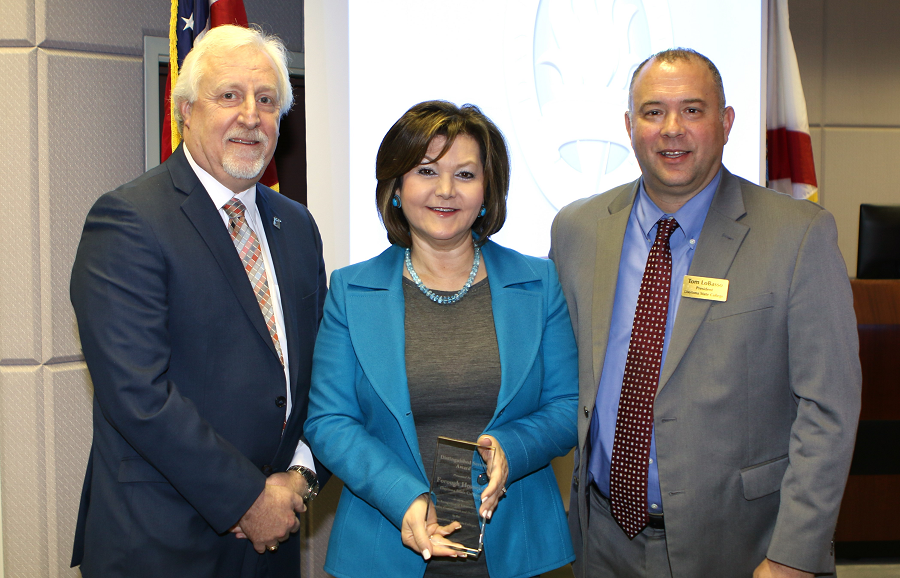 AFC Executive Director Michael Brawer presented the award to Mrs. Hosseini at the DSC board's Jan. 17 meeting. Her husband, ICI Homes CEO Mori Hosseini, and daughters Nika, Nina and Nellie, also were in attendance.

"Forough Hosseini is the longest serving of the DSC trustees, with a passion and heart for the community college mission," said Brawer.

"Throughout the years, she has not only advocated for DSC but for the entire Florida College System. Her understanding of our open access mission and the role we play in the communities we serve are unmeasurable. Our college system is the difference for over 800,000 students in the state of Florida. It's where they can achieve the American dream, and we are extremely grateful for the leadership and passion for our system that she shares with our legislators year after year."

Since her initial appointment to the board in 2006 by Gov. Jeb Bush, and her subsequent reappointments by governor's Charlie Crist and Rick Scott, Mrs. Hosseini has worked to shape college policy during years of expansive growth. She has been a staunch ally, advocate, supporter and at times guardian of Daytona State, its mission and its students. She will step down from the board of trustees when this, her fourth term, ends May 31.

"Trustee Hosseini has been one of the most energetic, persuasive, influential and hardest working advocates of this institution for many years," said DSC President Tom LoBasso. "She and her husband, Mori, have worked tirelessly to secure critical state funding for campus growth initiatives. She has helped to move the college closer to its academic performance goals, and her leadership and vision were the impetus that resulted in a comprehensive plan to eradicate homelessness and hunger among our students, which has been recognized as a model by the State Board of Education."

As many as 80 homeless students enroll at DSC each year, mirroring a national trend among colleges and universities.

For the past two years, Mrs. Hosseini has served as DSC board chair, wielding her and her husband's political acumen in Tallahassee to secure critically needed operational and capital funding for the college. Among them are $32.6 million to build DSC's new student center that is nearing completion on the Daytona Beach Campus, as well as $1.2 million to renovate the Lenholt Center, where the college's Center for Women and Men will eventually relocate. In addition to long-established programs such as Fresh Start, New Horizons and CCAMPIS, the center also includes a textbook lending library, a career-ready clothing closet for students preparing for job interviews, a food pantry and other services designed to remove barriers to students completing their programs of study. When it moves to its new location, the center will bring several social service agencies under one roof to expand support for the college's most vulnerable and at-risk students.

Mrs. Hosseini also has advocated locally and statewide to secure funding for a new Deltona Campus building and for new programs like optician technology, database technology and an additive manufacturing concentration being incorporated into the college's two-year engineering technology program, to name a few.

Mrs. Hosseini's family also supported DSC's Southeast Museum of Photography, currently housed in the Mori Hosseini Center on the Daytona Beach Campus. The museum's Babazadeh Gallery is titled after her maiden name.

"Forough, I think I can speak on behalf of the entire college community and beyond in saying thank you for the genuine passion, dedication and support you have given Daytona State College through the years," said President LoBasso. "The influence you have had on this institution is immeasurable in so many ways, and we know you will always be a true Falcon, an ally and advocate for our students."

The AFC is the professional association of Florida's 28 public member institutions of the Florida College System, their boards, employees, retirees and associates, and the employees of the Division of Florida Colleges. Its mission is to promote, represent and provide support to system institutions, their students and the communities they serve. The AFC's annual Distinguished Service Award recognizes exemplary achievement and longtime support of the system at the local and state level.

###
---
MORE: Offering more than 100 certificate, associate and bachelor's degree programs, Daytona State College is the leader in education and workforce training needs of Volusia and Flagler counties and beyond for more than 60 years. The College enrolls nearly 25,000 students a year at its seven instructional sites, with graduates serving in critical fields including healthcare, emergency services/public safety, business, education, hospitality, engineering, technology, digital media, and more.
Daytona State has been recognized as a leader in higher education numerous times, consistently by U.S. News & World Report, which ranks the College among the Top Tier Best Online Bachelor's Programs. The U.S. Department of Education's College Affordability and Transparency Center has ranked DSC among the top 50 most affordable public four-year institutions in the country, with less than half the tuition of the national average. Community College Week, a leading publication in higher education, annually continues to feature the college in its list of Top 100 Associate Degree Producers. And U.S. News & World Report has ranked DSC among its Top Online Bachelor's Programs for Veterans multiple times.
For enrollment information, visit Admissions' Frequently Asked Questions page.
MEDIA CONTACT:
Chris Thomes, Chris.Thomes@DaytonaState.edu
Marketing & Communications, Marketing@DaytonaState.edu
A Member of the Florida College System
Daytona State College prohibits discrimination and provides equal opportunity in employment and education services to all individuals without regard to age, ancestry, belief, color, disability, ethnicity, genetic information, gender, marital status, national origin, political affiliation, race, religion, sex, sexual orientation or veteran status. For more details, read our policy at DaytonaState.edu/hr/equalaccess.html or contact Lonnie Thompson, Director of Equity and Inclusion, (386) 506-3000 ext. 3973, or Thompsl@DaytonaState.edu. The Office of Equity and Inclusion is located at 1200 W. International Speedway Blvd., Daytona Beach, FL 32114.