DSC to honor graduates at 59th commencement
DAYTONA BEACH, Fla. (May 1, 2019) – Nearly 3,700 students will join the ranks of Daytona State College alumni during the college's 59th commencement exercises on Monday, May 13, at the Ocean Center, 101 N. Atlantic Ave., Daytona Beach.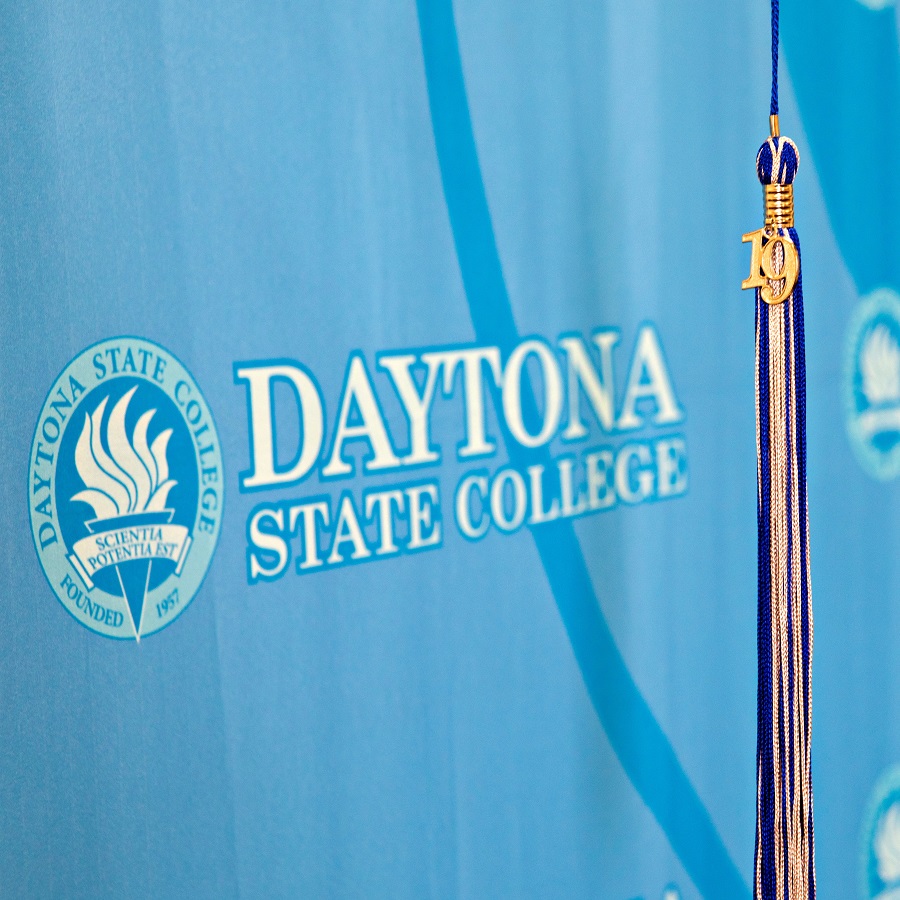 This year, commencement will take place in three parts according to credentials earned. Start times will begin earlier as well to alleviate traffic around the Ocean Center and allow more time for graduates to celebrate their accomplishments with family and friends:

DSC's commencement exercises will honor nearly 550 bachelor's degree recipients. Among them are 295 graduates of Daytona State's Bachelor of Applied Science in Supervision and Management degree, which the college began offering over a decade ago, and 125 graduates of the college's Bachelor of Science in Nursing, which DSC launched in 2014. The college offers 11 baccalaureate degrees in business, nursing, education, engineering and information technology. It has conferred over 4,000 bachelor's degrees since it transitioned in 2006 from a community college to a four-year-degree-granting state college.

Many of Daytona State's baccalaureate recipients are working parents or have responsibilities that prohibit them from commuting long distances to go to class. Many went back to school to improve their chances of promotion to higher positions. Some chose Daytona State to prepare for change in their careers. Others weighed the substantial cost savings gained by choosing a bachelor's degree from DSC.
The Class of 2019 also features over 1,700 associate of arts graduates. Many will continue their studies in a DSC baccalaureate degree program or smoothly transition as juniors to the University of Central Florida through DSC's Direct Connect to UCF partnership, or to other universities.
Over 650 students will have earned their associate of science or associate of applied science degree, while another 750-plus will have taken the first step on their educational and career pathway by earning a certificate credential.
This year, over 2,200 are graduating with honors, including 556 with high honors, and 31 have been inducted into the international honor society Phi Theta Kappa, based on their leadership skills, scholarship and community service. An additional 7 graduates were inducted this year into Sigma Beta Delta, the highest international recognition a business student can receive at a college or university. Seventy-three Associate Degree Nursing graduates this year were inducted into the Alpha Delta Nu national honor society, and 19 students were inducted into the Kappa Delta Pi international honor society for education graduates. Fifteen students were inducted into the Daytona State College Hall of Fame, the highest honor that faculty can bestow upon a student.
The college also will graduate 284 student veterans during commencement.
And, 228 graduates are earning their associate of arts degree, associate of science or program certificate days before they receive their high school diploma through Daytona State's popular dual enrollment program, which provides opportunity for high school students to earn college credits free of charge and get a head start on their college education.
Nearly 440 grads will have earned their adult high school diploma or GED as part of the Class of 2019.
Since its founding in 1957 as Florida's first comprehensive community college, Daytona State has awarded over 100,000 degrees and certificates.
###
---