Students hone their skills at DSC Leadership Academy
DAYTONA BEACH, Fla. (April 26, 2018) – Daytona State College business students enjoyed a crash-course in leadership during the college's second annual Leadership Academy sponsored by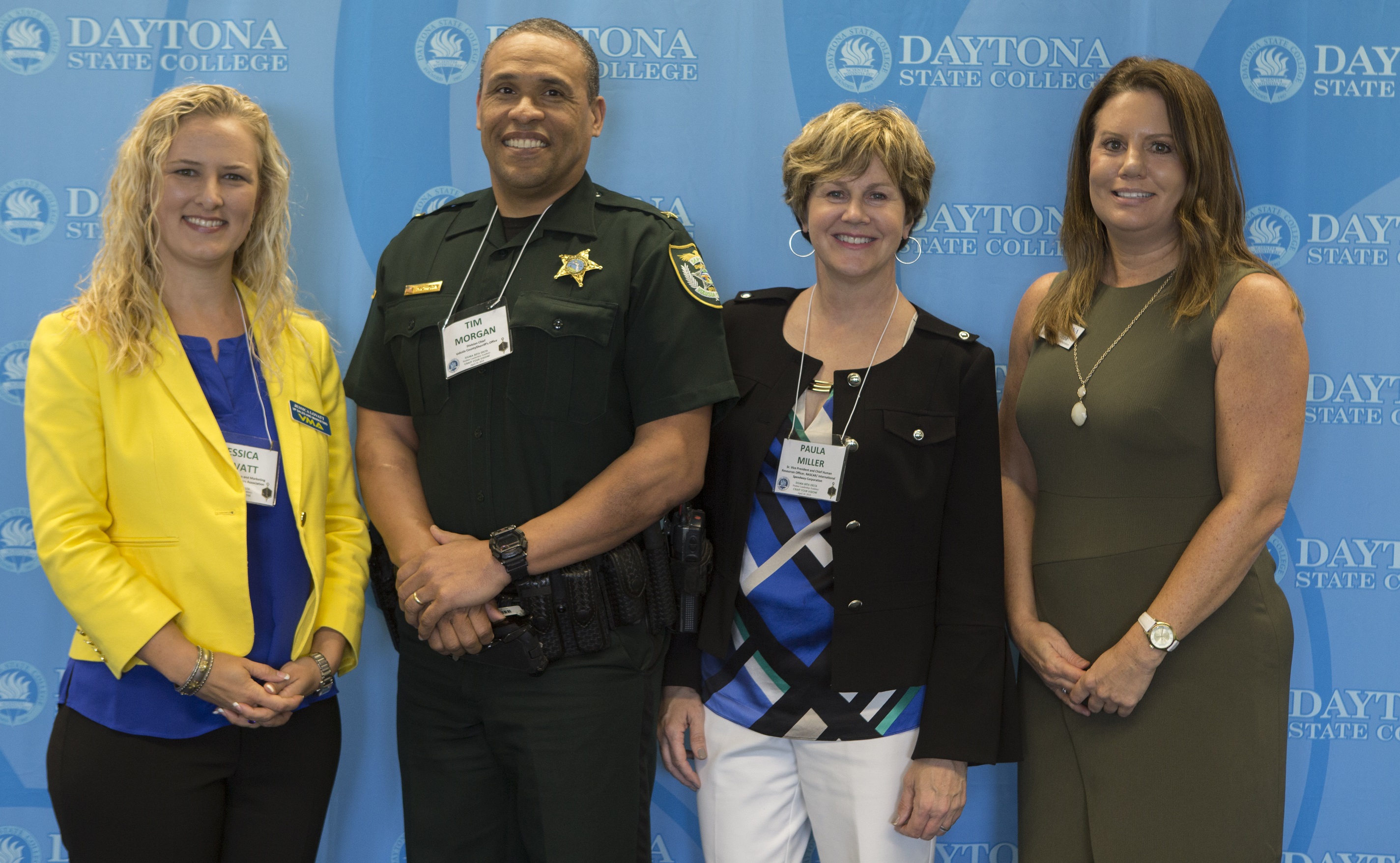 DSC's Sigma Beta Delta (SBD) chapter, a scholastic honor society that recognizes academic achievement among students in the fields of business, management and administration.

The nearly two dozen students who participated in the April 24 event, most enrolled in the Bachelor of Applied Science in Supervision and Management program, learned about a diverse array of leadership styles and how to build upon their own strengths, as professors in DSC's School of Business Administration guided them through various exercises and activities.

"This is a great opportunity for our students to practice the concepts they have learned in the classroom and to hear how business leaders in our communities apply them in professional settings," said Lee Kenyon, a DSC business professor and SBD International board member.

Drs. Tristan Davison and Jackson Musyimi led the students through exercises that focused on developing personal mission and vision statements, as well as how to adapt to the cultural and social norms involved with doing business on an international scale.

A panel discussion wrapped up the day's activities, with local professionals in key leadership roles within their organizations sharing insights on what it takes to effectively lead in today's fast-paced business climate.

Paula Miller, senior vice president and chief human resources officer for NASCAR and International Speedway Corp., noted the importance of leaders to establish the culture within an organization. "Culture is course," she said. "Regardless of what you do, your culture is going to set the direction the organization is going to go – up, down, flat. You can have business plans, you can have leadership plans, but at the end of the day, it's the culture that really permeates everything you are as a company that dictates where you are going to go."

Jessica Lovatt, vice president of sales and marketing for the Volusia Manufacturers Association, said strong leaders cultivate their employees. "Being honest and straight forward with the people around you will drive your culture," she said. "Learn something every day, take notes (a short pencil is better than a long memory), and be the leader you would like to have yourself."

Chief Tim Morgan of the Volusia County Sheriff's Office, said leaders should be active in helping employees grow professionally. "Look within your organization and train the strongest people to ultimately take leadership positions," he said. "Talent is golden. Invest and believe in your people."

Dante Leon, associate vice president of DSC's College of Business, Engineering and Technology, commended the SBD students who participated in the academy. "You embody what is best about our college," he said. "You serve as a model for your fellow students and for your communities, and I commend all of you for your hard work."

CAPTION: Left to right, Jessica Lovatt/VMA, Tim Morgan/Volusia County Sheriff's Office, Paula Miller/NASCAR, International Speedway Corp., Kim Grippa/DSC School of Business Administration

###
---
MORE: Offering more than 100 certificate, associate and bachelor's degree programs, Daytona State College is the leader in education and workforce training needs of Volusia and Flagler counties and beyond for more than 60 years. The College enrolls nearly 25,000 students a year at its seven instructional sites, with graduates serving in critical fields including healthcare, emergency services/public safety, business, education, hospitality, engineering, technology, digital media, and more.
Daytona State has been recognized as a leader in higher education numerous times, consistently by U.S. News & World Report, which ranks the College among the Top Tier Best Online Bachelor's Programs. The U.S. Department of Education's College Affordability and Transparency Center has ranked DSC among the top 50 most affordable public four-year institutions in the country, with less than half the tuition of the national average. Community College Week, a leading publication in higher education, annually continues to feature the college in its list of Top 100 Associate Degree Producers. And U.S. News & World Report has ranked DSC among its Top Online Bachelor's Programs for Veterans multiple times.
For enrollment information, visit Admissions' Frequently Asked Questions page.
MEDIA CONTACT:
Chris Thomes, Chris.Thomes@DaytonaState.edu
Marketing & Communications, Marketing@DaytonaState.edu
A Member of the Florida College System
Daytona State College prohibits discrimination and provides equal opportunity in employment and education services to all individuals without regard to age, ancestry, belief, color, disability, ethnicity, genetic information, gender, marital status, national origin, political affiliation, race, religion, sex, sexual orientation or veteran status. For more details, read our policy at DaytonaState.edu/hr/equalaccess.html or contact Lonnie Thompson, Director of Equity and Inclusion, (386) 506-3000 ext. 3973, or Thompsl@DaytonaState.edu. The Office of Equity and Inclusion is located at 1200 W. International Speedway Blvd., Daytona Beach, FL 32114.