High school teams vie for top honors in Daytona State culinary face-off
DAYTONA BEACH, Fla. (Dec. 14, 2018) - Daytona State's Mori Hosseini College of Hospitality and Culinary Management was ground zero this month for students representing over 20 high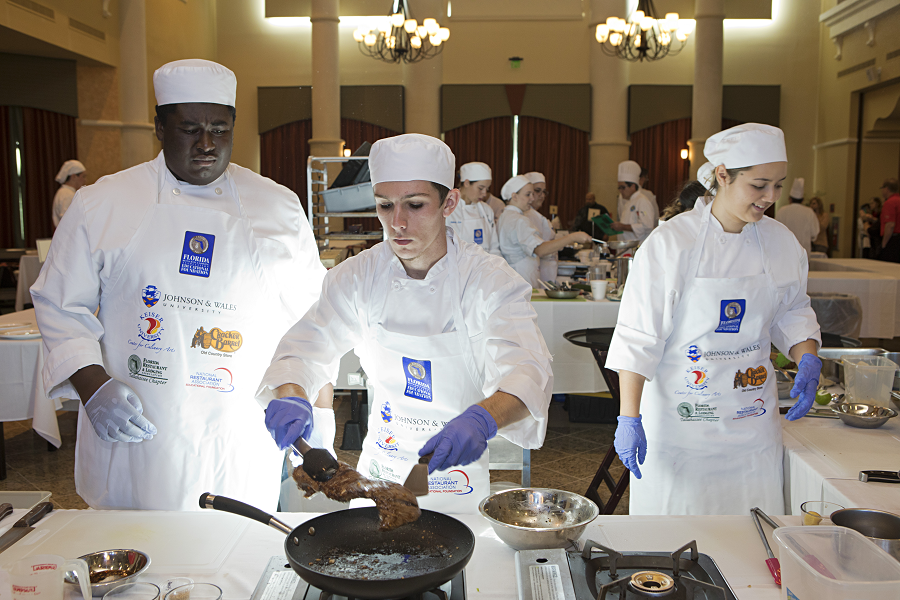 schools from as far away as the Florida Keys who competed in a cook-off that had them stretching their know-how and creativity to prepare gourmet meals, edible centerpieces and scrumptious desserts.

Teams of four from each high school had one hour using only two gas burners to prepare their gastronomical creations. Others were tasked with preparing a table centerpiece during the college's 8th annual Sharpen Your Skills Competition.

Costa Magoulas, dean of hospitality and culinary programs at Daytona State, said the event helps students sharpen their skills as they prepare for the statewide and national competitions.

"It's an excellent warm-up for the students," he said. "The state competition can be very intimidating, so the experience the students get here is valuable."

A team from Bayside High School in Brevard County took top honors in the Gourmet Meal competition, followed by Spruce Creek High School in second and Seabreeze High School in third.

Marathon High School came out on top in the edible centerpiece competition, with Spruce Creek taking in second place and Clay County's Ridgeview High School garnering third-place honors.

In the Hospitality Management event, Lake Minneola High School in Lake County took first-place honors, followed by Dade County's Hialeah Gardens High School in second and Marathon High School in third.

This event also featured a waiter relay, a timed competition that had teams assembling a formal table setting under a judge's watchful eye. Seabreeze High School won the event, with Lake Minneola High School in second and Dunnellon High School taking third.

Dunnellon also took first place for Best Appetizer, Seabreeze claimed Best Entrée honors and Hialeah topped things off by winning the Best Dessert competition.

The Dec. 7 event served as a prelude to a statewide ProStart competition slated for March 1-2 in Orlando. The state contest for high school culinary students leads to a nationwide ProStart competition in May, sponsored by the National Restaurant Association Education Foundation (NRAEF).

More than 95,000 students from 1,900 schools across the country participate in ProStart competitions every year. Those who complete the program requirements earn an industry-recognized certificate of achievement and are eligible for NRAEF scholarships and course credits at more than 75 of the country's leading hospitality and culinary arts colleges and universities, including Daytona State College.

###
---