DSC highlights expansion, opportunities for support
DAYTONA BEACH, Fla. (April 21, 2017) – A group of influential guests gathered April 20 to hear Daytona State College President Tom LoBasso highlight exciting new venues underway and mark the college's upcoming 60th anniversary. He thanked past supporters, including some in attendance, whose names grace campus buildings and spaces.
With some history sprinkled in, Dr. LoBasso showcased how far the college has come since its founding in 1957. He shared significant milestones achieved, big projects taking shape and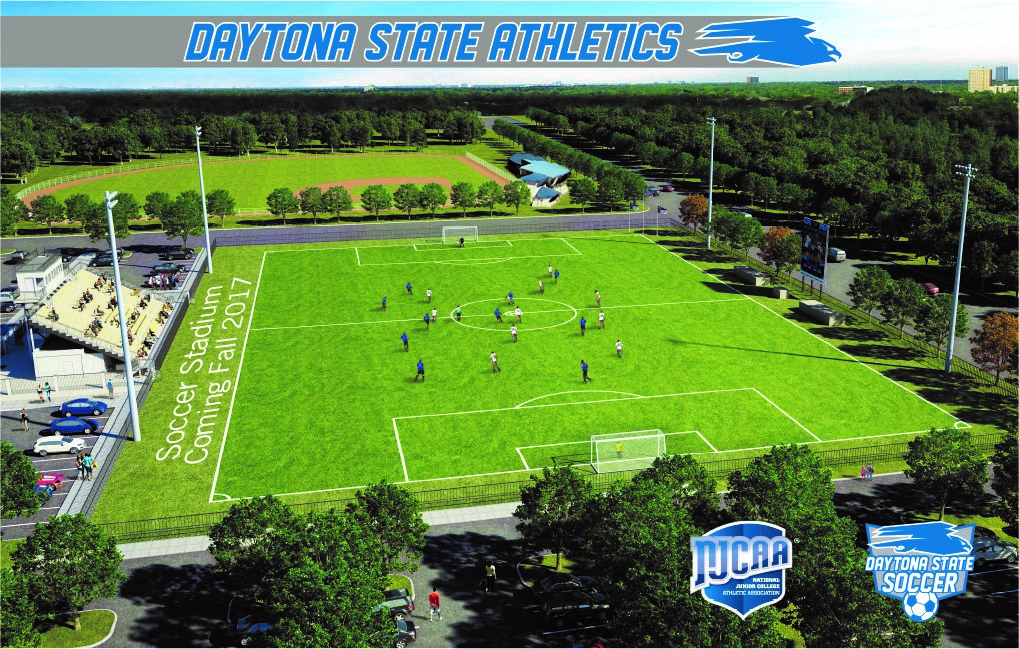 campus master plans for five and 20 years in the future. His presentation illustrated strategic growth through campus facilities and services that now support some 27,000 students who attend DSC each year.
"It's my passion to share the Daytona State story," said LoBasso. "Our mission is to provide affordable, high-quality education that fuels and supports the region's economy. Our students' success is critical to the growth and well-being of Volusia and Flagler counties, as they become contributing members, workers and leaders in our community."
The president detailed two major projects underway on the Daytona Beach Campus, each of which present multiple opportunities for recognition of generous benefactors: the new soccer stadium complex and the upcoming Student Center/Workforce Transition Building.
The $3 million soccer stadium complex, on schedule to open for the fall season, will seat nearly 1,000 fans and feature a concession area, press box and high-tech video scoreboard. With heightened interest in soccer, the stadium also will serve as a community resource for club events and regional championships, added LoBasso. The new venue recently got the nod from the National Junior College Athletic Association to host one of its largest annual contests – the national NJCAA Div. 1 Men's Championship Tournament in fall 2018. That event generally draws 700-800 hotel bookings and hundreds of thousands of tourism dollars to the region.
"We will also look to host the NJCAA Women's Nationals, as well as state high school championships," said LoBasso, adding, "DSC soccer is an economic driver for our community."
As he unveiled new renderings for the state-of-the-art 84,000 square-foot Student Center, LoBasso announced that construction starts soon, with groundbreaking set for May 4 at 10 a.m. The $39 million facility will become the campus hub, he said, enhancing the full collegiate experience at DSC. A number of key student services will move into the building, including the Library and Writing Center, Career Services, an event space that can seat over 400, dining services, study and meeting rooms and spaces to serve 30 or more student clubs.
Locating significant services in the new center will bring thousands of DSC students and alumni through its doors each semester, noted the president.
The Library alone provides academic support to about 1,200 students a week (200 students per day). And users annually access electronic resources over 300,000 times, check out 12,000 books and ask more than 4,000 reference questions. Students and faculty tap infoguides created by DSC librarians over 100,000 times, with Library Research Instruction given to more than 4,000 students. The Writing Center handles some 5,600 tutoring appointments, 4,300 visits to its specialized learning space called the Attic, and 5,300 visits for general resources use each year. Across all these services, the new facility will enhance digital and information literacy for students, faculty and staff.
Career Services, a key support for students and alumni seeking new jobs or career advancement, has seen 80 percent growth in utilization over the past 2 years, with almost 7,500 student engagements through visits, job-board registrations and in-class presentations last year. "We fully expect the new facility will engage even more DSC alumni and students through better access, increased visibility and proximity to other student resources," noted LoBasso.
Thanking the guests for their engagement and interest, President LoBasso said, "As the region's public college, we proudly celebrate our 60th year in service to our citizens, our businesses and industry. The support of our community, our legislators and our benefactors allows Daytona State to provide timely programs and address student needs. Your generosity expands scholarships and resources for thousands of our students, giving them a foundation for the future."

###
---
MORE: Offering more than 100 certificate, associate and bachelor's degree programs, Daytona State College is the leader in education and workforce training needs of Volusia and Flagler counties and beyond for more than 60 years. The College enrolls nearly 25,000 students a year at its seven instructional sites, with graduates serving in critical fields including healthcare, emergency services/public safety, business, education, hospitality, engineering, technology, digital media, and more.
Daytona State has been recognized as a leader in higher education numerous times, consistently by U.S. News & World Report, which ranks the College among the Top Tier Best Online Bachelor's Programs. The U.S. Department of Education's College Affordability and Transparency Center has ranked DSC among the top 50 most affordable public four-year institutions in the country, with less than half the tuition of the national average. Community College Week, a leading publication in higher education, annually continues to feature the college in its list of Top 100 Associate Degree Producers. And U.S. News & World Report has ranked DSC among its Top Online Bachelor's Programs for Veterans multiple times.
For enrollment information, visit Admissions' Frequently Asked Questions page.
MEDIA CONTACT:
Chris Thomes, Chris.Thomes@DaytonaState.edu
Marketing & Communications, Marketing@DaytonaState.edu
A Member of the Florida College System
Daytona State College prohibits discrimination and provides equal opportunity in employment and education services to all individuals without regard to age, ancestry, belief, color, disability, ethnicity, genetic information, gender, marital status, national origin, political affiliation, race, religion, sex, sexual orientation or veteran status. For more details, read our policy at DaytonaState.edu/hr/equalaccess.html or contact Lonnie Thompson, Director of Equity and Inclusion, (386) 506-3000 ext. 3973, or Thompsl@DaytonaState.edu. The Office of Equity and Inclusion is located at 1200 W. International Speedway Blvd., Daytona Beach, FL 32114.