Community invited to celebrate new soccer stadium; ribbon-cutting Oct. 10, 5:30 p.m.
DAYTONA BEACH, Fla. (Sept. 20, 2017) - Daytona State College will mark a new era in Falcon and community sports on Tuesday, Oct. 10, with a formal ribbon-cutting ceremony celebrating completion of its new 800-seat soccer stadium on the Daytona Beach Campus.
The celebration begins at 5:30 p.m., followed at 7 by an action-packed, free-admission evening of Falcon soccer, when DSC's nationally ranked men's squad faces off against Eastern Florida State College.
"We invite our friends, soccer fans and community members to join us in celebrating our inaugural season at this outstanding facility," said DSC President Tom LoBasso. "While this stadium is home to our men's and women's soccer teams, it will also serve as a venue for our local soccer clubs, school groups and other community partners."
The public is welcome to attend the ribbon-cutting ceremony, which will feature stadium tours, mementos and refreshments, and stay for the soccer match. During halftime, the Seabreeze High School men's soccer team will be recognized with a short film documenting their 2017 state championship, shown on the stadium's high-definition video scoreboard.
The new stadium will become a hub for soccer clinics, prep and club sports, as well as for college activities such as a Homecoming tailgate party in October and movie nights hosted by the Student Government Association.
"This stadium is about community," said DSC Athletic Director Will Dunne. "This is a place where young athletes can dream, where parents can take pride in witnessing the heart their kids put into their sport, and where our community can come together in the spirit of friendly competition."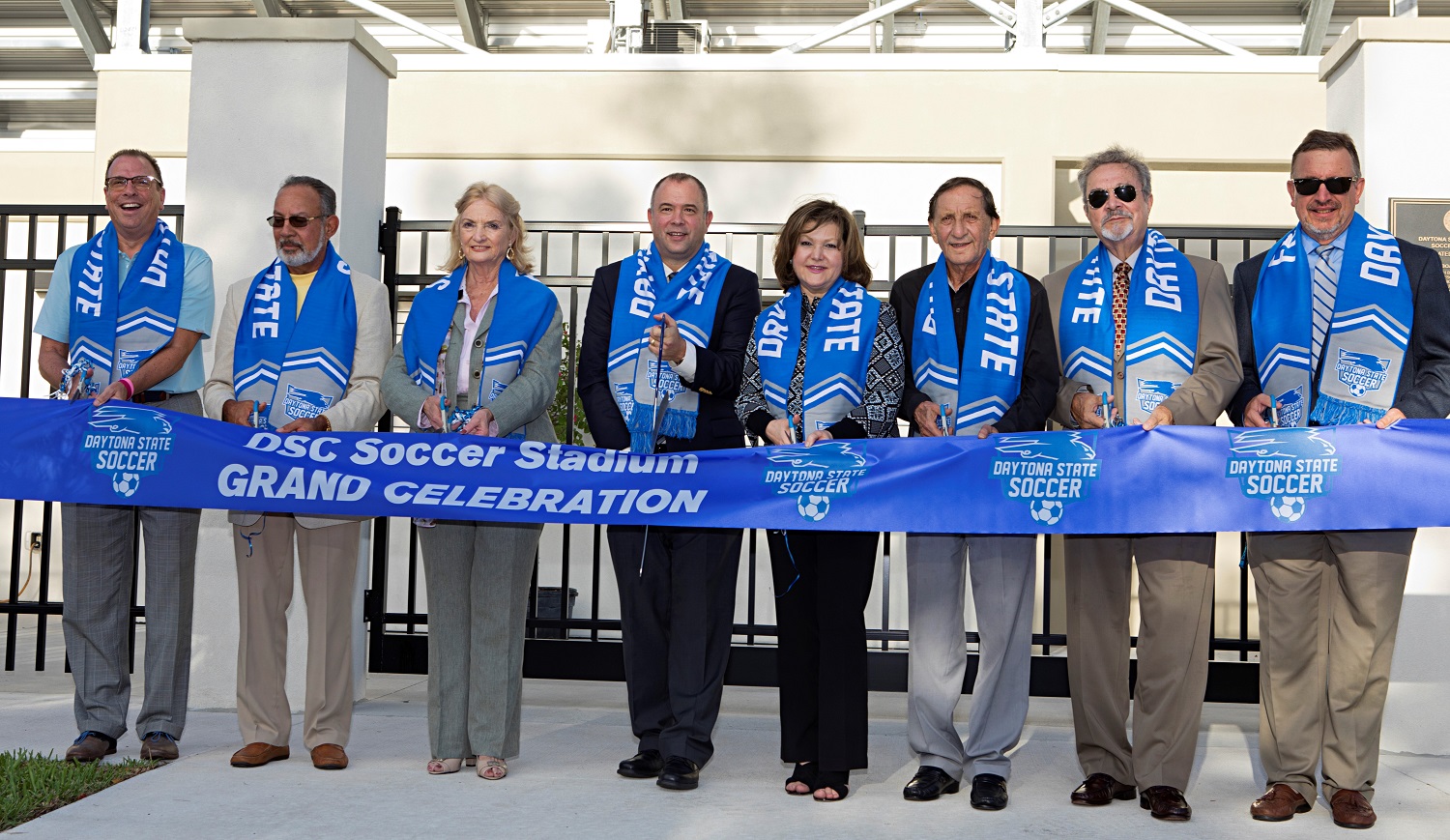 DSC launched its soccer program last year, playing its first-season home matches at Embry-Riddle Aeronautical University while the new Falcon soccer stadium was being constructed. The DSC teams fielded a strong showing in their first season, with six Falcons earning All-Region honors. Under Coach Bart Sasnett, the men's team earned Region 8 and Southeast District championships and an appearance at the NJCAA National Tournament in Tyler, Texas, where they advanced through the quarter finals before being eliminated by No. 2 seed Monroe College. The women's team went 11-3 and was ranked among the NJCAA's top 20 teams, while Coach Brittany Jones was named Region 8 Coach of the Year.
The Falcons will host the NJCAA Men's Division 1 soccer national championship tournament at the new venue next year. The 15-game tournament will bring participants, their families and fans to town Nov. 12-17, 2018, for a week of play leading up to the championship game. In previous years, the tournament generated hundreds of thousands of dollars in host-city revenue from participants, including hotel occupancies up to 700 or more rooms. Beyond participant-driven income, double the economic impact is expected from players' families and team fans who come to town for the event.
The stadium also serves as a learning laboratory, providing a real-world practicum for students pursuing DSC's new Associate of Science in Broadcast Television Production degree. "This program opens a whole new path of experience for DSC students interested in live TV broadcasting and production," said LoBasso. "And while teaching and learning are primary drivers, offering live broadcasts also allows us to showcase our many athletic programs and increase awareness of Daytona State's mission." The live broadcasts are aired on the college's public television station, WDSC-15.
The new AS degree meets one of Team Volusia's targeted industries and supports current job projections. The Bureau of Labor Statistics projects over 500 annual broadcast job openings in Florida over the next decade, and up to 40 job openings a year in Volusia and Flagler counties.
###
---
MORE: Offering more than 100 certificate, associate and bachelor's degree programs, Daytona State College is the leader in education and workforce training needs of Volusia and Flagler counties and beyond for more than 60 years. The College enrolls nearly 25,000 students a year at its seven instructional sites, with graduates serving in critical fields including healthcare, emergency services/public safety, business, education, hospitality, engineering, technology, digital media, and more.
Daytona State has been recognized as a leader in higher education numerous times, consistently by U.S. News & World Report, which ranks the College among the Top Tier Best Online Bachelor's Programs. The U.S. Department of Education's College Affordability and Transparency Center has ranked DSC among the top 50 most affordable public four-year institutions in the country, with less than half the tuition of the national average. Community College Week, a leading publication in higher education, annually continues to feature the college in its list of Top 100 Associate Degree Producers. And U.S. News & World Report has ranked DSC among its Top Online Bachelor's Programs for Veterans multiple times.
For enrollment information, visit Admissions' Frequently Asked Questions page.
MEDIA CONTACT:
Chris Thomes, Chris.Thomes@DaytonaState.edu
Marketing & Communications, Marketing@DaytonaState.edu
A Member of the Florida College System
Daytona State College prohibits discrimination and provides equal opportunity in employment and education services to all individuals without regard to age, ancestry, belief, color, disability, ethnicity, genetic information, gender, marital status, national origin, political affiliation, race, religion, sex, sexual orientation or veteran status. For more details, read our policy at DaytonaState.edu/hr/equalaccess.html or contact Lonnie Thompson, Director of Equity and Inclusion, (386) 506-3000 ext. 3973, or Thompsl@DaytonaState.edu. The Office of Equity and Inclusion is located at 1200 W. International Speedway Blvd., Daytona Beach, FL 32114.