DSC women's golf wins 9th NJCAA championship
- News-Journal Story
- Orlando Sentinel Story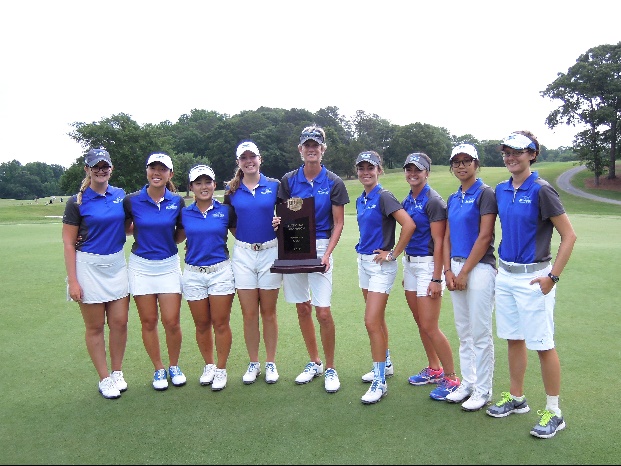 BRASELTON, Ga. (May 19, 2017) – After four days of competition at the Chateau de Elan Resort in Braselton, Georgia, Daytona State College claimed its ninth title in 13 seasons at the NJCAA Women's Golf National Championships. Under the direction of Head Coach Laura Brown, the Falcons scored 1191 over four rounds to finish 55 over par, besting their closest competition by 14 strokes.

"This is a tremendous win for Coach Brown and her team," said DSC President Thomas LoBasso. "Our women's golf program has become a dominant force in the NJCAA on and off the course. We're very proud to add another national championship to the program's credentials as well as another year of success in the classroom."

Freshmen Grace St-Germain (Ontario, Canada) and Jiwon Jeon (South Korea) led the Falcons, posting the team's lowest scores at 295 (+11) each to finish in a tie for third place overall. St-Germain recorded the lowest round of the entire tournament on Wednesday, posting four birdies to finish at 68 (-3). Freshman Kendall Johnson (Plant City, Florida) and sophomore Kaye Kwon (South Korea) also finished in the top ten. Both Falcons shot 75 in the final round, leaving Johnson tied for sixth at 299 (+15) and Kwon tied for eighth at 302 (+18). Sophomore Katie Veale (Orlando, Florida) rounded out the Falcons' five-person competition team in a tie for 32nd place with a 329 (+45).

Outside of the team challenge, sophomore Cam Becker (Orlando, Fla.) excelled as an individual in the competition,
finishing in 45th place overall with a score of 331 (+47). Becker and Kaye are both transferring on to the University of North Florida in the fall. St-Germaine, Johnson and Jeon will all return for their sophomore seasons at Daytona State, after which St-Germain has committed to the University of Arkansas and Jeon will head to the University of Alabama in the fall of 2018.

"The thing that really impressed me this week and throughout the year was the top four were so consistent," said Brown. "Even if they had a bad round they posted a decent number that kept us a little better than the other team. It was a grueling four days, the course was tough, it was hot and the pace was slow, but they stayed really focused and got the job done. We are excited to be national champions."

Much of the team's success can be attributed to Coach Brown, a former LPGA tour card holder and New Smyrna Beach native. Over her 19 seasons at Daytona State, Brown has coached 72 All-Americans, six NJCAA Individual National Champions and one future Olympian.

"Coach Brown is a great leader, as she's proven yet again this year by coaching such great performances from her team," said Will Dunne, Daytona State's athletics director. "All of our Lady Falcons put in a great effort. We're looking forward to our returning sophomores coming back this fall so we can continue the high level of competition this program is known for."

In addition to their successes on the course, the Falcon women's golf team also excels in the classroom. Over the last 10 years, Daytona State has earned six FCSAA Female Academic Team of the Year awards and four NJCAA National Academic Team of the Year awards. Although grades are still out for the spring semester, the Falcons are on track for a repeat of both academic titles this year after putting up a 3.94 team GPA in the fall of 2016, which was their best to date.

Daytona State Falcon athletics carries a winning tradition in both competition and academics. Falcon teams consistently earn state and national recognition for their academic achievement. Over 90 percent of DSC student-athlete graduates transfer to a university with full or partial athletic scholarships.

Daytona State currently boasts 161 student-athletes and 121 athletic scholarships in eight varsity sports including men's and women's basketball, men's and women's soccer, women's golf, fast-pitch softball, baseball and volleyball. DSC offers an all-around sports complex, including the L. Gale Lemerand Health, Wellness and Community Education Center, an indoor pool, two top-notch playing fields and a field house.

For more information on Falcon athletics, visit DSCFalcons.com.


###
---
MORE: Offering more than 100 certificate, associate and bachelor's degree programs, Daytona State College is the leader in education and workforce training needs of Volusia and Flagler counties and beyond for more than 60 years. The College enrolls nearly 25,000 students a year at its seven instructional sites, with graduates serving in critical fields including healthcare, emergency services/public safety, business, education, hospitality, engineering, technology, digital media, and more.
Daytona State has been recognized as a leader in higher education numerous times, consistently by U.S. News & World Report, which ranks the College among the Top Tier Best Online Bachelor's Programs. The U.S. Department of Education's College Affordability and Transparency Center has ranked DSC among the top 50 most affordable public four-year institutions in the country, with less than half the tuition of the national average. Community College Week, a leading publication in higher education, annually continues to feature the college in its list of Top 100 Associate Degree Producers. And U.S. News & World Report has ranked DSC among its Top Online Bachelor's Programs for Veterans multiple times.
For enrollment information, visit Admissions' Frequently Asked Questions page.
MEDIA CONTACT:
Chris Thomes, Chris.Thomes@DaytonaState.edu
Marketing & Communications, Marketing@DaytonaState.edu
A Member of the Florida College System
Daytona State College prohibits discrimination and provides equal opportunity in employment and education services to all individuals without regard to age, ancestry, belief, color, disability, ethnicity, genetic information, gender, marital status, national origin, political affiliation, race, religion, sex, sexual orientation or veteran status. For more details, read our policy at DaytonaState.edu/hr/equalaccess.html or contact Lonnie Thompson, Director of Equity and Inclusion, (386) 506-3000 ext. 3973, or Thompsl@DaytonaState.edu. The Office of Equity and Inclusion is located at 1200 W. International Speedway Blvd., Daytona Beach, FL 32114.