Daytona State to host NJCAA Men's D-I Soccer Championship
Falcons' new soccer stadium - 1 of 4 U.S. locations to host prestigious tournaments
Daytona Beach, Fla. (April 10, 2017) – Daytona State College's new soccer stadium is generating exciting opportunities for Volusia County even before the turf is laid. At their annual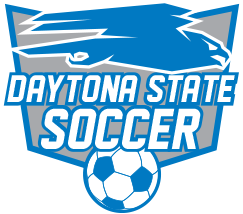 meeting on April 8, the National Junior Collegiate Athletic Association tapped Daytona State to host the NJCAA 2018 Men's Division I Soccer Championship.
"This is exactly the type of national event we were hoping to bring to the community when we began planning our new soccer stadium," said Dr. Thomas LoBasso, president of Daytona State. "The impact of an event like this will go far beyond our campus and ultimately benefit local retailers, restaurants and hotels. It's a fantastic opportunity for tourism in Daytona Beach and a special moment for our institution to step into the spotlight and shine. DSC is a top choice for higher education in our community, and our elite athletic programs enhance the student experience."
The 15-game tournament will bring participants, their families and fans to town Nov. 12-17, 2018, for a week of play leading up to the championship game. In previous years, the tournament generated hundreds of thousands of dollars in host city revenue from participants, including hotel occupancies between 700 and 900 rooms. Beyond participant-driven income, double the economic impact is expected from players' families and team fans who come to town for the event.
"The NJCAA national soccer tournament will be a perfect fit for Daytona Beach and Daytona State College's new state-of-the-art facility," said Lori Campbell Baker, executive director of the Daytona Beach Area Convention & Visitors Bureau. "The destination is seeing more and more activities on the sports front, with both event coordinators and teams finding the area to be a perfect place for high-profile competition, with quality facilities, warm hospitality, and plenty to see and do once the games conclude. We're looking forward to working with Daytona State College and our area partners to make this championship a true success for the players and the organization – on and off the field."
Daytona State is no stranger to the national championship spotlight. The Falcons have hosted 12 of the last 14 NJCAA Women's Golf National Championships at the team's home course, LPGA. But the men's soccer championship offers a chance to showcase DSC's newest home venue, slated to open in August 2017. In addition to hosting the 2018 men's soccer championships, the college plans to submit bids to host future women's national championships, as well as regional high school tournaments.
"We can't wait to open the gates to the public for the first time this fall," said Will Dunne, Daytona State's athletics director. "This new facility is going to take our program to the next level, giving us the ability to host more national tournaments like this, as well as important community events like youth soccer clinics and club matches. Fans are going to love watching live sports on this field."
Starting this fall, home games will be live-streamed and covered by students in DSC's new TV production associate degree program, aired on the college's public station, WDSC TV15. Video also will air on the field's high-tech scoreboard.
The host team hopes to add to the program's 11 NJCAA Team National Championships with its first title in soccer. In 2016, the inaugural year for both men's and women's soccer at DSC, the men's team was one of 12 squads who qualified for the national tournament. They advanced to the second round and finished the year with an impressive 17-4-1 record.
The women's team also shone with an 11-3 record, and was ranked among the NJCAA's top 20 teams, while coach Brittany Jones was named Region 8 Coach of the Year. DSC hopes to utilize its newest venue to host the women's national tournament in the near future as well as regional high school and club competitions.
Daytona State Falcon athletics carries a winning tradition in both competition and academics. Falcon teams consistently earn state and national recognition for their academic achievement. Over 90 percent of DSC student-athlete graduates transfer to a university with full or partial athletic scholarships.
Daytona State currently boasts 161 student-athletes and 121 athletic scholarships in eight varsity sports including men's and women's basketball, men's and women's soccer, women's golf, fast-pitch softball, baseball and volleyball. DSC offers an all-around sports complex, including the L. Gale Lemerand Health, Wellness and Community Education Center, an indoor pool, two top-notch playing fields and a field house.
For more information on the NJCAA Men's Division I Soccer Championship visit DSCFalcons.com.
###
---
MORE: Offering more than 100 certificate, associate and bachelor's degree programs, Daytona State College is the leader in education and workforce training needs of Volusia and Flagler counties and beyond for more than 60 years. The College enrolls nearly 25,000 students a year at its seven instructional sites, with graduates serving in critical fields including healthcare, emergency services/public safety, business, education, hospitality, engineering, technology, digital media, and more.
Daytona State has been recognized as a leader in higher education numerous times, consistently by U.S. News & World Report, which ranks the College among the Top Tier Best Online Bachelor's Programs. The U.S. Department of Education's College Affordability and Transparency Center has ranked DSC among the top 50 most affordable public four-year institutions in the country, with less than half the tuition of the national average. Community College Week, a leading publication in higher education, annually continues to feature the college in its list of Top 100 Associate Degree Producers. And U.S. News & World Report has ranked DSC among its Top Online Bachelor's Programs for Veterans multiple times.
For enrollment information, visit Admissions' Frequently Asked Questions page.
MEDIA CONTACT:
Chris Thomes, Chris.Thomes@DaytonaState.edu
Marketing & Communications, Marketing@DaytonaState.edu
A Member of the Florida College System
Daytona State College prohibits discrimination and provides equal opportunity in employment and education services to all individuals without regard to age, ancestry, belief, color, disability, ethnicity, genetic information, gender, marital status, national origin, political affiliation, race, religion, sex, sexual orientation or veteran status. For more details, read our policy at DaytonaState.edu/hr/equalaccess.html or contact Lonnie Thompson, Director of Equity and Inclusion, (386) 506-3000 ext. 3973, or Thompsl@DaytonaState.edu. The Office of Equity and Inclusion is located at 1200 W. International Speedway Blvd., Daytona Beach, FL 32114.