DSC Foundation celebrates college's 60th and gala's 25th
Over $150,000 raised for student scholarships
DAYTONA BEACH, Fla. (Nov. 13, 2017) – On Nov. 8, the Daytona State College Foundation's 2017 Diamond and Silver Gala marked two milestones for the institution – 60 years as a leader in educational services for Volusia and Flagler counties and 25 years of community generosity that has funded scholarships for students and programs needed by the college. This year's sold-out event recognized community leaders and highlighted distinguished alumni representing the thousands of students who have graduated from Daytona State.
The gala, held at DSC's Hosseini Center, is among the area's premier charity events and helps the Foundation raise money for student scholarships and other college initiatives, and generated over $150,000 to be used for direct student support.
"This year, we recognize the 60 years of college growth and 25 years of this wonderful gala event that has helped the Foundation deliver nearly $40 million in financial support to the college and its students," said Lorene King, vice president of advancement and executive director of the Foundation. "We are fortunate to have a community of benefactors and friends who have given of their time, energy and personal resources to invest in Daytona State and our area's future leaders. Their support has helped students from all walks of life and circumstances find a pathway toward independence, employment and achievement of personal goals."
One of the gala's featured alumni speakers was the Class of 1975's Stephen Crowley, whose career as a Pulitzer Prize-winning New York Times photographer spans more than two decades. Most recently he covered presidents Trump and Obama for the Times. Known as a seeker of moments that capture the essence of history, culture and life itself, Crowley is regarded among the major influencers in photojournalism today.
Also speaking was Daytona Beach Police Chief Craig Capri (Class of 1989 and 1997) and former DSC Phi Theta Kappa President Melissa Diaz (Class of 2015). Capri earned two credentials from DSC – first graduating from the Law Enforcement Academy in 1989, and then completing an Associate of Arts degree in 1997. He then attended the University of Central Florida earning bachelor's and master's degrees before going onto the FBI National Academy. Capri was appointed Daytona Beach Chief of Police in 2016.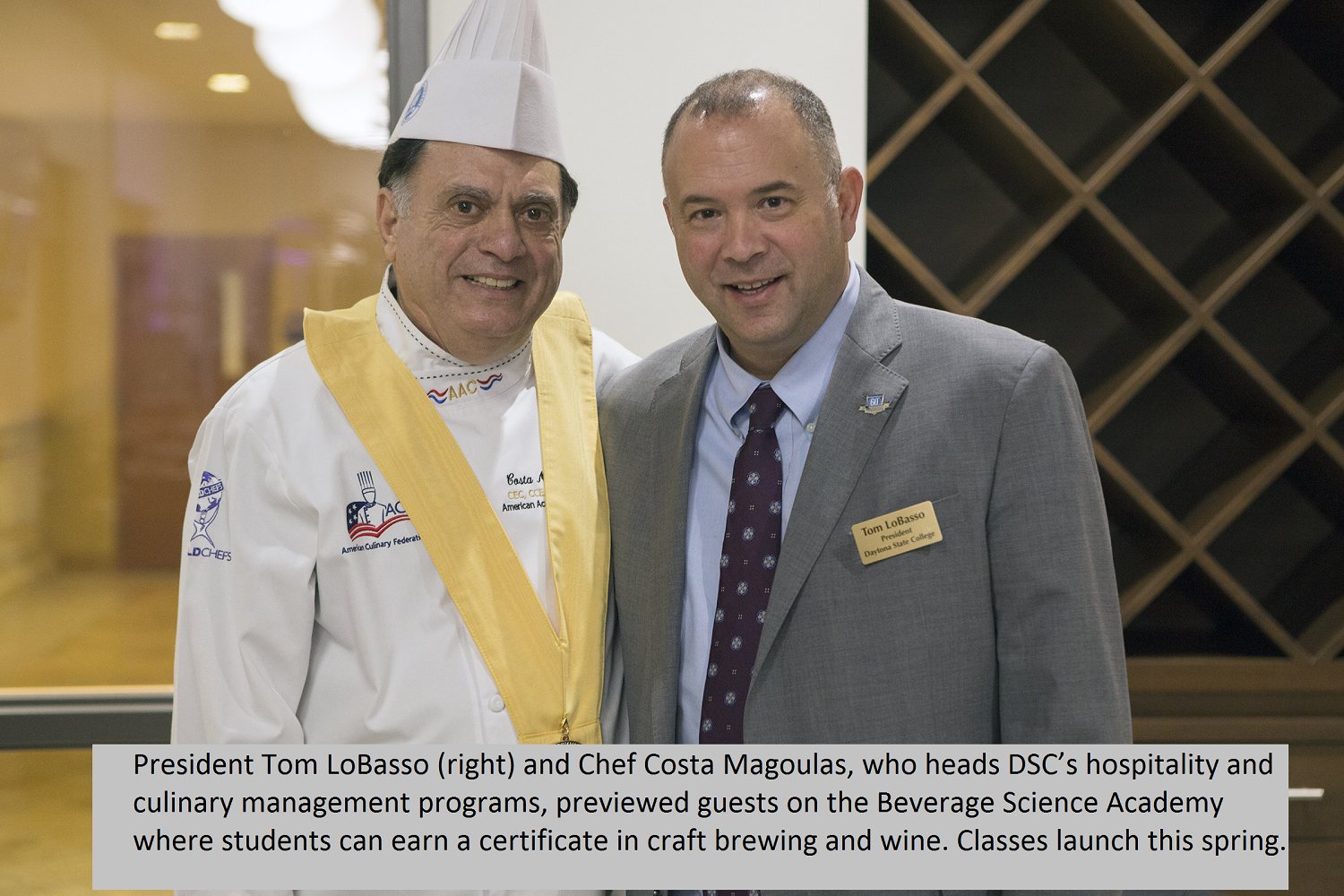 As a DSC student, Diaz was named to the Florida College System's 2015 All-Florida Academic Team, and was among a handful of students nationwide to receive the prestigious Jack Kent Cooke Foundation Undergraduate Transfer Scholarship. She will graduate from the University of Florida in December 2017 with a double major in political science and criminology and plans to attend law school to pursue her goal of becoming a civil rights lawyer.
Each of the alumni speakers credited Daytona State College for launching their educational pathway and allowing them to pursue their careers. Crowley said it well: "Everywhere I go, every job I've had, I take Daytona State with me."
Guests attending this year's gala were treated to a festive international cuisine prepared by Daytona State culinary students under the guidance of their award-winning dean and master chef, Costa Magoulas. Entertainment throughout the evening was provided by keyboard artist Warren Beck, and the finale was a special performance by the Daytona State College Jazz Singers under the direction of Dr. Jean Hickman.
For more information on the Foundation, visit Foundation.DaytonaState.edu or call (386) 506-3195.
###
CAPTION: President Tom LoBasso (right) and Chef Costa Magoulas, who heads DSC's hospitality and culinary management programs, previewed guests on the Beverage Science Academy where students can earn a certificate in craft brewing and wine. Classes launch this spring.
---
MORE: Offering more than 100 certificate, associate and bachelor's degree programs, Daytona State College is the leader in education and workforce training needs of Volusia and Flagler counties and beyond for more than 60 years. The College enrolls nearly 25,000 students a year at its seven instructional sites, with graduates serving in critical fields including healthcare, emergency services/public safety, business, education, hospitality, engineering, technology, digital media, and more.
Daytona State has been recognized as a leader in higher education numerous times, consistently by U.S. News & World Report, which ranks the College among the Top Tier Best Online Bachelor's Programs. The U.S. Department of Education's College Affordability and Transparency Center has ranked DSC among the top 50 most affordable public four-year institutions in the country, with less than half the tuition of the national average. Community College Week, a leading publication in higher education, annually continues to feature the college in its list of Top 100 Associate Degree Producers. And U.S. News & World Report has ranked DSC among its Top Online Bachelor's Programs for Veterans multiple times.
For enrollment information, visit Admissions' Frequently Asked Questions page.
MEDIA CONTACT:
Chris Thomes, Chris.Thomes@DaytonaState.edu
Marketing & Communications, Marketing@DaytonaState.edu
A Member of the Florida College System
Daytona State College prohibits discrimination and provides equal opportunity in employment and education services to all individuals without regard to age, ancestry, belief, color, disability, ethnicity, genetic information, gender, marital status, national origin, political affiliation, race, religion, sex, sexual orientation or veteran status. For more details, read our policy at DaytonaState.edu/hr/equalaccess.html or contact Lonnie Thompson, Director of Equity and Inclusion, (386) 506-3000 ext. 3973, or Thompsl@DaytonaState.edu. The Office of Equity and Inclusion is located at 1200 W. International Speedway Blvd., Daytona Beach, FL 32114.