DSC librarians fighting fake news with "CRAAP"
Testing if it is: Credible, Relevant, Authoritative, Accurate, has Purpose
DAYTONA BEACH, Fla. (Feb. 9, 2017) - It seems to be coming from everywhere, these days: a mind-bending proliferation of so-called fake news, spread like wildfire over the Internet and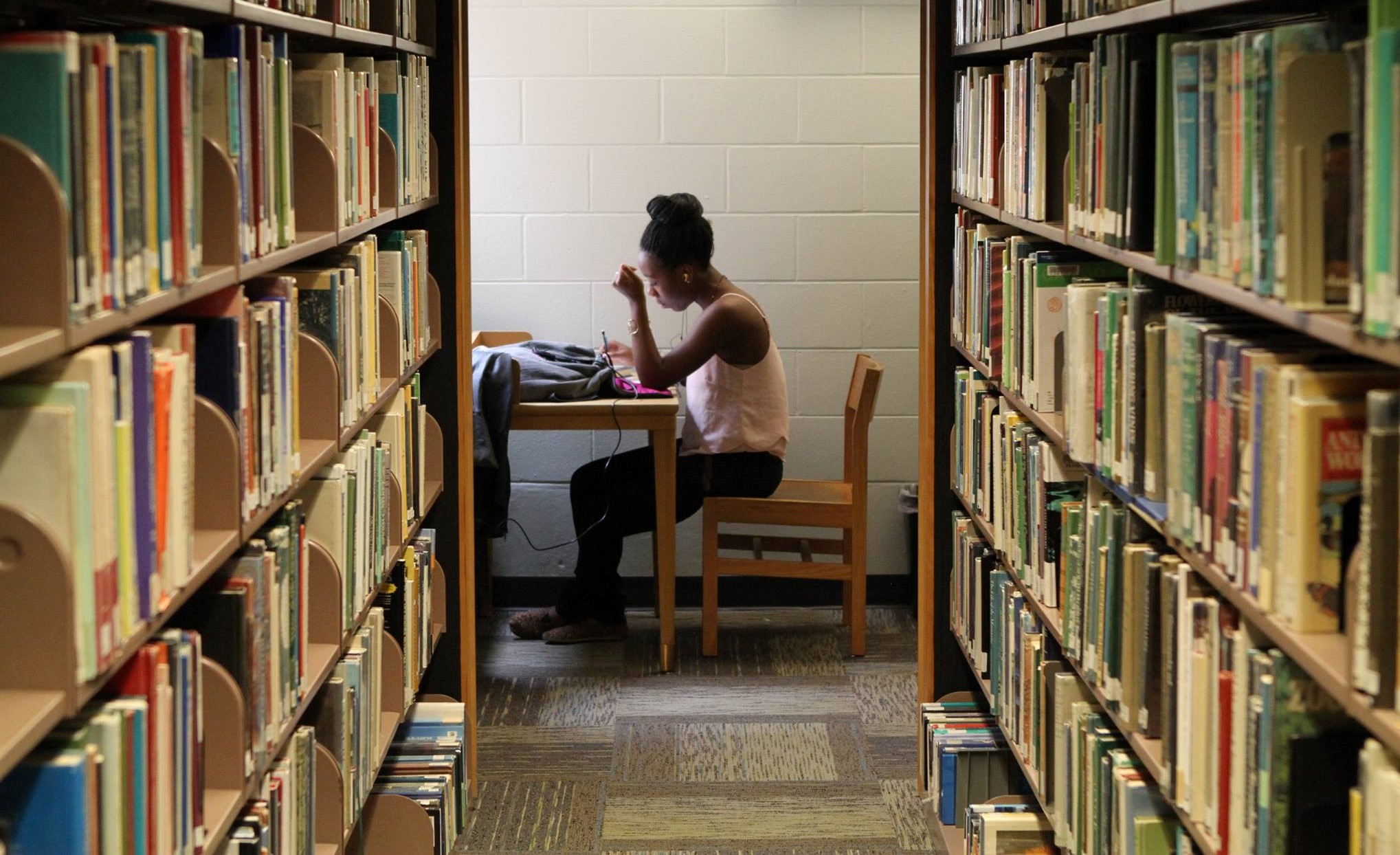 social media.
Such intentional disinformation can be especially damaging to vulnerable populations such as minorities, non-majority religious groups, immigrants and various marginalized populations. With what seems to be increasing frequency, it is being used to reinforce stereotypes, misrepresent cultures and belief systems and seed divisiveness.
But Daytona State College's force of librarians has been helping students dig through all the CRAAP in order to get to the truth, for years.
No crudeness intended here. CRAAP is a time-tested process to evaluate the validity of just about any information source, especially those found on the Internet. There's even a song about it. And while its origins are in academia, the CRAAP test is a useful tool that can help anyone decipher truth from fiction in any forum.
"The idea of using what we do as librarians to help fight fake news is part of our mission to promote information literacy," said DSC Librarian Dustin Weeks. "The CRAAP test has been around for a long time. Our instructors know it well and use it to help students find and evaluate information that is reliable and credible."
The CRAAP test was first developed years ago by librarians at California State University who wanted to help students successfully find and evaluate sources for their research. And while the test has seen many variations over the years, by and large, if a source of information is totally CRAAP, that's good because it means it's "credible, relevant, authoritative, accurate and has purpose."
"These are the types of things you want to check for, regardless of whether your source is a book, an article, a website, a blog or a social media post," said Cheryl Kohen, DSC's technology services librarian.
DSC librarians teach a one-credit hour online course called Introduction to Internet Research (LIS 2004), which is essentially everything you need to know about the CRAAP test and more, Kohen added. The course uses a statewide curriculum adopted by all 28 institutions in the Florida College System and customized to fit each institution's focus.
DSC also helps assure new students' success by teaching the CRAAP test in its required Student Life Skills course for beginning associate of arts students.
Daytona State librarians have created their own resource tools, as well. These are web-based InfoGuides on wide-ranging topics and academic disciplines that contain valid articles and Internet sources. "We link to sources that will give you credible information," Kohen said, noting that the guides mitigate some challenges students face in a digital world where disinformation can be propagated so readily.
"Information literacy has always been important," Kohen said, "but especially today, it's critical for students, and people in general, to be aware of their sources and to fact check the credibility of the information they're receiving."
###
---
MORE: Offering more than 100 certificate, associate and bachelor's degree programs, Daytona State College is the leader in education and workforce training needs of Volusia and Flagler counties and beyond for more than 60 years. The College enrolls nearly 25,000 students a year at its seven instructional sites, with graduates serving in critical fields including healthcare, emergency services/public safety, business, education, hospitality, engineering, technology, digital media, and more.
Daytona State has been recognized as a leader in higher education numerous times, consistently by U.S. News & World Report, which ranks the College among the Top Tier Best Online Bachelor's Programs. The U.S. Department of Education's College Affordability and Transparency Center has ranked DSC among the top 50 most affordable public four-year institutions in the country, with less than half the tuition of the national average. Community College Week, a leading publication in higher education, annually continues to feature the college in its list of Top 100 Associate Degree Producers. And U.S. News & World Report has ranked DSC among its Top Online Bachelor's Programs for Veterans multiple times.
For enrollment information, visit Admissions' Frequently Asked Questions page.
MEDIA CONTACT:
Chris Thomes, Chris.Thomes@DaytonaState.edu
Marketing & Communications, Marketing@DaytonaState.edu
A Member of the Florida College System
Daytona State College prohibits discrimination and provides equal opportunity in employment and education services to all individuals without regard to age, ancestry, belief, color, disability, ethnicity, genetic information, gender, marital status, national origin, political affiliation, race, religion, sex, sexual orientation or veteran status. For more details, read our policy at DaytonaState.edu/hr/equalaccess.html or contact Lonnie Thompson, Director of Equity and Inclusion, (386) 506-3000 ext. 3973, or Thompsl@DaytonaState.edu. The Office of Equity and Inclusion is located at 1200 W. International Speedway Blvd., Daytona Beach, FL 32114.