Daytona State's top chef named American Culinary Federation's top educator
DAYTONA BEACH, Fla. (July 18, 2017) - Costa Magoulas, dean of the College of Hospitality and Culinary Management at Daytona State College, was awarded the America Culinary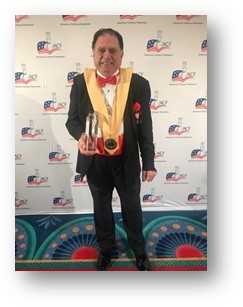 Federation's (ACF) Chef Educator of the Year Award at the organization's national convention this month in Orlando.
The prestigious award pays tribute to an active culinary educator whose work has enhanced the image of the professional chef, and who, by example, has given leadership and guidance to students seeking careers in the culinary profession.
"On behalf of the entire college community, it gives me great pleasure to extend my warm congratulations to Costa for this well-deserved honor," said Daytona State President Tom LoBasso. "This award is affirmation by industry professionals that Chef Magoulas and the culinary programs he manages are second to none."
Chef Magoulas is a longtime ACF Certified Executive Chef, a Certified Culinary Educator and one of a few dozen Certified Culinary Administrators in the United States. Additionally, he is a fellow of the American Academy of Chefs, the honor society of the ACF. Awards include ACF's President's Medallion for leadership and commitment to advancing the culinary profession, and the Florida Hospitality Pineapple Award from the Florida Restaurant and Lodging Association for outstanding contributions to student education. He also belongs to the Research Chefs Association, a professional community for food research and development.
"Being a chef is a pure and noble profession," said Magoulas, who has over 45 years in the profession. "Pure because we receive our satisfaction from pleasing others; noble because we touch the lives of people in a positive way, with food, that can last a lifetime. I have the greatest job in the world teaching young culinarians to pass that special gift on to others."
Magoulas attended Daytona State before earning his Bachelor of Arts in Organizational Management from Warner University, Lake Wales, and his Master of Hospitality Administration from the University of Nevada at Las Vegas. In addition to a lengthy career in the private sector, he also coordinated culinary operations for Volusia County Schools before joining Daytona State in 2011. He also has travelled to Guatemala City on two separate occasions with the Eastern Orthodox Christians Missionary to work at a children's orphanage to teach healthy cooking to the staff.
As dean of DSC's Mori Hosseini College of Hospitality and Culinary Management, he oversees a robust program that trains over 400 students annually for industry careers. Most recently, he has collaborated with the college's School of Business Administration to develop a hospitality and culinary concentration in DSC's Bachelor of Applied Science in Supervision and Management program.
He is leading development of the college's new Academy of Hospitality Beverage Science scheduled for completion this fall. The new academy will feature a certificate program designed to prepare students for a variety of careers in the trending wine and craft brewing segments of the hospitality and culinary industries.
Daytona State offers associate of science degrees in Hospitality Management and Culinary Management, as well as a certificate in a Baking and Pastry Specialization. All programs are conducted in a 62,500-square-foot, state-of-the-art facility located on the college's Daytona Beach Campus. The facility features ultra-modern kitchens, high-tech classrooms for instruction, a fully functioning restaurant operated by students, called Café 101, and other amenities that mirror real-world culinary industry environs.
Established in 1929, the ACF is the premier professional organization for culinarians in North America. With more than 20,000 members in 225 chapters nationwide, ACF is the culinary leader in offering educational resources, training, apprenticeship and programmatic accreditation here and abroad. In addition, ACF operates the most comprehensive certification program for chefs in the United States.
###
---
MORE: Offering more than 100 certificate, associate and bachelor's degree programs, Daytona State College is the leader in education and workforce training needs of Volusia and Flagler counties and beyond for more than 60 years. The College enrolls nearly 25,000 students a year at its seven instructional sites, with graduates serving in critical fields including healthcare, emergency services/public safety, business, education, hospitality, engineering, technology, digital media, and more.
Daytona State has been recognized as a leader in higher education numerous times, consistently by U.S. News & World Report, which ranks the College among the Top Tier Best Online Bachelor's Programs. The U.S. Department of Education's College Affordability and Transparency Center has ranked DSC among the top 50 most affordable public four-year institutions in the country, with less than half the tuition of the national average. Community College Week, a leading publication in higher education, annually continues to feature the college in its list of Top 100 Associate Degree Producers. And U.S. News & World Report has ranked DSC among its Top Online Bachelor's Programs for Veterans multiple times.
For enrollment information, visit Admissions' Frequently Asked Questions page.
MEDIA CONTACT:
Chris Thomes, Chris.Thomes@DaytonaState.edu
Marketing & Communications, Marketing@DaytonaState.edu
A Member of the Florida College System
Daytona State College prohibits discrimination and provides equal opportunity in employment and education services to all individuals without regard to age, ancestry, belief, color, disability, ethnicity, genetic information, gender, marital status, national origin, political affiliation, race, religion, sex, sexual orientation or veteran status. For more details, read our policy at DaytonaState.edu/hr/equalaccess.html or contact Lonnie Thompson, Director of Equity and Inclusion, (386) 506-3000 ext. 3973, or Thompsl@DaytonaState.edu. The Office of Equity and Inclusion is located at 1200 W. International Speedway Blvd., Daytona Beach, FL 32114.