Daytona State continues push to make college more affordable
Gives total cost savings of nearly 3.5% to all students this fall
DAYTONA BEACH, Fla. (June 16, 2016) - Come fall semester, Daytona State College, already one of the nation's most affordable places to earn a college degree, will become even more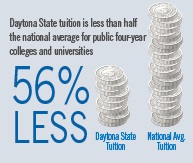 easy on the wallet.
Beginning with fall enrollment, all DSC students will see a total cost savings of nearly 3.5 percent.
The savings are a result of a reduction in the access fee from $4.93 per credit hour to $1.35 per credit hour. Added to a 2 percent cut in tuition implemented last spring, overall cost savings per student comes to 3.3 percent.
During its June 16 meeting, the college's District Board of Trustees unanimously moved to reduce the fee and continue the reduced tuition from spring.
"This fee reduction is part of our ongoing effort to ensure that Daytona State remains affordable and accessible to all who seek to improve their lives through a college education," said President Tom LoBasso. "We are able to do this in part because of better efficiencies and increased retention rates. Most recently, our move up to silver level in the state's performance funding plan allows us to pass savings on to students."


The access fee is authorized by Florida Statutes to cover the costs of certain services colleges provide to students. Daytona State historically has included in its access fee costs related to campus safety for parking lot areas, student IDs, student portal costs and a portion of costs for academic support services.
"For 2016-17, the college has decided to primarily remove the academic support costs from the access fee and will now absorb these costs from our general operating funds," LoBasso said. "The access fee reduction equates to approximately $1 million less being charged to students based on 2016-17 estimated credit hours."
The fee reduction came as the board approved an annual operating budget of $86,938,559 for the coming fiscal year, which begins July 1.


Shortly after LoBasso last summer was named DSC's president, Daytona State was among the first in the nation to implement its 2 percent tuition reduction. That move came on the heels of what already had been a five-year tuition freeze.
The ongoing effort to control costs has earned Daytona State a ranking among the top 60 most affordable in the nation by the U.S. Department of Education's College Affordability and Transparency Center, which notes that the college's tuition rate is less than half the national average for public four-year colleges and universities.
###
---
MORE: Offering more than 100 certificate, associate and bachelor's degree programs, Daytona State College is the leader in education and workforce training needs of Volusia and Flagler counties and beyond for more than 60 years. The College enrolls nearly 25,000 students a year at its seven instructional sites, with graduates serving in critical fields including healthcare, emergency services/public safety, business, education, hospitality, engineering, technology, digital media, and more.
Daytona State has been recognized as a leader in higher education numerous times, consistently by U.S. News & World Report, which ranks the College among the Top Tier Best Online Bachelor's Programs. The U.S. Department of Education's College Affordability and Transparency Center has ranked DSC among the top 50 most affordable public four-year institutions in the country, with less than half the tuition of the national average. Community College Week, a leading publication in higher education, annually continues to feature the college in its list of Top 100 Associate Degree Producers. And U.S. News & World Report has ranked DSC among its Top Online Bachelor's Programs for Veterans multiple times.
For enrollment information, visit Admissions' Frequently Asked Questions page.
MEDIA CONTACT:
Chris Thomes, Chris.Thomes@DaytonaState.edu
Marketing & Communications, Marketing@DaytonaState.edu
A Member of the Florida College System
Daytona State College prohibits discrimination and provides equal opportunity in employment and education services to all individuals without regard to age, ancestry, belief, color, disability, ethnicity, genetic information, gender, marital status, national origin, political affiliation, race, religion, sex, sexual orientation or veteran status. For more details, read our policy at DaytonaState.edu/hr/equalaccess.html or contact Lonnie Thompson, Director of Equity and Inclusion, (386) 506-3000 ext. 3973, or Thompsl@DaytonaState.edu. The Office of Equity and Inclusion is located at 1200 W. International Speedway Blvd., Daytona Beach, FL 32114.