DSC signs inaugural men's and women's soccer teams
DAYTONA BEACH, Fla. (May 4, 2016) - Daytona State College this week announced the signing of its inaugural slate of student athletes who will field the college's first-ever men's varsity soccer team. The signings come just weeks after DSC's women's soccer team was formally introduced to the college community.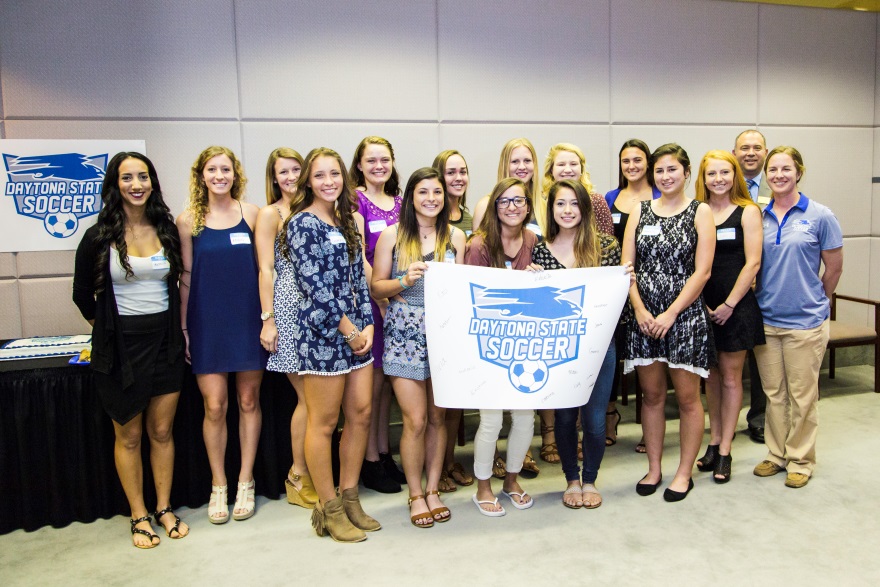 During each signing ceremony, the young men and women and their parents were welcomed to the college by DSC President Tom LoBasso, Athletic Director Will Dunne and the coaching staff.

"To have a new program like varsity NJCAA soccer happen requires a college administration with the vision and leadership to see it through," Dunne said. "You have to have a champion, and we thank Dr. LoBasso and the District Board of Trustees for their leadership and commitment in bringing Falcon soccer to the college."

The president said he looks forward to the history that each inaugural team will make. "This is a very exciting time," he said. "These student athletes are going to be a part of a lot of firsts. We are going to see our first goal scored, our first shutout, hopefully, our first winning season and maybe even our first championship."

LoBasso joined Dunne in echoing calls by men's coach Bart Sasnet and women's coach Brittany Jones for the student athletes to put academics above all else during their college careers. He pointed to DSC's women's golf and men's baseball teams, which this year earned the top team grade point averages in the nation for their sports.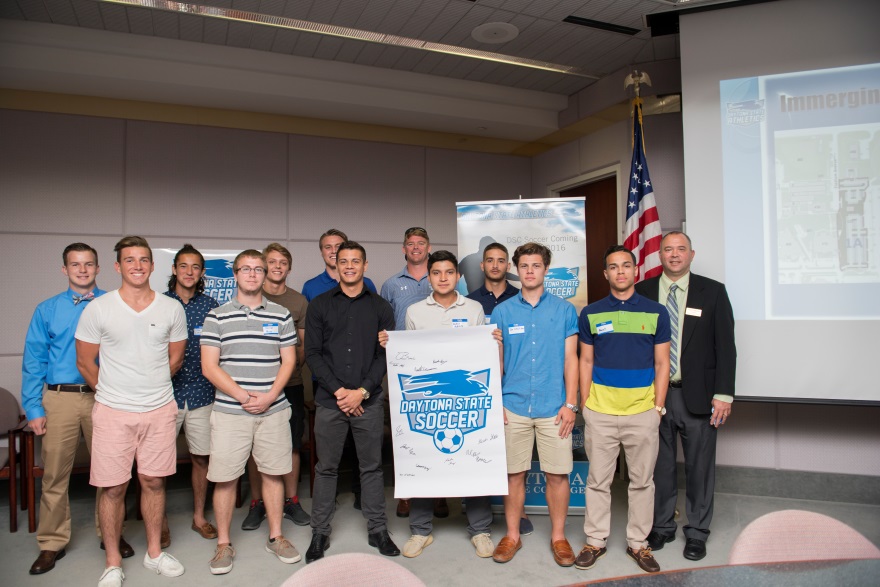 "We brought our coaches here because they fit what we want to do at the college, and that is making sure our student athletes are successful in class and on the field, and that they finish their academic programs," LoBasso told the athletes and their parents. "We value the academic component of what we do here, and we will do what we can to provide the support you need to be successful students."

The teams this year will conduct their practices and home games at Embry-Riddle Aeronautical University. In April, DSC trustees approved a master plan that calls for construction of a 1,000-seat soccer stadium in the northeast quadrant of the Daytona Beach Campus. Construction is slated to be completed by spring 2017.

The women's team will start preseason training on July 30, and will play three preseason scrimmages prior to the start of their regular season schedule. The team's final preseason scrimmage will see them compete against ERAU's women's soccer program on Aug. 28 at 6 p.m. The first regular season match will take place on Sept. 3 against Georgia Military College in Cuthbert, Ga., with the first home game slated for Sept. 10 at 2 p.m. against Gordon State College.

The men's team also will start preseason training on July 30. It will play a preseason scrimmage against Flagler College on Aug. 18 in St. Augustine. The team will have its first regular season game on Sept. 3 against Andrew College in Cuthbert, Ga., and its first home game Sept. 7 against Eastern Florida State College beginning at 4 p.m.

For more information on DSC athletics, visit daytonastate.edu/athletics.

###
---