DSC holds ceremonial groundbreaking for new soccer complex
DAYTONA BEACH, Fla. (Dec. 14, 2016) – Flanked by proud members of the Daytona State College men's and women's soccer teams, officials ceremonially broke ground for a state-of-the-art soccer stadium complex on Dec. 14 on the Daytona Beach Campus.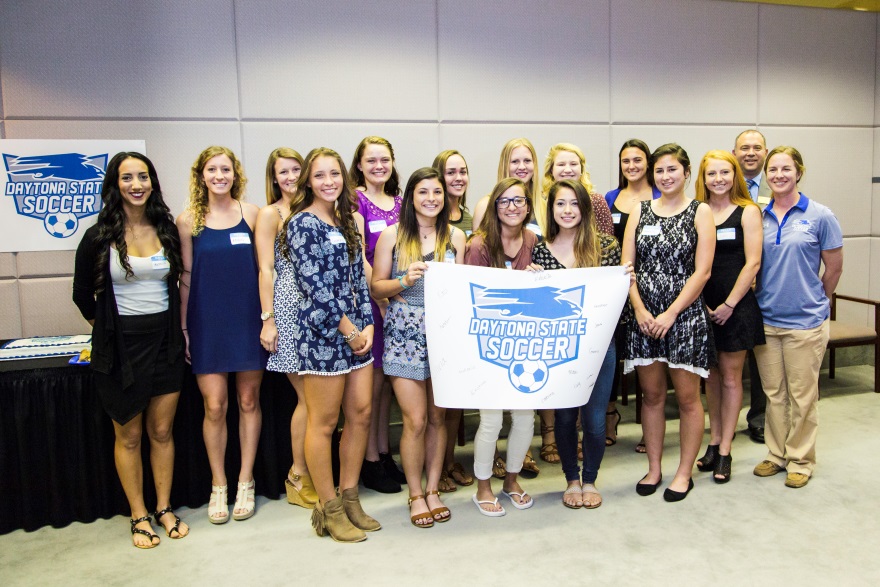 The excitement was tangible as DSC and community leaders, board members, representatives of regional soccer clubs, college staff and students came together for speeches and shovel turning.

"Soccer is another enhancement to a comprehensive student experience at DSC. The statewide and national excitement over soccer puts DSC on a bright playing field, positioning our institution among top choices for higher education in the region and beyond," said DSC President Tom LoBasso.
"Our future soccer stadium is also about community," he added. "You will see dozens of local and regional youngsters on this field vying for their best shots in events such as 3v3, 7v7 and other soccer clinics, as well as alumni and guests here for homecoming activities."

The DSC teams will have their home field for the 2017 season, with construction beginning soon. The soccer complex will offer seating for over 800, as well as restrooms, a press box and a concession area. The stadium will feature an infrastructure to support live sports-broadcasting events and a 30-by-25-foot high-definition video scoreboard showing live games, instant replays and student interviews. The college will solicit naming rights and sponsorships for the complex and various facility landmarks.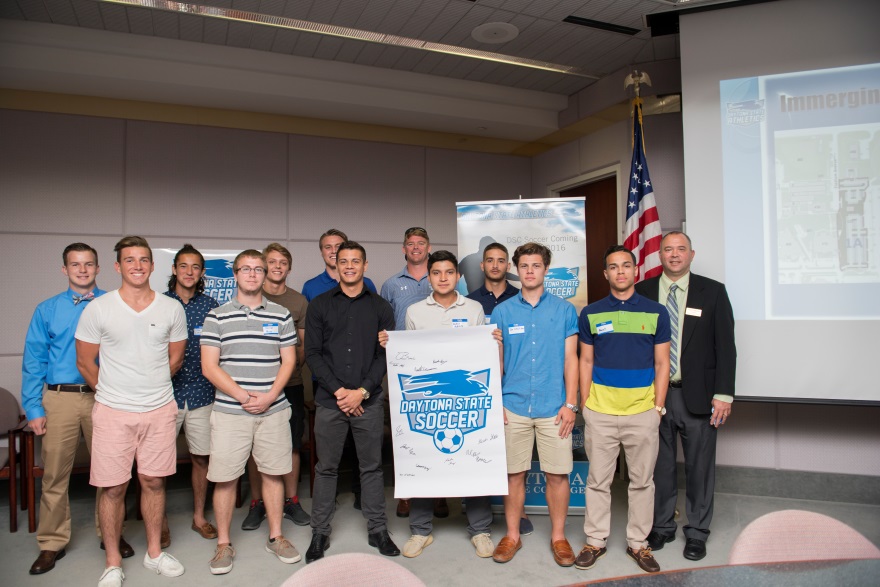 During his talk, Athletics Director Will Dunne revealed that the college is hosting the NJCAA National Championship Events Committee on a site visit to consider DSC as host for the NJCAA Men's Division 1 soccer national championship tournament "right here where we are standing today. The bid cycle that we submitted for is 2018, 2019, 2020. This would serve as an economic driver for the city and region."

Dr. LoBasso cited the inaugural teams' stellar first season, recapping their success. Under coach Bart Sasnett the men's team earned Region 8 and Southeast District championships and an appearance at the NJCAA National Tournament in Texas. On top of that, seven players were named All-Region and team captain Brandon Berg was named All-American, a first for the Falcons.
The women's team also had a great season with an 11-3 record, and ranked among the NJCAA's top 20 teams, while coach Brittany Jones was named Region 8 Coach of the Year.
Noting that the soccer complex will attract a loyal Falcon fan base, LoBasso detailed how it also will become a learning laboratory for students. The facility will provide a real-world practicum for students pursuing DSC's new Associate of Science in Broadcast Television Production degree, launching fall 2017, utilizing the college's public TV station, WDSC.
"This program opens a whole new path of experience for DSC students interested in live television broadcasting and production," said LoBasso. "And while teaching and learning are primary drivers, offering live broadcasts also allows us to showcase our many athletic programs and increase awareness of Daytona State's mission."

The new AS degree will meet one of Team Volusia's targeted industries and support current job projections. The Bureau of Labor Statistics projects over 500 annual broadcast job openings in Florida over the next decade, and up to 40 job openings a year in Volusia and Flagler counties.

###
---