Falcons take Southeast District, on their way to NJCAA Tournament
Inaugural DSC soccer team flies in face of start-up odds
DAYTONA BEACH, Fla. (Nov. 7, 2016) - Perseverance and resiliency are two words being used to describe the Daytona State College Falcons' journey to Saturday's play-off victory against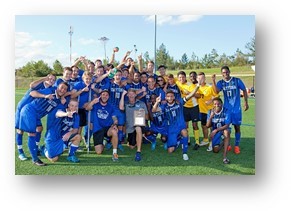 the Eastern Florida State College Titans, 2 to 2, winning 10 to 9 in overtime shoot out.
The Falcons entered the play-offs as the Region 8 Champions, ranked 8th in the National Junior College Athletic Association (NJCAA), and are now the Southeast District Champions. With this victory they will play the NJCAA Division 1 national tournament held in Tyler, Texas. The Falcons are awaiting their group and seed placement for the tournament, to be held at Tyler Junior College at Pat Hartley Soccer Complex Nov. 14-19. The Falcons' season record is 16-2-1.
"I could not be more proud of a group of student athletes and their coaches," said DSC President Tom LoBasso. "These teammates unified their play incredibly well in their very first year. A victorious hard-fought season like this shows how well our Falcons rise to athletic challenge, while also maintaining academic prowess."
This match was unlike any other the inaugural DSC men's soccer team played this year, lasting 120 minutes plus penalty kicks, and ending with triumphant Falcons raising the trophy high. This was the fourth time this season that the two teams met but the level of competitive play during the match was unparalleled.
"You can't coach what happened here," said Head Coach Bart Sasnett. "The win came from real heart, and these boys gave it everything they had."
The first half was nothing short of spectacular play from both teams. The Falcons and the Titans came out firing on all cylinders wanting the win. Daytona got on the board first with a header from sophomore and captain Brandon Berg. The Titans answered right back with a goal from Alex Alexis to tie it up 1-1. The game went into halftime with the score tied.
As the 2nd half began, Daytona came out with the momentum and started taking as many shots as they could. Instead of Daytona getting a goal, Eastern's Danilo Orsi-Dadomo got one chance and put it away, making the score now 1-2. With time running out and the game nearing an end in the 80th minute, freshman Donovan Segree rocketed a shot into the side of the net tying up the match for Daytona.

After 90 minutes of regulation time, the Falcons and Titans were going into "golden goal" overtime. Coach Sasnett, just like every game, gave the Falcons the inspirational speech they needed going into OT. After 20 minutes of strenuous overtime, the game was still tied 2-2 and for the first time this season, the Falcons were going to penalty kicks (PK).

All Coach Sasnett could do now was send 10 players to take penalties, everything else was out of his control. Coach Sasnett trusted assistant coach Travis Rovillo to come up with the PK shooters. Sasnett made the decision of going with sophomore local Jesse Della Porta to be the keeper in the penalty shootout. "Jesse is known as a keeper who can save penalties in big games," said captain Brandon Berg. Sophomore goalkeeper Palemon Plancarte played the entire match for the Falcons, including both overtime periods. "He is an incredible keeper and he played an extraordinary match," said Sasnett. "His performance was unmatched and he kept us in the game on many occasions." Plancarte recorded 17 saves in the match, only allowing 2 goals.
The players chosen to take penalties kicks for Daytona were: Bryan Mejia, Dylan Burke, Marko Tomic, Quam Salami, Ryan Sandidge, Brandon Berg, Tyler Hall, Ryan Goldsmith, Jahnazae Swan and Rory O'Keefe.
The rules for penalty kicks give each team five alternating kicks. If one team is not ahead on goals after these five kicks, the shootout proceeds to sudden death, and that is exactly what happened.

The first PK usually sets the tone for the remainder of the shootout, and this time was no different. The Titans were awarded the first PK and their captain Craig McCall was up to take it. With pressure and anxiety building, McCall shot the ball and Della Porta dove and saved it. That was all the Falcons needed to persevere through the shootout.

The Falcons, with a high level of team focus, continued to stay fixated on the task at hand, which led them to put so many balls in the back of the net. Since the first 5 penalty kicks ended on a tie, the remaining 5 shooters were now in sudden death penalty kicks. When it came to Eastern's 9th shooter, Della Porta psyched him out and the shot ended up over the goal.
All the Falcons had to do now was make a shot and they would win. Freshman Jahnazae Swan, calm and collected, walked down the field to the penalty spot. As he approached the spot, he looked over at the bench with confidence. With the pressure of the game on his shoulders, he shot the ball and placed it right into the back of the net. The Falcons rushed the field in excitement.
"This experience was phenomenal," says Sasnett. "I'm proud beyond words of this group of guys, and they deserve this."

Daytona State offers a range of sports, attracting nearly 200 talented athletes. DSC sports are: men's and women's soccer (the women's team made it to semi-finals in their inaugural season), women's golf (8-time NJCAA champions), women's fast-pitch softball, men's baseball, men's and women's basketball and women's volleyball.

DSC athletes also consistently win in the classroom, with last year's golf and baseball teams winning 2016 NJCAA first place as National Academic Teams of the Year. Over 90 percent of DSC athlete graduates transfer to a university with full or partial athletic scholarships.

###
---
MORE: Offering more than 100 certificate, associate and bachelor's degree programs, Daytona State College is the leader in education and workforce training needs of Volusia and Flagler counties and beyond for more than 60 years. The College enrolls nearly 25,000 students a year at its seven instructional sites, with graduates serving in critical fields including healthcare, emergency services/public safety, business, education, hospitality, engineering, technology, digital media, and more.
Daytona State has been recognized as a leader in higher education numerous times, consistently by U.S. News & World Report, which ranks the College among the Top Tier Best Online Bachelor's Programs. The U.S. Department of Education's College Affordability and Transparency Center has ranked DSC among the top 50 most affordable public four-year institutions in the country, with less than half the tuition of the national average. Community College Week, a leading publication in higher education, annually continues to feature the college in its list of Top 100 Associate Degree Producers. And U.S. News & World Report has ranked DSC among its Top Online Bachelor's Programs for Veterans multiple times.
For enrollment information, visit Admissions' Frequently Asked Questions page.
MEDIA CONTACT:
Chris Thomes, Chris.Thomes@DaytonaState.edu
Marketing & Communications, Marketing@DaytonaState.edu
A Member of the Florida College System
Daytona State College prohibits discrimination and provides equal opportunity in employment and education services to all individuals without regard to age, ancestry, belief, color, disability, ethnicity, genetic information, gender, marital status, national origin, political affiliation, race, religion, sex, sexual orientation or veteran status. For more details, read our policy at DaytonaState.edu/hr/equalaccess.html or contact Lonnie Thompson, Director of Equity and Inclusion, (386) 506-3000 ext. 3973, or Thompsl@DaytonaState.edu. The Office of Equity and Inclusion is located at 1200 W. International Speedway Blvd., Daytona Beach, FL 32114.