DSC earns 3rd straight Military Friendly School designation
DAYTONA BEACH, Fla. (Nov. 10, 2016) – For the third consecutive year, Daytona State College has been named to an increasingly select list of colleges and universities designated as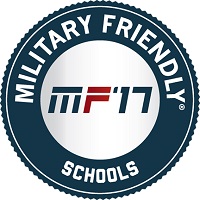 Military Friendly Schools by veteran-owned company Victory Media.
The list honors colleges, universities and trade schools that are doing the most to embrace America's service members and veterans as students.
"So many of our veteran students have made extraordinary sacrifices," said DSC President Tom LoBasso. "We recognize that leaving the military and preparing for a new life can be challenging. As a college community, we are honored and proud to serve these men and women. We're committed to making their time at Daytona State a positive experience as they pursue new opportunities."
Victory Media calls its list America's most stringent and transparent inventory of schools catering to veterans, grading the institutions on their accreditation, federal status and key benchmarks that include retention, graduation and job placement rates of veterans, and on-campus veteran support services. Those criteria are assessed through a survey the company makes available to all of the nation's 12,000 VA-approved colleges.
Last year, about 1,400 institutions earned the Military Friendly School designation. This year, with a tightening of the selection criteria, less than 700 schools made the list.
More than 1,300 veterans attended Daytona State last year, with nearly 200 graduating. With a Veterans Center on the Daytona Beach Campus and staff veteran liaisons on the college's regional campuses, servicemembers can receive assistance with everything from filing for GI Bill benefits and other student services to receiving referrals for further academic and personal assistance both inside and outside the college.
Additionally, the college several years ago adopted a policy authorizing that credit can be granted to students with military training, experience or coursework that is recognized by the American Council on Education (ACE). Depending on the type of prior learning experience, credits can be applied toward a veteran student's general education requirements or counted as elective credit. Daytona State veteran students also enjoy:
• Priority registration
• Fee waivers for Purple Heart or other superior combat decoration recipients
• Veteran-specific new-student orientations
• In-state tuition, whether or not they are Florida residents
• Veterans Center dedicated to serving their needs, offices on each campus
• Free writing and mathematics tutoring in the Veterans Center
• Eligibility to join the Falcon Veterans Society student club
Last year, Daytona State was ranked second in the nation for Top Online Bachelor's Degrees for Veterans by U.S. News and World Report.
For more information about veteran services provided by Daytona State, call (386) 506-3545 or (386) 506-3065.
###
---