DSC instructor earns EMS teacher of the year honors
DAYTONA BEACH, Fla. (July 19, 2016) - Ken Moorhouse, a 22-year veteran of Daytona State College's School of Emergency Medical Services faculty, has been named Florida Paramedic Instructor of the Year by the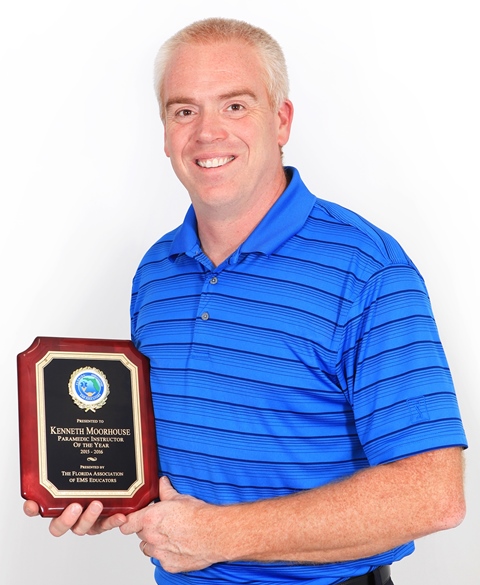 Florida Association of EMS Educators (FAEMSE). The award was presented last week during the FAEMSE annual conference held in Orlando.
"Ken is so deserving of this award," said Louie Mercer, director of DSC's School of Emergency Services. "He is an outstanding innovator and instructor, with qualities that are built from more than 24 years as a practicing paramedic."
Moorhouse, a Port Orange resident, joined DSC as a part-time instructor in 1994 and transitioned to full time in 2003. He continues to also work full time with the Orlando Fire Department.
Mercer notes the instructor's dedication to continuously improving the college's EMS programs. "He is constantly coming up with new ideas to make our programs stronger, particularly in areas such as skills tracking and student performance evaluations," he said. "Ken also designed a large scenario room that our police and EMS recruits can use separately and mutually during collaborative skills practices."
Daytona State is the leading public safety training provider in the region, awarding on average 60 Paramedic certificates and 200 Emergency Medical Services associate degrees annually. For more information, contact the School of Emergency Medical Services at (386) 506-4122 or EMS@DaytonaState.edu.
###
---