Daytona State earns prestigious cybersecurity designation
DAYTONA BEACH, Fla. (April 20, 2016) - The National Security Agency (NSA) and the Department of Homeland Security (DHS) have designated Daytona State College a National Center of Academic Excellence in Cyber Defense Education (CAE-CDE).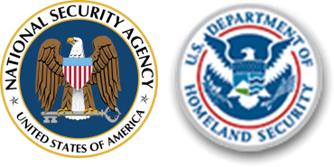 The four-year designation is based on the college meeting stringent academic criteria and distinguishing its strengths in cybersecurity and cyberforensics training.

"DSC is the first state college in Florida to receive the four-year designation for its combined AS- and BS-level cybersecurity curriculum," said Dr. Philip Craiger, a professor with the college's School of Engineering Technology. "This validates the strength of our AS and BS cyber programs, and students enrolled in our courses can be assured they are getting a solid education."

In addition to offering an Advanced Technical Certificate in Cybersecurity and Cyberforensics, the college also offers a cybersecurity component in its Associate of Science in Network Systems Technology degree as well as a cybersecurity and cyberforensics specialization in its Bachelor of Science in Information Technology degree.

According to the NSA, demand for public and private sector cybersecurity positions is rapidly expanding, but the talent pool of cybersecurity workers is not yet able to keep up.

"Your ability to meet the increasing demands of the program criteria will serve the nation well in contributing to the protection of the national information infrastructure," said NSA National CAE Program Manager Karen Leuschner in notifying DSC of the designation. "The critical shortage of professionals with these skills highlights the importance of higher education as a solution to defending America's cyberspace."

Adding to the college's cyber credentials, DSC last year was designated a National Center of Digital Forensics Academic Excellence by the Defense Cyber Crime Center (DC3), a unit of the U.S. Department of Defense. Similar to the NSA-CDE designation, this credential is only bestowed upon schools that have demonstrated that their cyberforensics curriculum is rigorous and comprehensive.

Daytona State also is the lead institution for the Advanced Cyberforensics Education Consortium (ACE), a National Science Foundation-funded initiative that has DSC partnering with other colleges and universities throughout the southeastern United States to advance cyberforensics awareness and education. Craiger is the principal investigator for the $1.8 million grant. He also was recently elected to represent Daytona State on the executive board of the Department of Defense's Cyber Crime Center Academic Cyber Curriculum Alliance.

The ACE consortium provides self-paced online courses that prepare faculty to teach cyberforensics courses and facilitate workforce retraining.

It also offers free cyber camps for 9-12 graders, where students learn about cybersecurity and engage in competitions to test their cyberforensics skills, with the goal of sparking interest in pursuing careers in the field.

Registration is underway for the next local cyber camp slated for July 11-14, 8 a.m - 4 p.m., at DSC's Advanced Technology College. To register, or for more details, visit DaytonaState.edu/ace/cybercamp.html or call (386) 506-4163.

###
---
MORE: Offering more than 100 certificate, associate and bachelor's degree programs, Daytona State College is the leader in education and workforce training needs of Volusia and Flagler counties and beyond for more than 60 years. The College enrolls nearly 25,000 students a year at its seven instructional sites, with graduates serving in critical fields including healthcare, emergency services/public safety, business, education, hospitality, engineering, technology, digital media, and more.
Daytona State has been recognized as a leader in higher education numerous times, consistently by U.S. News & World Report, which ranks the College among the Top Tier Best Online Bachelor's Programs. The U.S. Department of Education's College Affordability and Transparency Center has ranked DSC among the top 50 most affordable public four-year institutions in the country, with less than half the tuition of the national average. Community College Week, a leading publication in higher education, annually continues to feature the college in its list of Top 100 Associate Degree Producers. And U.S. News & World Report has ranked DSC among its Top Online Bachelor's Programs for Veterans multiple times.
For enrollment information, visit Admissions' Frequently Asked Questions page.
MEDIA CONTACT:
Chris Thomes, Chris.Thomes@DaytonaState.edu
Marketing & Communications, Marketing@DaytonaState.edu
A Member of the Florida College System
Daytona State College prohibits discrimination and provides equal opportunity in employment and education services to all individuals without regard to age, ancestry, belief, color, disability, ethnicity, genetic information, gender, marital status, national origin, political affiliation, race, religion, sex, sexual orientation or veteran status. For more details, read our policy at DaytonaState.edu/hr/equalaccess.html or contact Lonnie Thompson, Director of Equity and Inclusion, (386) 506-3000 ext. 3973, or Thompsl@DaytonaState.edu. The Office of Equity and Inclusion is located at 1200 W. International Speedway Blvd., Daytona Beach, FL 32114.