DSC team earns top prize at 3rd annual Cairns Innovation Challenge
$10,000 award and 1-year enrollment in the UCF business incubator
DAYTONA BEACH, Fla. (April 12, 2016) – It's a lightweight, portable and flexible sun shade that can easily be mounted to any chair or lounger and used at the beach, hotel resorts,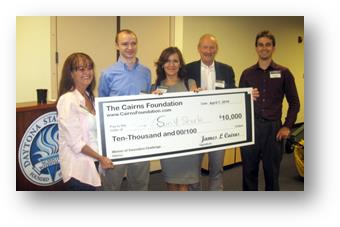 sporting events or tailgate parties, even in your own backyard. So simple, it may leave you asking, "Why didn't I think of that?"
But the SunN' Shade device was enough for Daytona State College Bachelor of Science in Engineering Technology students Matthew Cresenzi, Caelan Hickman and Matthew Morris to win top honors at this year's Cairns Foundation Innovation Challenge held April 7 at DSC's Advanced Technology College.
The competition is jointly sponsored by the Cairns Foundation, Volusia County and the Volusia County - University of Central Florida Business Incubator. It spotlights commercially viable technologies generated by students from the Central Florida region's eight colleges and universities. The contest carries a top prize of $10,000 plus a one-year resident enrollment in the UCF business incubator, and a $5,000 second-place prize funded by the Paul B. Hunter and Constance D. Hunter Charitable Foundation with a year of support at the incubator.
"It's exciting to see promising innovators step up from our local colleges and universities," said Jim Cairns, entrepreneur and head of the Cairns Foundation. "This year we received 18 proposals from students, which made it a much more competitive field than years past. We're thrilled to see how this competition is growing, and look forward to having it again at Daytona State's Advanced Technology College, in 2017."
This is a huge win, said Daytona State President Tom LoBasso. "We are all so proud of our student team and their advisor, Dr. Nabeel Yousef. The leadership he provided in this competition was outstanding."
Yousef's students worked on their projects as part of their Engineering Technology capstone course. Those that show the most merit can apply to enter the Innovation Challenge competition.
"I designed the course to challenge students in the program and push them to use all the knowledge they gained from other courses," Yousef said. "The objective is not only about passing the course with an A or B, it is making sure that our students have the knowledge and skills to be hired and succeed in their work after they graduate."
The DSC team, which will use the prize money to support commercialization of the SunN' Shade product, competed against five other finalist teams representing Daytona State, Embry-Riddle Aeronautical University and Bethune-Cookman University. Other innovations among the finalist teams included a portable crane developed by DSC students David Danner, Daniel Benech and Sinclair Stickle; a biogas generator by DSC students Jeffry Hall and Rember Quijada; a miniature flood monitoring system by a BCU team; an exercise monitoring device by an ERAU team; and a temperature-control device by an ERAU team that won second place.
Each team was allotted 25 minutes to present the invention to a panel of judges and local investors. Each was evaluated based on the product's novelty, the attributes of the startup team, the size and potential market for the product, the quality of the team's development plan and ultimate path to market, and the suitability for near-term development of the product.
###
---