Daytona State honors students, employees, alumni at awards convocation
DAYTONA BEACH, Fla. (April 13, 2016) – Daytona State College honored 177 students along with four employees and three accomplished alumni during its annual outstanding student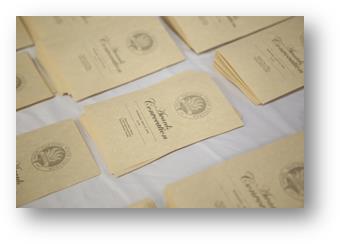 awards convocation held April 13. The awards convocation is the preceding event to the college's commencement exercises that will take place on Monday, May 16, at 2 and 6:30 p.m. at the Ocean Center.
President Tom LoBasso opened the ceremony noting great expectations for hard-working students focused on their success. "I expect we will hear more good news about many of today's honorees as they continue their education, move into their careers and advance in their professions."
Students were recognized for their academic, community service and athletic achievements. Among the award winners, 45 were named to the Who's Who Among Students in American Junior Colleges program and 12 were inducted into the college's Hall of Fame – the highest honor the faculty can bestow upon a student.
Induction into the college's Hall of Fame is based on the highest standards of excellence in scholarship, leadership and citizenship. The 2016 inductees are: Amber Clark, Tivon Faneyte, Robert Harper, Beily Hernandez, Ji Sun Kang, Cynthia Puckett, Joseph Salamone, Laura Schachter, Willow Sprague, Jacob Swaggerty, Michael Tirpak and Frances Vaccaro.
Selection to the Who's Who Among Students in American Junior Colleges program is based upon academic excellence as well as contributions to the college and the community. Students selected for 2016 are: Austin Albro, Kaylee Allen, Megan Anderson, David Bellish, Madeline Bertelson, Amanda Bolton, Brian Brooker, Michael Brown, Oscar Cabrera, Sabrina Collins, Kerrie Dunn, Tivon Faneyte, Gilarys Garcia Milan, Bryanne Gardner, Rosemilie Golding, Megan Hammett, Morgan Hammett, Joshua Hasker, Beily Hernandez, Joel Hinton, Alexandra Hallabaugh, Sue Hopkins, Landon Hutchinson, Celyne Isidro, Hailey Jackson, Preston Johnston, Alica Kandler, Ji Sun Kang, Nana Kani, Elizabeth Kirkland, Demi Kodsy, Devonna Leeks, Emily Linton, Brittany Monderen, Justina Newman, Drew Peden, Cynthia Puckett, Evan Scherr, Corrine Scott, Brad Skibo, Willow Sprague, Annika Thomas, Olivia Thomas, Michael Tirpak, Norma Poole-Bland and Sache Bascome
Students honored for athletic or scholastic achievement or for their service to the college are:
(AA = associate of arts degree; AS = associate of science degree; AAS = associate of applied science degree)
Division of Intercollegiate Athletics
Men's Baseball - Tivon Faneyte
Men's Basketball - Nashad Mackey
Women's Basketball - Ragen Dotson
Women's Golf - Ji Sun Kang
Women's Softball - Hailey Jackson
Volleyball - Alica Kandler
Division of Co-Curricular Activities
Student Government - Austin Albro
Student Publication: Editor in Chief - Candice Thompson
Phi Theta Kappa - Jacob Swaggety
College of Business Administration
Bachelor of Applied Science - Austin Albro
School of Applied Business
Accounting Technology (AS) - Danielle Palmer
Business Administration (AS) - Jason Morace
Office Administration( Medical Systems Options) - Heather Strubell
Office Administration( Administrative Assistant Option) - Wendy Moore
Industrial Management Technology - David Parsons
Paralegal Studies - Frances Vaccaro
Accounting Technology Management - Samantha Bodnar
Accounting Technology Operations-Tax Preparation - Scott Johnson
Business Management - Wendy Grinko
Business Operations-Entrepreneurship - Molly Skipper
Office Management - Styly Hayward
Office Management-Medical Option - Andrea Matusiak
Office Support - Arlene Smith
Marketing, Sales and Service-Entrepreneurship - Genevieve Penn
College of Hospitality and Culinary Management
Culinary Management (AS) - Linda Pelletier
Culinary Arts - Addison Babin
Hospitality Management (AS) - Susan Pisarcik
Culinary Operations-Baking and Pastry Specialization - Milagros Cortes
College of Education
Elementary Education - Bachelor of Science - Laura Schachter
Exceptional Education - Bachelor of Science - Justin Schroth
Secondary Biology Education - Bachelor of Science - Corrine Scott
Secondary Chemistry Education - Bachelor of Science - Steve Minciulescu
Secondary Earth/ Space Science Education - Bachelor of Science - Rebecca Leahey
Secondary Mathematics Education - Bachelor of Science - Joshua Reinert
Educators Preparation Institute - Sara Casale
Education Major - Associates of Arts - Viktoriia Evstafieva
Adult Education
High School Degree - Marcella Albritton
General Education Development Degree - Laura Haynes
English to Speakers of Other Language - Hector Rodriguez
College of Arts and Sciences
Quanta - Alyssa Tedrick
Dan Stout Award - Sean Vayda
Outstanding Mathematics - Melanie Masse
Human Services(Addictions Specialization) - Nicole Fedler
Psychology - Ryan Kirby
Philosophy - Forest Van Horn
Sociology - Sydney Woodward
Political Science - Justin Martens
Environmental Science Technology - Elizabeth Moody
Environmental Science - Emily Reyes
Marine Science - Samantha Edel
Physics - Alexandra Hollabaugh
Chemistry - Alec Chin-Quee
Marine Biology - David Masaitis
Photography - Jeff Roach
Interactive Media - Cynthia Puckett
French and Spanish - Christine Bartell
Speech - Kelsey Beasley
American Sign Language - Beily Hernandez
Humanities and Communications
Personal Narrative - Candice Thompson
Argumentative Category - Jon Geier
Short Fiction Category - Caleb Lee
Poetry Category - Saiful Bari
General Research Category - Jessica Snellback
Literature Analysis Category - Jesse Do
Mike Curb College of Music, Entertainment & Art
Outstanding in Instrumental Music - Samuel Williams
Outstanding in Theater - John Mercer
Outstanding in Dance - Elizabeth Gamba
Outstanding in Studio Arts 3D - Valentina Trindade
Outstanding in Studio Arts 2D - Alexandria Fuller
College of Health and Public Services
Dental Hygiene - Cherlotte Washington
Dental Assisting - Megan Donawa
Criminal Justice Technology Bridge - Christopher DeRosa
Emergency Medical Services - Amy Sherlock
Fire Science - David Randall
Correctional Officer Recruit Training (Certificate) - Danielle Basciano
Emergency Medical Technician (Certificate) - Jason Feldman
Fire Fighter (Certificate) - Angela Jackson
Florida Law Enforcement Academy - Lynn Saccente
Paramedic (Certificate) - Amy Sherlock
Early Childhood Education - Monique Swinton
Health Information Technology - Mary Ryals
Occupational Therapy Assistant - Tara Combs
Physical Therapist Assistant - Viviana Guerrero
Radiography - Elisebeth Cobb
Respiratory Care - Eunice Carter
Massage Therapy - Charlene Jones
Medical Assisting - Katie Eagle
Surgical Technology - Lexi Lightsey
Bachelor of Science in Nursing (BSN) - William Morris
Nursing - Kerrie Dunn
Nursing Assistant (Long Term Care) - Justin Nichols
Practical Nursing - Cassandra Spruce Minieri
Academic Support and College Writing Center
Supplemental Instruction Leader of the Year: Science - Isaac Bowen
Supplemental Instruction Leader of the Year: Mathematics - Clarence Downs
Academic Support Center: Tutor of the Year - Tyler Shaw
Writing Center: Writing Fellow - Emily Linton
College of Technology
Architectural and Building Technology - Troy Howe
Drafting and Design Technology( CAD) - Gustavo Negron
Interior Design Technology - Chris Guerrierro
AutoCAD Foundation ( Architectural) - Jose Davila
AutoCAD Foundation ( Engineering) - Kevin Nelson
Drafting and Design Technology - Carlisle Joseph
Interior Design Technology-Kitchen and Bath Specialization - Davoud Nasr
Computer Engineering Technology - David Courtney
Computer Information Technology - Thomas Partlow
Computer Programming and Analysis(Software Engineering Technology) - Rachel Wheaton
Computer Programming and Analysis(Software Engineering Technology) - Jessica Baker
Electronics Engineering Technology - Ehab Hashem
Internet Services Technology - Paul Lyon
Network Systems Technology - Justin Leahey
Network Systems Technology - Josh Hook
Simulation and Robotics Technology - David Cooley
Advanced Network Infrastructure - Arash Ramezani
Cable Installation - David Cooley
Computer Programming - Rachel Wheaton
Information Technology Administration - Nathalie Alkins
Information Technology Support Specialist - Arash Ramezani
Information Technology Management - Arash Ramezani
Microcomputer Repairer/ Installer - Angela Lane
Network Communications (LAN) - Peter Anderson
Network Communications (WAN) - Peter Anderson
Network Infrastructure - Peter Anderson
Network Support Technician - Angela Lane
Web Development Specialist - Jason Snell
Web Development Specialist - Nathalie Alkins
Wireless Communications - Arash Ramezani
Bachelor of Science in Engineering Technology (BSET) - Jeffery Hall
Bachelor of Science in Engineering Technology- Electrical Engineering Technology Concentration - Paul Mullens
Bachelor of Science in Information Technology (BSIT) - Joe Salamone
Cybersecurity and Cyberforensics - Daniel Eaton
Mary Karl College of Workforce and Continuing Education
Air Conditioning, Refrigeration and Heating Mechanic - Daniel Kingsley
Air Conditioning Refrigeration and Heating Technology - Kory Lambert
Automotive Collision Repair and Refinishing - Dominique Hamilton
Automotive Service Technology - Kevin Corr
Barbering - Andrew Manchester
Cosmetology - Courtney Brown
Early Childhood Education Apprenticeship - Natraya Taylor
Machining - Daniel Hart
Electrical Apprentice (Union) - Larson Hagstrom
Plumbing Apprenticeship (Union) - Matthew Padgett
Welding Technology (Applied) - Chance Gassett
Advanced Technology College
Outstanding Service to Campus - Joseph Salamone
Flagler/Palm Coast Campus
Associate of Arts - Robert Harper
Academic Support Center: Peer Tutor-Flagler - Adrienne Gordon

DeLand Campus
Outstanding Service to Campus - Emanuel Torres
Dental Hygiene - Sofya Desmarais
English - Juan Mancilla
Academic Support Center: Peer Tutor- DeLand - Emanuel Torres
Writing Center: Peer Tutor - Shira Gavilanes

Deltona Campus
Associate of Arts - Meghan Dewey
American Sign Language - Alicia Wiggins
Cosmetology - Payge Adams

New Smyrna Beach Campus
Outstanding Service to Campus - Wendy Grinko
Dual Enrollment - Willow Sprague
Computer Engineering Technology - Amanda Bolton
Biological/Physical Sciences - Amber Clark
Environmental Science - Amber Clark
Biological and Physical Science - Jack Hunter
In addition, four employees and three alumni were recognized.
Since 1999, a faculty member has been selected to receive the Presidential Teaching Excellence Award. This year's recipient is LaKisha Quin Holmes, an assistant professor in the School of Mathematics.
Joumana El-Ghali, director of Financial Services, and Teresa Campbell, senior staff assistant, received Employee Excellence awards.
The college also announced the Margaret Crumley Award for Distinguished Achievement in Science recipient: Carl Barden earned his Associate of Arts degree from the college in 1991. He is the owner/director of Medtoxin Venom Laboratories in DeLand.
Alumni of the Year Award was given to Ben Johnson, Volusia County Sheriff since 2001. He is a 1978 graduate of DSC, where he earned his Associate of Science in Criminal Justice. He also is a graduate of the 156th session of the FBI National Academy, Quantico, Va. (1989).
Distinguished Faculty/Staff Award was presented to Dan Biferie, an active artist who has displayed his photographs in more than 150 exhibitions nationally. He chairs DSC's School of Photography, where he has taught for the past 33 years. He also was the founding director of the Southeast Museum of Photography's predecessor, the DBCC Gallery of Fine Arts. He received an Associate of Science in Photography from DSC in 1971.
Young Alumni Excellence Award was announced for Hannah Lucien, who earned her Bachelor of Science in Education in spring 2013, and has been a model alumna and teacher. She recently received the Rookie of the Year award at RJ Middle School.
###
---