Board approves budget with no tuition hike, adds soccer to DSC athletics
DAYTONA BEACH, Fla. (July 1, 2015) – With a full agenda for its June 30 meeting, the Daytona State College District Board of Trustees approved the college's 2015-16 budget with no tuition hike and affirmed the proposal to field men's and women's soccer teams.
The total 2015-16 budget stands at $85,532,212. DSC's state allocations were decreased by just over a million dollars.
President Thomas LoBasso expressed confidence in his leadership team's strategies for fiscal conservancy, and announced plans to explore reducing spring tuition by 2 percent.
"If we can help reduce our students' costs and improve their chances for completion, that's at the heart of our mission," said Dr. LoBasso, adding, "We want to pass along our efficiencies to our students." Tuition savings, added to Gov. Scott's textbook-tax removal, would contribute to student success, freeing more funds for additional classes and other expenses..
Bringing men's and women's soccer – an increasingly popular sport in the U.S. – to DSC athletics also will contribute to college success and student life, noted LoBasso and Athletics Director Will Dunne, who presented an in-depth proposal to field the sport beginning fall 2016. The new teams will add up to 92 full-time students, who are expected to follow the high academic performance shown each year by DSC student-athletes. The addition of soccer is projected to bring in a future net revenue of over a quarter million dollars a year. "This is a win-win for our students, the college and our community at large," said Dunne.
In other notes, the board began the afternoon with a workshop safety presentation by Campus Safety Director Bill Tillard that featured comments by Daytona Beach Chief of Police Mike Chitwood, Flagler County Sheriff's Office Chief Deputy Jeff Hoffman and FBI Special Agent Keith Hicks. During the overview of DSC safety efforts and plans, Tillard noted the addition of drills for and with students on each campus in 2015-16.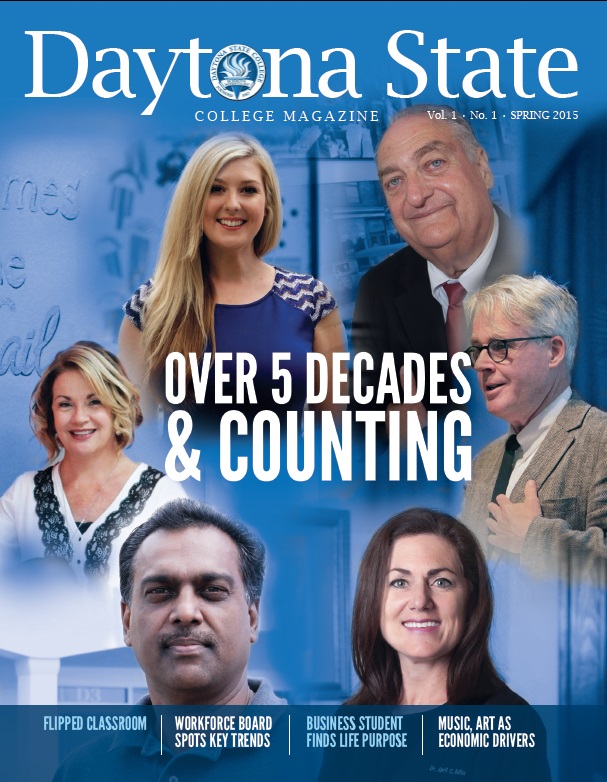 Board members also commented favorably on two new college publications, both in print and online. The inaugural issue of the Daytona State College Magazine features diverse alumni stories, campus and program news and compelling donor articles. With a different purpose in mind, the Career Pathway Research Guide will go to all regional high schools as a tool for counselors and students to see the connections and stages that education can give them for career choices. The career guide was funded by a Florida College System Foundation grant.
###
---
MORE: Offering more than 100 certificate, associate and bachelor's degree programs, Daytona State College is the leader in education and workforce training needs of Volusia and Flagler counties and beyond for more than 60 years. The College enrolls nearly 25,000 students a year at its seven instructional sites, with graduates serving in critical fields including healthcare, emergency services/public safety, business, education, hospitality, engineering, technology, digital media, and more.
Daytona State has been recognized as a leader in higher education numerous times, consistently by U.S. News & World Report, which ranks the College among the Top Tier Best Online Bachelor's Programs. The U.S. Department of Education's College Affordability and Transparency Center has ranked DSC among the top 50 most affordable public four-year institutions in the country, with less than half the tuition of the national average. Community College Week, a leading publication in higher education, annually continues to feature the college in its list of Top 100 Associate Degree Producers. And U.S. News & World Report has ranked DSC among its Top Online Bachelor's Programs for Veterans multiple times.
For enrollment information, visit Admissions' Frequently Asked Questions page.
MEDIA CONTACT:
Chris Thomes, Chris.Thomes@DaytonaState.edu
Marketing & Communications, Marketing@DaytonaState.edu
A Member of the Florida College System
Daytona State College prohibits discrimination and provides equal opportunity in employment and education services to all individuals without regard to age, ancestry, belief, color, disability, ethnicity, genetic information, gender, marital status, national origin, political affiliation, race, religion, sex, sexual orientation or veteran status. For more details, read our policy at DaytonaState.edu/hr/equalaccess.html or contact Lonnie Thompson, Director of Equity and Inclusion, (386) 506-3000 ext. 3973, or Thompsl@DaytonaState.edu. The Office of Equity and Inclusion is located at 1200 W. International Speedway Blvd., Daytona Beach, FL 32114.