DSC to receive funding for new student center/workforce training building
Budget highlights include online learning, WDSC-TV support
DAYTONA BEACH, Fla. (June 23, 2015) – With Gov. Rick Scott's signature today on the 2016 state budget, Daytona State College will receive a special appropriation of $18,852,602 to build a new Student Services/Classroom/Workforce Transition Building, among other budget items. This appropriation brings the total received to approximately $30 million for this new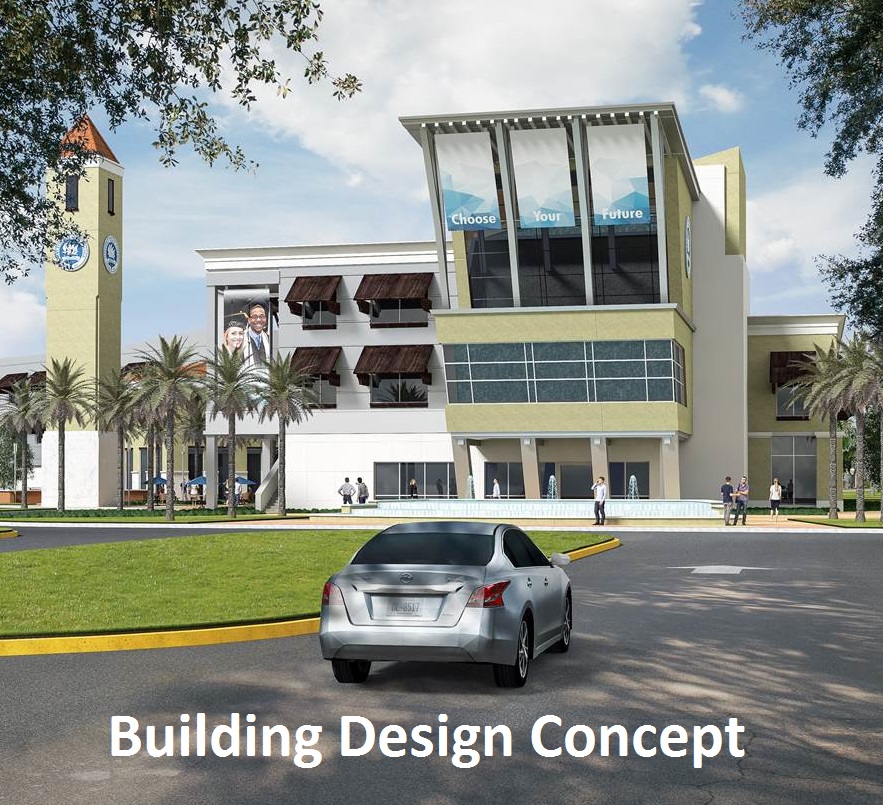 facility, which allows the project to move forward.
"This is excellent news; we deeply appreciate the legislature's support of our initiatives, and the governor's approval this morning," says DSC President Tom LoBasso. "I want to give special thanks to Mori and Forough Hosseini for their tireless dedication and advocacy on behalf of the college and our students, for their numerous trips to the capital to help tell the Daytona State story and how this facility will help our college and community. We are so grateful for their foresight, vision and for their service as champions of higher education and workforce training, helping cultivate initiatives – like this new facility – that are critical components of DSC's mission."
The new building will serve as a hub for academic support and workforce-transition services, and provide a modernized space for food services. It will allow DSC to complement students' academic experiences with career development and job-seeking programs and services, increase student retention, success and completion rates, as well as give students rigorous, relevant curriculum while maintaining affordability.
"This is especially meaningful for our students, the majority of whom live, work and play in Volusia and Flagler counties and contribute to the region's growth and economic impact," notes LoBasso. "Our students and our community will greatly benefit from this integrated facility, which will feature a multi-purpose focus of training, academics and student utility."

Components proposed to move to the new center:
Academic support. Multiple academic support services (the Learning Commons, Student Disabilities Services, Veterans Center and Co-Curricular Activities) will be brought together in one location to improve collaboration and increase student use of the services. General classrooms also will be designed into the new facility, providing a state-of-the-art experience for students.


Workforce transition services. Operational efficiencies will be realized by having more space for the Career Center to offer all of its programs and services in a single facility. Additional square footage and a more efficient layout will increase capacity and accessibility. A one-stop resource center for career planning and job placement will allow students to explore career options, research job opportunities, create resumes, complete job applications, practice interview skills and learn to dress and act professionally. A centralized office will serve students seeking work experience opportunities and businesses that would like to offer internships, service learning opportunities and/or cooperative education placements, increasing internships, cooperative education and on-the-job learning opportunities for students.


Business and industry outreach. Expanding meeting space and providing dedicated training classrooms for the Small Business Development Center (SBDC) and Center for Business and Industry (CBI) could triple the impact on community businesses, promoting business development and expansion. With a corporate training room, meeting space, dedicated classrooms and interview rooms, the CBI and SBDC will increase capacity for customized training programs and continuing workforce education.
The facility's design will now begin, conserving space with multiple stories, in close proximity to faculty offices and student services, and will become a focal point with a community and "street" presence on the Daytona Beach Campus.
Other Budget Items: Budget highlights for Daytona State include $307,447 for WDSC-TV, the college's popular public service station featuring student-run live shows; and $100,000 to support and enhance online learning. The college has been recognized as a leader in online higher education by U.S. News & World Report, which ranked the college among the Top 10 Best Online Bachelor's Programs in the nation in 2015, for the third year running, and this year added DSC to its Top Online Bachelor's Programs for Veterans, ranked at No. 2 in the nation.

###
---
MORE: Offering more than 100 certificate, associate and bachelor's degree programs, Daytona State College is the leader in education and workforce training needs of Volusia and Flagler counties and beyond for more than 60 years. The College enrolls nearly 25,000 students a year at its seven instructional sites, with graduates serving in critical fields including healthcare, emergency services/public safety, business, education, hospitality, engineering, technology, digital media, and more.
Daytona State has been recognized as a leader in higher education numerous times, consistently by U.S. News & World Report, which ranks the College among the Top Tier Best Online Bachelor's Programs. The U.S. Department of Education's College Affordability and Transparency Center has ranked DSC among the top 50 most affordable public four-year institutions in the country, with less than half the tuition of the national average. Community College Week, a leading publication in higher education, annually continues to feature the college in its list of Top 100 Associate Degree Producers. And U.S. News & World Report has ranked DSC among its Top Online Bachelor's Programs for Veterans multiple times.
For enrollment information, visit Admissions' Frequently Asked Questions page.
MEDIA CONTACT:
Chris Thomes, Chris.Thomes@DaytonaState.edu
Marketing & Communications, Marketing@DaytonaState.edu
A Member of the Florida College System
Daytona State College prohibits discrimination and provides equal opportunity in employment and education services to all individuals without regard to age, ancestry, belief, color, disability, ethnicity, genetic information, gender, marital status, national origin, political affiliation, race, religion, sex, sexual orientation or veteran status. For more details, read our policy at DaytonaState.edu/hr/equalaccess.html or contact Lonnie Thompson, Director of Equity and Inclusion, (386) 506-3000 ext. 3973, or Thompsl@DaytonaState.edu. The Office of Equity and Inclusion is located at 1200 W. International Speedway Blvd., Daytona Beach, FL 32114.