In Motion campus newspaper and Aeolus literary magazine sweep competition
DAYTONA BEACH, Fla. (Oct. 28, 2015) – For the first time in the 40-year history of Daytona State College's literary magazine, the publication took first in General Excellence during the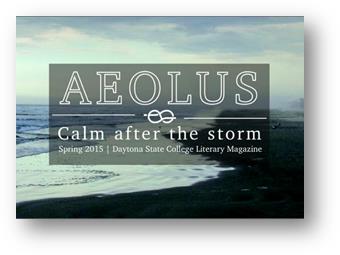 56th annual Florida College System Publication Association statewide conference and awards competition Oct. 16 in Orlando.
Aeolus placed first in Division A of the contest and In Motion, the student newspaper, placed second in General Excellence in the combined A and B divisions. The Reporter, which represents all five campuses at Miami Dade College, took first place for the second year in the newspaper category.
The FCSPA, a division of the Florida College System Activities Association, uses professionals from the fields of journalism, literature and poetry to judge the entries. Ana Veciana-Suarez, a nationally syndicated columnist and longtime Miami Herald reporter, coordinated the contest.
"We were completely shocked to win such a huge honor," said magazine adviser Elena Jarvis, who co-advises In Motion with Bruce Cook, assistant dean of Co-Curricular Activities. "Considering there were 15 magazines overall in the competition and seven newspapers competing, all of which are excellent, it must have been a tough call for the judges. But our students, who work long and hard to ensure the quality of their publications, deserve the recognition."
Before being re-christened Aeolus five years ago, the magazine was named Ole, before that Paeonie's Pen and before that, in the 1970s, Sporran.
Elizabeth Kirkland, editor in chief of In Motion and Aeolus editor for 2015, took on double duties this year to ensure both victories. In addition, DSC's Brandyn Krampert won the coveted Debra Allen Vazquez Memorial Poetry Award for 2015 for his poem, "Strangers in a House." Vazquez taught poetry and creative writing at the College of Central Florida in Ocala before her life was cut short in a domestic violence murder in 2004. Since then, the award has honored her memory and dedication to excellence in the written word.
First place winners in the magazine categories were: Poem, Brandyn Krampert; Fiction, Deborah Jones; Non-fiction, Sarah Dodge; Art (individual category), Christi Thomas; Photo, Madeline Bertelson; and Photograph (multiple works), Lance Rothwell, Justina Newman and Laural Higman.
Second place awards also went to: Two-page Spread, Norah Schoenfarber and Glenda Parson; and Design, Elizabeth Kirkland, Staff Page. In addition, Hannah Stocker and Kirkland placed third for the cover illustration of Aeolus.

In the newspaper category, second-place winners were: Design, Elizabeth Kirkland; News Photo, Lance Rothwell; Sports Photo, Jeff Roach; Advertising, Kirkland; Feature Story, Chloe Chidester; In-Depth Reporting and General Column, Brandyn Krampert; Editorial Cartoon, Tim Fleenor; and Comic Strip, Tristan Cook. Third place for Picture Story was won by Kirkland, Rothwell and Kayli Miller and a third place for Editorial went to Krampert.
Daytona State students also won Inner Circle Awards recognizing the most wins overall in each category. For newspapers, Krampert and Kirkland were named to the inner circle and in the magazine division, Kirkland took top honors.

###
---
MORE: Offering more than 100 certificate, associate and bachelor's degree programs, Daytona State College is the leader in education and workforce training needs of Volusia and Flagler counties and beyond for more than 60 years. The College enrolls nearly 25,000 students a year at its seven instructional sites, with graduates serving in critical fields including healthcare, emergency services/public safety, business, education, hospitality, engineering, technology, digital media, and more.
Daytona State has been recognized as a leader in higher education numerous times, consistently by U.S. News & World Report, which ranks the College among the Top Tier Best Online Bachelor's Programs. The U.S. Department of Education's College Affordability and Transparency Center has ranked DSC among the top 50 most affordable public four-year institutions in the country, with less than half the tuition of the national average. Community College Week, a leading publication in higher education, annually continues to feature the college in its list of Top 100 Associate Degree Producers. And U.S. News & World Report has ranked DSC among its Top Online Bachelor's Programs for Veterans multiple times.
For enrollment information, visit Admissions' Frequently Asked Questions page.
MEDIA CONTACT:
Chris Thomes, Chris.Thomes@DaytonaState.edu
Marketing & Communications, Marketing@DaytonaState.edu
A Member of the Florida College System
Daytona State College prohibits discrimination and provides equal opportunity in employment and education services to all individuals without regard to age, ancestry, belief, color, disability, ethnicity, genetic information, gender, marital status, national origin, political affiliation, race, religion, sex, sexual orientation or veteran status. For more details, read our policy at DaytonaState.edu/hr/equalaccess.html or contact Lonnie Thompson, Director of Equity and Inclusion, (386) 506-3000 ext. 3973, or Thompsl@DaytonaState.edu. The Office of Equity and Inclusion is located at 1200 W. International Speedway Blvd., Daytona Beach, FL 32114.