Daytona State joins DirectConnect to UCF partnership
DAYTONA BEACH, Fla. (March 24, 2015) - Daytona State College (DSC) students now have a clear path to transfer to the University of Central Florida (UCF) through the university's nationally recognized DirectConnect to UCF program.
The partnership was announced Tuesday, March 24, by UCF President John Hitt and Daytona State Interim President Tom LoBasso during a press conference held at the college.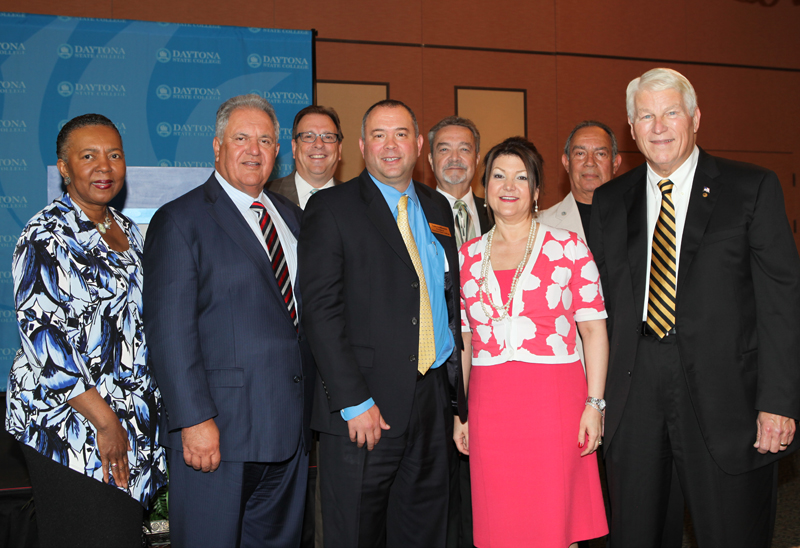 DirectConnect to UCF program members Eastern Florida State College, Lake Sumter State College, Seminole State College and Valencia College unanimously approved DSC entering the partnership.
"DirectConnect presents a tremendous opportunity for our local students," said LoBasso. "We expect that the increased advising and other touch points that are program signatures will encourage our students to graduate on time and make a smooth transition to UCF to complete their undergraduate studies. We appreciate UCF and our state-college partners recognizing our desire to work together in the best interest of our students."
"As a result of DirectConnect to UCF, we are transforming more lives than ever before through the power of education; we are producing a high-caliber workforce that our region needs; and we have made DirectConnect to UCF a national model for higher education in America," Hitt said. "We also are providing unprecedented access to UCF to first-generation students and minority students."
DirectConnect was started in 2006 as a means to expand access to higher education and reduce costs through a 2+2 model. The program guarantees admission to UCF for AA students and select AS students graduating from any of the partner state college institutions and adds touch points that track students from their freshman year at the state college through their senior year at the university to help them stay on a path toward success.
Approximately 25,000 students who entered UCF with a degree from one of the original four state-college partners have earned bachelor's degrees since 2008.
In addition to increased academic advising, the program has students complete a career-assessment plan, confirm early choice of major and attend comprehensive skills workshops related to academic planning, financial literacy and other topics.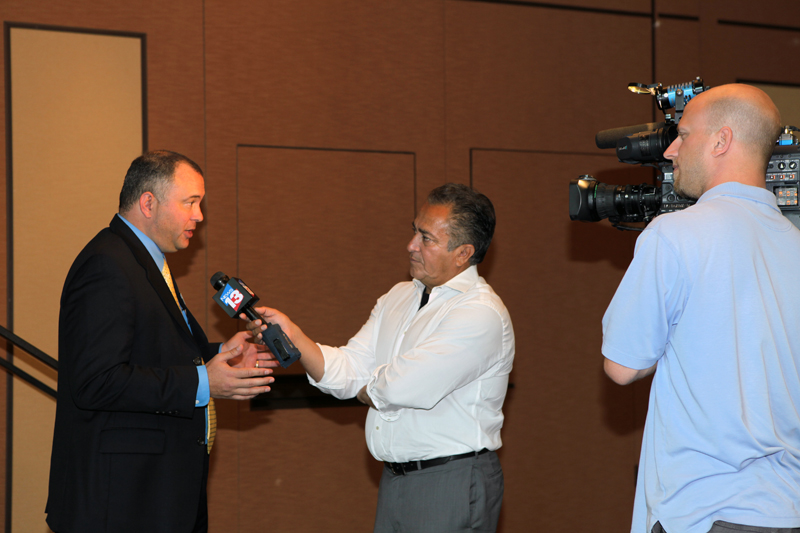 The five state-college partners prepare a vast majority of students who transfer to UCF each year. According to the Florida Department of Education, nearly 70 percent of DSC AA students transfer to a Florida public university, with the majority enrolling as juniors at UCF, the nation's second-largest public university.
For over 20 years, UCF has operated a regional campus on DSC's Daytona Beach Campus, where currently it offers 16 baccalaureate degree options.
###
Caption: Far right to left – Dr. John Hitt/UCF President, Lloyd Freckleton/DSC Board Chair, Forough Hosseini/DSC Board Vice-Chair, Stan Escudero/DSC Trustee, Dr. Tom LoBasso/Interim DSC President, Garry Lubi/DSC Trustee, Mori Hosseini/Florida University System Board of Governors Chair, Betty Holness/DSC Trustee
Caption: Dr. Tom LoBasso, Interim DSC President, speaks to TV-13 News reporter Saul Saenz during the DirectConnect to UCF press conference.
---
MORE: Offering more than 100 certificate, associate and bachelor's degree programs, Daytona State College is the leader in education and workforce training needs of Volusia and Flagler counties and beyond for more than 60 years. The College enrolls nearly 25,000 students a year at its seven instructional sites, with graduates serving in critical fields including healthcare, emergency services/public safety, business, education, hospitality, engineering, technology, digital media, and more.
Daytona State has been recognized as a leader in higher education numerous times, consistently by U.S. News & World Report, which ranks the College among the Top Tier Best Online Bachelor's Programs. The U.S. Department of Education's College Affordability and Transparency Center has ranked DSC among the top 50 most affordable public four-year institutions in the country, with less than half the tuition of the national average. Community College Week, a leading publication in higher education, annually continues to feature the college in its list of Top 100 Associate Degree Producers. And U.S. News & World Report has ranked DSC among its Top Online Bachelor's Programs for Veterans multiple times.
For enrollment information, visit Admissions' Frequently Asked Questions page.
MEDIA CONTACT:
Chris Thomes, Chris.Thomes@DaytonaState.edu
Marketing & Communications, Marketing@DaytonaState.edu
A Member of the Florida College System
Daytona State College prohibits discrimination and provides equal opportunity in employment and education services to all individuals without regard to age, ancestry, belief, color, disability, ethnicity, genetic information, gender, marital status, national origin, political affiliation, race, religion, sex, sexual orientation or veteran status. For more details, read our policy at DaytonaState.edu/hr/equalaccess.html or contact Lonnie Thompson, Director of Equity and Inclusion, (386) 506-3000 ext. 3973, or Thompsl@DaytonaState.edu. The Office of Equity and Inclusion is located at 1200 W. International Speedway Blvd., Daytona Beach, FL 32114.