DSC tech students to compete in cyberforensics contest

DAYTONA BEACH, Fla. (March 10, 2015) - Four Daytona State College technology students will square off this week with teams representing nearly two dozen universities to qualify for the right to compete in the 9th annual Regional Southeast Collegiate Cyber Defense Competition hosted by Kennesaw State University's (KSU) Center for Information Security Education.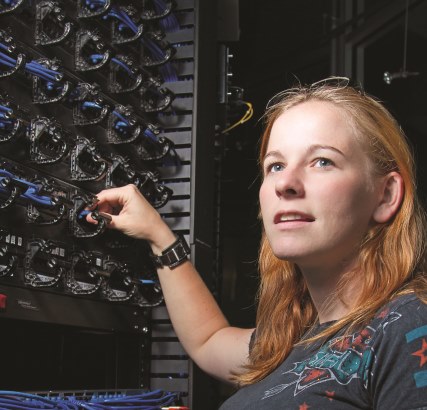 The qualifying round on Saturday, March 14, takes place virtually, with the DSC team competing from the Daytona Beach Campus beginning at 9 a.m.
While this is the first year Daytona State has competed in the event, the DSC team of Austin Shaw, James Fisher, Hazel Benefield and Rachel Burnup are no strangers to cyber defense. Fisher is pursuing his Bachelor of Science in Information Technology. Benefield and Shaw are completing their Associate of Science in Network Systems Technology and Burnup is enrolled in DSC's AS in Drafting and Design Technology program.
"They all have participated in the Cyberpatriot competitions we have done through our summer cyber camps, so they all have experience in competitions, some since they were 14 years old," said Emily Coppa, coordinator of the Advanced Cyberforensics Education Consortium (ACE). Daytona State is the lead institution in the consortium, composed of nine southeastern colleges and universities dedicated to advancing cyberforensics and cyber security education. The consortium is funded by a $1.8 million National Science Foundation grant.
The top eight qualifying teams will earn the right to compete in a regional competition to be held on-site at KSU April 7-8. The winner of the on-site regional competition will represent the southeast region at the National Collegiate Cyber Defense Competition in San Antonio, Texas, in late April. The competition will focus on the operational aspect of managing and protecting an existing network infrastructure.
Students will be required to assume administrative and protective duties for an existing "commercial" network. Teams will be scored based on their ability to detect and respond to outside threats, maintain availability of existing services such as mail servers and web servers, respond to business requests such as the addition or removal of additional services, and balance security needs against business needs.
More details regarding the competition are available at www.seccdc.org.
In addition to KSU, other schools Daytona State will compete against include: Albany State University, Clemson University, Columbus State University, Eastern Tennessee State University, Florida State University, Georgia Regents University, Lipscomb University, Mercer University. Middle Georgia State University, Montreat College, Tennessee Technological University, University of Central Florida, University of North Carolina, University of North Georgia, University of South Alabama, University of South Carolina, University of South Florida, University of Tennessee at Chattanooga and the University of West Florida.
For more information on the competition or to learn about Daytona State's new Advanced Technical Certificate in Cybersecurity and Cyberforensics, contact Coppa, (386) 506-4163 or coppae@daytonastate.edu.
###
---
MORE: Offering more than 100 certificate, associate and bachelor's degree programs, Daytona State College is the leader in education and workforce training needs of Volusia and Flagler counties and beyond for more than 60 years. The College enrolls nearly 25,000 students a year at its seven instructional sites, with graduates serving in critical fields including healthcare, emergency services/public safety, business, education, hospitality, engineering, technology, digital media, and more.
Daytona State has been recognized as a leader in higher education numerous times, consistently by U.S. News & World Report, which ranks the College among the Top Tier Best Online Bachelor's Programs. The U.S. Department of Education's College Affordability and Transparency Center has ranked DSC among the top 50 most affordable public four-year institutions in the country, with less than half the tuition of the national average. Community College Week, a leading publication in higher education, annually continues to feature the college in its list of Top 100 Associate Degree Producers. And U.S. News & World Report has ranked DSC among its Top Online Bachelor's Programs for Veterans multiple times.
For enrollment information, visit Admissions' Frequently Asked Questions page.
MEDIA CONTACT:
Chris Thomes, Chris.Thomes@DaytonaState.edu
Marketing & Communications, Marketing@DaytonaState.edu
A Member of the Florida College System
Daytona State College prohibits discrimination and provides equal opportunity in employment and education services to all individuals without regard to age, ancestry, belief, color, disability, ethnicity, genetic information, gender, marital status, national origin, political affiliation, race, religion, sex, sexual orientation or veteran status. For more details, read our policy at DaytonaState.edu/hr/equalaccess.html or contact Lonnie Thompson, Director of Equity and Inclusion, (386) 506-3000 ext. 3973, or Thompsl@DaytonaState.edu. The Office of Equity and Inclusion is located at 1200 W. International Speedway Blvd., Daytona Beach, FL 32114.