Daytona State's May commencement spotlights Class of 2015
DAYTONA BEACH, Fla. (May 6, 2015) – It will be all pomp and circumstance at the Ocean Center on Monday, May 18, during two commencement ceremonies celebrating the academic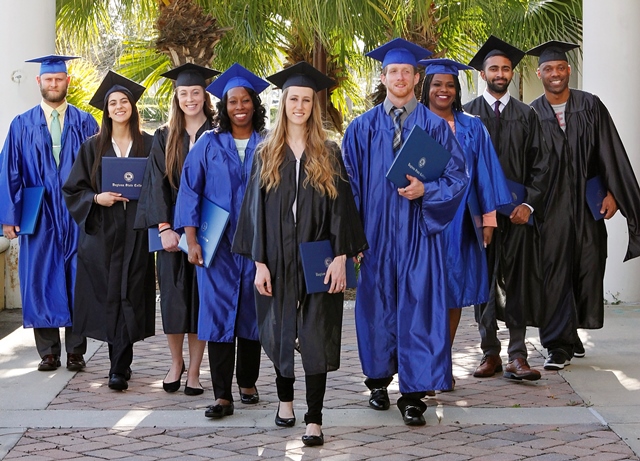 achievement of several thousand Daytona State College graduates.
During the 2014-2015 academic year that began last August, more than 3,500 students have completed their academic programs and will be added to the ranks of Daytona State alumni. This includes those who completed their degrees and certificates during fall semester 2014, plus some 1,700 spring semester graduates and approximately 350 more who will be added by summer's end.
The May 18 commencement at the Ocean Center on the city's beachside features two ceremonies. The first begins at 2 p.m. for all baccalaureate and associate of arts degree candidates. The second begins at 6:30 p.m. for all associate of science, associate of applied science, certificate and adult education candidates.
Among the graduates are 1,531 associate of arts (AA) university transfer degree recipients. Future AA students can take advantage of Daytona State's new partnership with the University of Central Florida's DirectConnect to UCF program, which affords them smooth transition as juniors into UCF baccalaureate programs. AA students comprise about half of DSC's enrollment each year.
The number of associate of science (AS) and associate of applied science (AAS) graduates totals 706, and 782 are earning one-year certificates.
The college also will honor over 500 bachelor's degree recipients, including 44 who are DSC's first Bachelor of Science in Nursing (BSN) graduates. The college began offering the BSN in January 2014.
All totaled, 2,263 have earned their bachelor's degree since Daytona State began offering them in 2006. That first degree, the Bachelor of Applied Science in Supervision and Management, was offered in response to a statewide analysis that revealed Florida has a shortage of bachelor's degree holders compared with other states. Since then, DSC has added 10 more bachelor's degree offerings in Education, Engineering and Information Technology, and Nursing.
Many of the college's bachelor's degree recipients are working parents or have responsibilities that prohibit them from commuting long distances to go to class. Many went back to school to improve their chances of being promoted to higher positions. Some chose Daytona State to prepare for change in their careers. Others weighed the substantial cost savings gained by choosing a bachelor's degree from DSC.
Among this year's associate degree and certificate recipients are 80 dual-enrolled students who will receive their Daytona State credential, weeks before receiving their high school diplomas.
Graduates also include 292 military veterans.
With special recognition this year, 1,546 students are graduating with honors, 333 with high honors and 126 have been inducted into the international honor society Phi Theta Kappa, based on their leadership skills, scholarship and community service.
Thirty two Falcons this spring were named to Who's Who Among Students in American Junior Colleges, and 14 students were inducted into the Daytona State College Hall of Fame, the highest honor that faculty can bestow upon a student.
Since its founding in 1957 as Florida's first comprehensive community college, Daytona State has awarded nearly 95,000 degrees and certificates.
###
---
MORE: Offering more than 100 certificate, associate and bachelor's degree programs, Daytona State College is the leader in education and workforce training needs of Volusia and Flagler counties and beyond for more than 60 years. The College enrolls nearly 25,000 students a year at its seven instructional sites, with graduates serving in critical fields including healthcare, emergency services/public safety, business, education, hospitality, engineering, technology, digital media, and more.
Daytona State has been recognized as a leader in higher education numerous times, consistently by U.S. News & World Report, which ranks the College among the Top Tier Best Online Bachelor's Programs. The U.S. Department of Education's College Affordability and Transparency Center has ranked DSC among the top 50 most affordable public four-year institutions in the country, with less than half the tuition of the national average. Community College Week, a leading publication in higher education, annually continues to feature the college in its list of Top 100 Associate Degree Producers. And U.S. News & World Report has ranked DSC among its Top Online Bachelor's Programs for Veterans multiple times.
For enrollment information, visit Admissions' Frequently Asked Questions page.
MEDIA CONTACT:
Chris Thomes, Chris.Thomes@DaytonaState.edu
Marketing & Communications, Marketing@DaytonaState.edu
A Member of the Florida College System
Daytona State College prohibits discrimination and provides equal opportunity in employment and education services to all individuals without regard to age, ancestry, belief, color, disability, ethnicity, genetic information, gender, marital status, national origin, political affiliation, race, religion, sex, sexual orientation or veteran status. For more details, read our policy at DaytonaState.edu/hr/equalaccess.html or contact Lonnie Thompson, Director of Equity and Inclusion, (386) 506-3000 ext. 3973, or Thompsl@DaytonaState.edu. The Office of Equity and Inclusion is located at 1200 W. International Speedway Blvd., Daytona Beach, FL 32114.