In-demand Building Trades program launches at Daytona State
DAYTONA BEACH, Fla. (Oct. 28, 2015) – Managers of booming regional construction projects are clamoring for trained workers with entry level building skills. To address the need,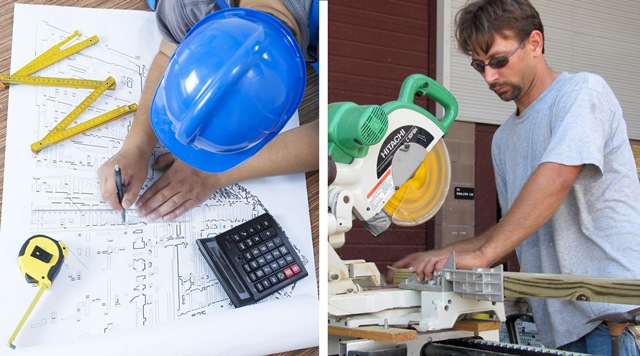 Daytona State College has launched the Building Trades and Construction Design Technology program. Registration is open now for classes starting Jan. 19 at DSC's Advanced Technology College.
"Our industry is seeing such exciting growth," says Sandy Bishop, executive director of the Volusia Building Industry Association. "If you enjoy hands-on work and seeing a building rise, you should get started in DSC's new program. This is an excellent opportunity to work on all different types of building projects, doing what you enjoy, with the potential for good earnings and advancement."
The one-year (two semester) certificate program will prepare graduates to be able to:
Demonstrate an understanding of the construction industry and related occupations including OSHSA safety practices, selection and use of basic hand and power tools, and understanding of construction-related documents.
Apply rough and finish carpentry, masonry, electrical, plumbing and air-conditioning skills.
Develop employability and entrepreneurship skills.
Demonstrate the ability to plan and implement projects within the construction field.
Students who complete this program will qualify for jobs such as construction workers, carpenter helpers, carpenters, plumbers and electrician helpers. Starting wages in Florida begin at $21,400 and range up to $59,200 annually. Advancement opportunities with further education include building-site supervision and project management.
The one-year program is open to high school, college-level and adult students, particularly those interested in construction-industry career pathways. A fee waiver may be available to eligible students.
Bishop notes the latest regional economic report lists building trades among the fastest growing job tracks in the state. The Florida Department of Economic Opportunity has forecast 34 percent growth in building-trades jobs by 2022.
For more information on the new Building Trades and Construction Design Technology program, contact Roger Rowan, workforce programs chair, (386) 506-4171 or RowanR@DaytonaState.
###
---
MORE: Offering more than 100 certificate, associate and bachelor's degree programs, Daytona State College is the leader in education and workforce training needs of Volusia and Flagler counties and beyond for more than 60 years. The College enrolls nearly 25,000 students a year at its seven instructional sites, with graduates serving in critical fields including healthcare, emergency services/public safety, business, education, hospitality, engineering, technology, digital media, and more.
Daytona State has been recognized as a leader in higher education numerous times, consistently by U.S. News & World Report, which ranks the College among the Top Tier Best Online Bachelor's Programs. The U.S. Department of Education's College Affordability and Transparency Center has ranked DSC among the top 50 most affordable public four-year institutions in the country, with less than half the tuition of the national average. Community College Week, a leading publication in higher education, annually continues to feature the college in its list of Top 100 Associate Degree Producers. And U.S. News & World Report has ranked DSC among its Top Online Bachelor's Programs for Veterans multiple times.
For enrollment information, visit Admissions' Frequently Asked Questions page.
MEDIA CONTACT:
Chris Thomes, Chris.Thomes@DaytonaState.edu
Marketing & Communications, Marketing@DaytonaState.edu
A Member of the Florida College System
Daytona State College prohibits discrimination and provides equal opportunity in employment and education services to all individuals without regard to age, ancestry, belief, color, disability, ethnicity, genetic information, gender, marital status, national origin, political affiliation, race, religion, sex, sexual orientation or veteran status. For more details, read our policy at DaytonaState.edu/hr/equalaccess.html or contact Lonnie Thompson, Director of Equity and Inclusion, (386) 506-3000 ext. 3973, or Thompsl@DaytonaState.edu. The Office of Equity and Inclusion is located at 1200 W. International Speedway Blvd., Daytona Beach, FL 32114.