Daytona State's BSN program earns accreditation
DAYTONA BEACH, Fla. (Aug. 7, 2015) - Good news for area nurses seeking to boost their skills and career opportunities by pursuing a Bachelor of Science in Nursing (BSN) degree at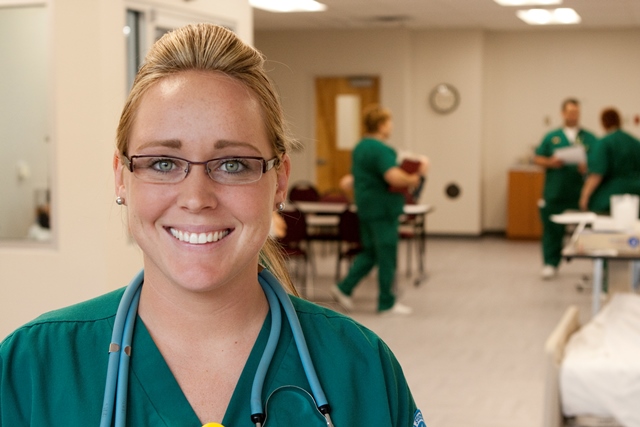 Daytona State College. The Board of Commissioners of the Accreditation Commission for Education in Nursing (ACEN) has formally granted accreditation to the college's BSN program, which was launched in January 2014 and saw its first graduating class in May 2015.
"Achieving this national accreditation for our BSN program demonstrates the high-quality education we are committed to providing our students," said Daytona State President Dr. Tom LoBasso.
"We couldn't be happier," said Dr. Linda Miles, chair, School of Nursing. "This designation is a testimony to how sound our program and curriculum are, as well as the dedication and professionalism of our nursing faculty. We admitted the first class in spring 2014 while also working to meet the ACEN standards and complete the self-study before the first cohort of 44 students graduated. It was a tremendous amount of work and we are all very proud."
Nursing programs applying for ACEN accreditation must prepare a self-study report to demonstrate the extent to which the program meets the accrediting body's criteria. Critical elements of the self-study include faculty credentials, curriculum, resources and student outcomes. A team of ACEN on-site evaluators visited Daytona State in February to verify the self-study and report its findings to the ACEN Board of Commissioners, which formally approved the accreditation at its July meeting. Programs must complete the accreditation process within two years. The BSN program's next accreditation review is scheduled for 2020.
Daytona State's BSN program gives licensed registered nurses in Volusia and Flagler counties a convenient pathway to earn the credential, which is seeing increased demand in the health-care industry. The program is offered on the college's Daytona Beach Campus, with clinical components at six area hospitals. Students who enroll in the program at Daytona State generally save more than 30 percent on the cost of tuition compared to the most price-competitive area BSN program.
Enrollment is underway for two new BSN cohorts that begin when fall semester starts Aug. 24.
To be admitted into the program, BSN candidates must already possess an Associate Degree in Nursing (ADN). Since 2011, DSC's ADN graduates have exceeded the national average on the NCLEX (National Council Licensure Examination) passing rates. In 2014, they averaged 83.63 percent passing versus 79.26 percent nationwide. Thus far in 2015, 87.80 percent of DSC ADN grads have passed the licensing exam versus 82.73 percent nationally, according to the Florida Department of Health's Medical Quality Assurances Services.
DSC practical nursing grads also have fared well. Since 2008, they have exceeded the national average on the NCLEX exam, averaging 91.49 percent in 2014 versus 82.16 nationwide. Thus far in 2015, 86.21 percent of DSC practical nursing graduates have passed the exam versus 81.39 percent nationwide.
The ACEN is recognized as the accrediting body for nursing education programs by most medical industry employers, as well as the nation's leading education and health-care organizations, including the National Council of State Boards of Nursing, State Boards of Nurse Examiners, U.S. Department of Education, U.S. Uniformed Nursing Services, Department of Veteran Affairs, U.S. Department of Health and Human Services and the Council for Higher Education Accreditation.
###
---
MORE: Offering more than 100 certificate, associate and bachelor's degree programs, Daytona State College is the leader in education and workforce training needs of Volusia and Flagler counties and beyond for more than 60 years. The College enrolls nearly 25,000 students a year at its seven instructional sites, with graduates serving in critical fields including healthcare, emergency services/public safety, business, education, hospitality, engineering, technology, digital media, and more.
Daytona State has been recognized as a leader in higher education numerous times, consistently by U.S. News & World Report, which ranks the College among the Top Tier Best Online Bachelor's Programs. The U.S. Department of Education's College Affordability and Transparency Center has ranked DSC among the top 50 most affordable public four-year institutions in the country, with less than half the tuition of the national average. Community College Week, a leading publication in higher education, annually continues to feature the college in its list of Top 100 Associate Degree Producers. And U.S. News & World Report has ranked DSC among its Top Online Bachelor's Programs for Veterans multiple times.
For enrollment information, visit Admissions' Frequently Asked Questions page.
MEDIA CONTACT:
Chris Thomes, Chris.Thomes@DaytonaState.edu
Marketing & Communications, Marketing@DaytonaState.edu
A Member of the Florida College System
Daytona State College prohibits discrimination and provides equal opportunity in employment and education services to all individuals without regard to age, ancestry, belief, color, disability, ethnicity, genetic information, gender, marital status, national origin, political affiliation, race, religion, sex, sexual orientation or veteran status. For more details, read our policy at DaytonaState.edu/hr/equalaccess.html or contact Lonnie Thompson, Director of Equity and Inclusion, (386) 506-3000 ext. 3973, or Thompsl@DaytonaState.edu. The Office of Equity and Inclusion is located at 1200 W. International Speedway Blvd., Daytona Beach, FL 32114.