Daytona State's student newspaper/literary magazine place high in competition
DAYTONA BEACH, Fla. (Oct. 29, 2014) - Daytona State College's student newspaper InMotion continued its streak as one of the top student-run publications during October's 55th annual Florida College System Publications Association Newspaper Competition in Boca Raton.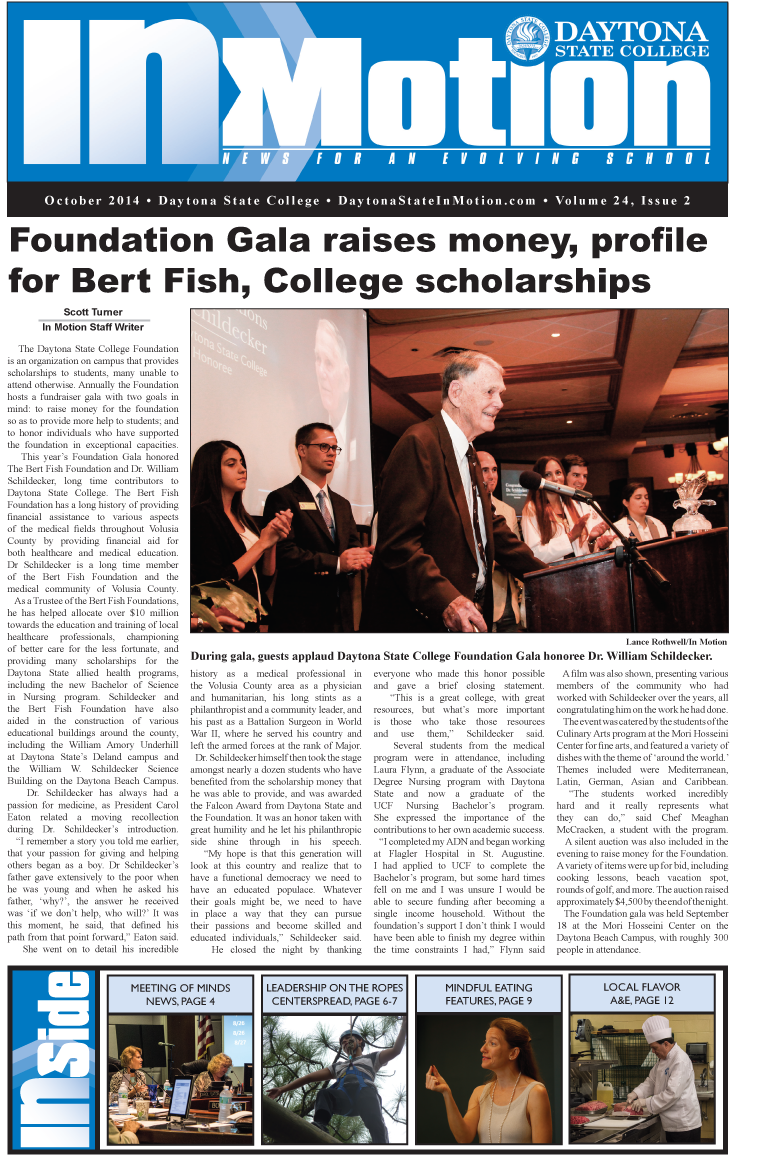 For the second consecutive year, InMotion, which published its first edition in 1991, came in second overall in General Excellence behind Miami Dade College's Reporter. InMotion has been dominant in the annual competition for more than a decade, placing first overall seven times and second five times.
Historically, the competition has been divided into two divisions based on institutional size. This year, however, the divisions were consolidated into one. Nevertheless, in addition to the General Excellence award, the student journalists, print designers and photographers came away with eight other honors, including three first-place awards.
"Combining the divisions makes our showing this year all the more impressive, since we were competing against much larger institutions," said Elena Jarvis, a journalism professor and co-advisor to the student newspaper. "Placing so well in General Excellence was an honor, and I am immensely proud of our students."
Dean of Student Activities Bruce Cook, who is also co-advisor to the newspaper, said the publication provides an excellent learning experience for students, especially for those who have an interest in media and journalism as a career. "This is truly a student-run publication. Everyone takes pride in teamwork and collaboration," he said. "They are serious about serving their campus community. They want to become involved and make a difference."
Brianna Mims took home two first-place awards in the Editorial Cartoon and Comic Strip categories. Brandon Krampert earned first place in the General Column category, as well as a second-place award in the Editorial category.
Other Daytona State awardees were:
Joyce Wagner, second place, News Photo
Amber Boutot, Elizabeth Kirkland and Ali Schmitz, second place, Picture Story
Scott Turner, second place, Sports Writing and Honorable Mention for In-Depth Reporting
Daytona State's student literary publication Aeolus took home four awards, including a first place for Cover Design by Brianna Mims. Brandon Hill earned a second-place award for Fiction Writing, while Joshua Payne took home third-place honors in the Nonfiction category. Elizabeth Kirkland and Lance Rothwell shared third place in Photography.
###
---
MORE: Offering more than 100 certificate, associate and bachelor's degree programs, Daytona State College is the leader in education and workforce training needs of Volusia and Flagler counties and beyond for more than 60 years. The College enrolls nearly 25,000 students a year at its seven instructional sites, with graduates serving in critical fields including healthcare, emergency services/public safety, business, education, hospitality, engineering, technology, digital media, and more.
Daytona State has been recognized as a leader in higher education numerous times, consistently by U.S. News & World Report, which ranks the College among the Top Tier Best Online Bachelor's Programs. The U.S. Department of Education's College Affordability and Transparency Center has ranked DSC among the top 50 most affordable public four-year institutions in the country, with less than half the tuition of the national average. Community College Week, a leading publication in higher education, annually continues to feature the college in its list of Top 100 Associate Degree Producers. And U.S. News & World Report has ranked DSC among its Top Online Bachelor's Programs for Veterans multiple times.
For enrollment information, visit Admissions' Frequently Asked Questions page.
MEDIA CONTACT:
Chris Thomes, Chris.Thomes@DaytonaState.edu
Marketing & Communications, Marketing@DaytonaState.edu
A Member of the Florida College System
Daytona State College prohibits discrimination and provides equal opportunity in employment and education services to all individuals without regard to age, ancestry, belief, color, disability, ethnicity, genetic information, gender, marital status, national origin, political affiliation, race, religion, sex, sexual orientation or veteran status. For more details, read our policy at DaytonaState.edu/hr/equalaccess.html or contact Lonnie Thompson, Director of Equity and Inclusion, (386) 506-3000 ext. 3973, or Thompsl@DaytonaState.edu. The Office of Equity and Inclusion is located at 1200 W. International Speedway Blvd., Daytona Beach, FL 32114.