Daytona State awarded 4th consecutive grant from Mexico
DAYTONA BEACH, Fla. (Nov. 25, 2014) – The Mexican government's Ministry of Foreign Affairs has nearly tripled down on awarding scholarship funds to Daytona State College that will help low-income Mexican and Mexican-American students defray the cost of their education.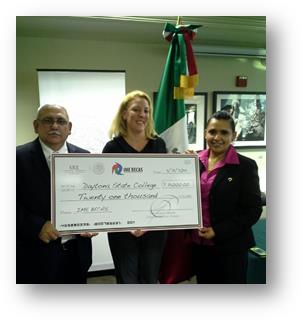 Sponsored by the ministry's Institute for Mexicans Abroad (IME BECAS), this year's $21,000 award far exceeds funds awarded in 2013 and will help over 100 students enrolled in adult education and college-credit programs pay for tuition and expenses such as testing fees, educational supplies and textbooks.
It's the fourth straight year Daytona State has been awarded an IME BECAS scholarship grant. The award was presented to Daytona State's English as a Second Language (ESOL) Coordinator Kathryn Clark this month at the Mexican Consulate headquarters in Orlando.
"This fourth grant award represents a great partnership that has proven to be life-changing for many students," said Daytona State President Carol W. Eaton. "It helps to ensure that a pathway of opportunity is available to anyone who chooses to pursue a better life for themselves and their families through education."
Daytona State and the college's Foundation will match the IME grant with funding and in-kind services, along with the Sister Cities Association of Volusia County, bringing the total funding for this year's IME BECAS initiative to nearly $41,000. Total grant dollars, matching funds and in-kind services to the program since Daytona State began the partnership in 2011 has been nearly $80,000.
Throughout that period, more than 200 ESOL and GED® students, and 20 college-credit students have received help defraying the cost of their studies. Many are members of farm-worker families and reside in rural areas on the northwest side of Volusia County, Clark said; although, students from every campus and a variety of programs have received grant benefits.
"This grant frees people to make the commitment to pursue their education," Clark said. "Some who have taken ESOL are now in GED®, and they are moving up and preparing for futures as college students. Without the economic resources the grant provides, many wouldn't be able to fulfill their educational goals. Some have had to set them aside for decades. It has been an honor to work with these students, and they are most grateful for this opportunity." Established in 2003, the IME BECAS Scholarship Program is designed to raise the education levels of the Mexican and Mexican-American communities in the United States. Grants are provided to educational institutions and non-profit social organizations across the U.S. to train Mexican immigrants and Mexican-Americans interested in continuing their education and jobs skills development. The program's ultimate goal is to help Mexican communities living abroad to better assimilate into their extended societies by opening doors of economic opportunity through education and workforce training.
The Sister Cities Association of Volusia County is a non-profit organization that promotes international exchanges between cities and people. The organization is twinned with Campeche, Mexico, and Bayonne, France, to establish mutually beneficial cultural, educational and business opportunities.
Last year, 229 students of Mexican origin attended Daytona State, including international students from Mexico and Mexican-American citizens. The vast majority enrolled in the college's School of Adult Education. All students of Mexican descent are eligible to apply for the IME scholarship.
For more information about the program, call Clark at (386) 506-3820
.
###
---
MORE: Offering more than 100 certificate, associate and bachelor's degree programs, Daytona State College is the leader in education and workforce training needs of Volusia and Flagler counties and beyond for more than 60 years. The College enrolls nearly 25,000 students a year at its seven instructional sites, with graduates serving in critical fields including healthcare, emergency services/public safety, business, education, hospitality, engineering, technology, digital media, and more.
Daytona State has been recognized as a leader in higher education numerous times, consistently by U.S. News & World Report, which ranks the College among the Top Tier Best Online Bachelor's Programs. The U.S. Department of Education's College Affordability and Transparency Center has ranked DSC among the top 50 most affordable public four-year institutions in the country, with less than half the tuition of the national average. Community College Week, a leading publication in higher education, annually continues to feature the college in its list of Top 100 Associate Degree Producers. And U.S. News & World Report has ranked DSC among its Top Online Bachelor's Programs for Veterans multiple times.
For enrollment information, visit Admissions' Frequently Asked Questions page.
MEDIA CONTACT:
Chris Thomes, Chris.Thomes@DaytonaState.edu
Marketing & Communications, Marketing@DaytonaState.edu
A Member of the Florida College System
Daytona State College prohibits discrimination and provides equal opportunity in employment and education services to all individuals without regard to age, ancestry, belief, color, disability, ethnicity, genetic information, gender, marital status, national origin, political affiliation, race, religion, sex, sexual orientation or veteran status. For more details, read our policy at DaytonaState.edu/hr/equalaccess.html or contact Lonnie Thompson, Director of Equity and Inclusion, (386) 506-3000 ext. 3973, or Thompsl@DaytonaState.edu. The Office of Equity and Inclusion is located at 1200 W. International Speedway Blvd., Daytona Beach, FL 32114.