DSC team earns Excellence Awards in teaching, learning, leadership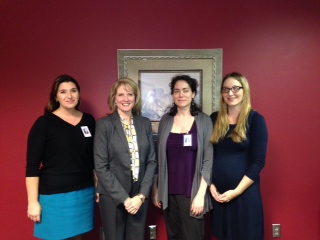 DAYTONA BEACH, Fla. (Feb. 26, 2014) - A team of Daytona State College faculty and administrators recently earned awards of excellence from the National Institute of Staff and Organizational Development (NISOD), a consortium of community and technical colleges that promotes excellence in teaching, learning and leadership.
Professors Joy Lewis and Jessica Kester and College Writing Center Director Rebecca Block were lauded for spearheading the creation of Daytona State's Writing across the Curriculum/Writing in the Discipline program (WAC/WID), an initiative dedicated to enhancing student literacy and communication skills.
Kicking off its second year at Daytona State, WAC/WID also is paired with a Writing Fellows program that teams trained students with faculty who have participated in WAC/WID. Their task: To work with the professors in identifying students who are struggling with their writing assignments, and provide them the extra support and guidance they need to succeed.
The three will be recognized during NISOD's annual International Conference on Teaching and Leadership Excellence, May 25-28, in Austin, Texas. The awards honor those who have demonstrated an outstanding commitment and contribution to their students and colleagues.
###