Daytona State music chair part of international conductor exchange
DAYTONA BEACH, Fla. (May 8, 2014) - Dr. Douglas Peterson, chair of the Mike Curb College of Music, Entertainment and Art at Daytona State College, has been invited to conduct a concert at the Auditorio Nacional de Música - the major concert hall in Madrid, Spain - on Saturday, May 24.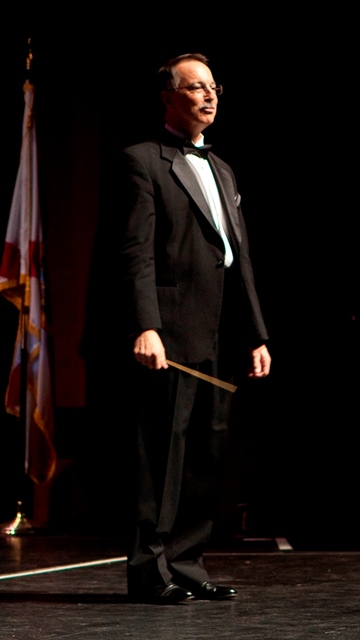 Peterson will lead a 100-piece symphonic band as part of a conducting exchange with Maximillian Santos, a Madrilenian conductor who on July 3 will share in conducting the 75-member Daytona State College Band during its Independence Day concert.
"I will be hosting and working with Maxi in presenting an all-American concert with a Spanish conductor," Peterson said. "It was, after all, 501 years ago that the Spanish first came to Florida."
The arrangement stems from a relationship coordinated by Gregory Fritze, a faculty member with the Berklee College of Music in Boston. Fritze, also a professional tubist, has played with the Daytona State band while living part of the year in the Wilbur by the Sea area.
During the May 24 concert in Madrid, Peterson will conduct selections from Indiana Jones, Silverado and a heroic work by movie soundtrack composer Rossano Galante called Resplendent Glory. The band will be joined by a 200-member children's choir for several selections.
Peterson and the band also will present a young person's concert featuring various arrangements of movie music.
He also will travel to Valencia, to work with local community band organizations, learning new literature, rehearsal techniques and what makes their programs unique. He added he hopes to bring back to Daytona Beach some new and fresh ideas for kicking off the fall semester symphonic band.
"It's going to be a real gas being in Spain, working together and sharing some great music with my Spanish colleagues," he said.
###
---
MORE: Offering more than 100 certificate, associate and bachelor's degree programs, Daytona State College is the leader in education and workforce training needs of Volusia and Flagler counties and beyond for more than 60 years. The College enrolls nearly 25,000 students a year at its seven instructional sites, with graduates serving in critical fields including healthcare, emergency services/public safety, business, education, hospitality, engineering, technology, digital media, and more.
Daytona State has been recognized as a leader in higher education numerous times, consistently by U.S. News & World Report, which ranks the College among the Top Tier Best Online Bachelor's Programs. The U.S. Department of Education's College Affordability and Transparency Center has ranked DSC among the top 50 most affordable public four-year institutions in the country, with less than half the tuition of the national average. Community College Week, a leading publication in higher education, annually continues to feature the college in its list of Top 100 Associate Degree Producers. And U.S. News & World Report has ranked DSC among its Top Online Bachelor's Programs for Veterans multiple times.
For enrollment information, visit Admissions' Frequently Asked Questions page.
MEDIA CONTACT:
Chris Thomes, Chris.Thomes@DaytonaState.edu
Marketing & Communications, Marketing@DaytonaState.edu
A Member of the Florida College System
Daytona State College prohibits discrimination and provides equal opportunity in employment and education services to all individuals without regard to age, ancestry, belief, color, disability, ethnicity, genetic information, gender, marital status, national origin, political affiliation, race, religion, sex, sexual orientation or veteran status. For more details, read our policy at DaytonaState.edu/hr/equalaccess.html or contact Lonnie Thompson, Director of Equity and Inclusion, (386) 506-3000 ext. 3973, or Thompsl@DaytonaState.edu. The Office of Equity and Inclusion is located at 1200 W. International Speedway Blvd., Daytona Beach, FL 32114.