Writing Fellows know no classroom borders
DAYTONA BEACH, Fla. (Nov. 25, 2013) - Associate of arts majors Charlie Strickhouser and Rebecca Roberts have high ambitions as they travel down vastly different paths. After finishing his degree at Daytona State College, Strickhouser plans to pursue bachelor's, master's and doctoral degrees in political science. Roberts intends to study neuroscience.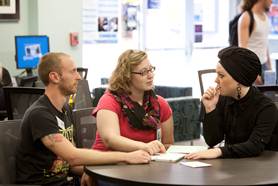 Today, however, they both ride shotgun with professors, helping other Daytona State students be the best they can at a universal necessity in academia and, arguably, in life itself – writing.
They are among the first participants in the college's Writing Fellows program, an offshoot of Daytona State's Writing Across the Curriculum and Writing in the Discipline (WAC/WID) initiative. First piloted in fall 2012, the Writing Fellows program teams trained students such as Strickhouser and Roberts with faculty who have participated in WAC/WID.
Their task: To assist all students in the class with writing assignments, and provide them the support and guidance they need to succeed as writers.
With Florida legislative changes on developmental education, more supplemental instruction and tutoring services are needed, said Writing Fellows Coordinator Chris Gebhardt. "Our new program helps address the need."
He explains that, "A Writing Fellow can either be a student of the faculty member's choice who has already taken their course, or any qualified student who is fully trained to be a Writing Fellow." He noted up to 15 paid work-study positions are available each semester to cover all campuses.
"Each student is different," said Strickhouser, who is a fellow in two of Professor Shana Deyo's business writing courses. "I get some, for instance, who just want me to read their essay over to check their work and others who come to me saying they have no idea what they are doing or where to start."
Deyo said Strickhouser has been a great asset. In addition to meeting one-on-one with students to review writing assignments, offer suggestions and encourage ideas, he also makes connections through email and a discussion board set up for the classes.
"I've already had very favorable feedback with students who have contacted him," she said. "The students say he's a wealth of information and really knows his stuff."
Students can join the Writing Fellows through a referral by a faculty member who teaches writing or who has participated in WAC/WID. Upon completing a prescribed 11 hours of training and workshops, fellows spend up to three hours a week in the classroom working with students and serving as a resource for their assigned faculty member. Fellows also conduct a weekly lab for each class and are available in the DSC Writing Center six hours a week for one-on-one tutoring by appointment.
Roberts last semester was a fellow for English professor Jessica Kester. This semester, she is working with Professor Michael Olsen in a meteorology class. She said the approach she takes in helping students varies with the type of class. "In a Freshman Composition class it's kind of like a dual teaching setup. The issues tend to be about subject matter and how to organize content," she said. "But in, say, meteorology, the writing is different. There's more research, a different way of formatting, citing sources and presenting the research."
But often, it's the intangible help a Writing Fellow can provide that can be just as beneficial to students.
"I might be able to say to a student, yes, I took the class, too, and had a hard time with this part, and this is how I got it to work for me or, yeah, I had to work late last night, too. This is how I was able to make things a bit easier for me," Strickhouser said.
Roberts agreed. "Even though we are supposed to help the students with their writing, a lot of the time it's just being able to relate to them in ways that maybe someone who is not a student can't – talking about the social or economic issues they may be going through at any given time that maybe can become a barrier," she said.
Staff members are collecting data to measure the success of Daytona State's Writing Fellows program, which is modeled after some of the best practices of similar programs at four-year institutions across the nation.
At the start of a course with a Writing Fellow in-house, students are surveyed about how they think writing assignment help will affect them. The same survey is administered at the end of the semester to gauge how the students' reactions have changed. Professors also are surveyed, and use of the Writing Center by students who are working with their Writing Fellows is measured.
As for Deyo, she sees the program as an important means to enhance teaching and learning at Daytona State.
"I find this opportunity for my students to connect with another student to be an additional bridge to provide feedback, resources and ideas," she said. "I highly recommend that other faculty engage in the WAC/WID program to gain the opportunity to work with a Writing Fellow. It has only enhanced my class."
For more information about the WAC Writing Fellows program, contact Gebhardt at GebharC@DaytonaState.edu.
Shown here, Charlie Strickhouser (left) and Rebecca Roberts talk writing with student Angie Welling. Students taking College Composition – part of the general education core – who use the Writing Center fare consistently better, averaging a 12 percent higher success rate than those who don't use it. Since its opening in October of 2010, the Writing Center has served over 5,600 students.
###
---
MORE: Offering more than 100 certificate, associate and bachelor's degree programs, Daytona State College is the leader in education and workforce training needs of Volusia and Flagler counties and beyond for more than 60 years. The College enrolls nearly 25,000 students a year at its seven instructional sites, with graduates serving in critical fields including healthcare, emergency services/public safety, business, education, hospitality, engineering, technology, digital media, and more.
Daytona State has been recognized as a leader in higher education numerous times, consistently by U.S. News & World Report, which ranks the College among the Top Tier Best Online Bachelor's Programs. The U.S. Department of Education's College Affordability and Transparency Center has ranked DSC among the top 50 most affordable public four-year institutions in the country, with less than half the tuition of the national average. Community College Week, a leading publication in higher education, annually continues to feature the college in its list of Top 100 Associate Degree Producers. And U.S. News & World Report has ranked DSC among its Top Online Bachelor's Programs for Veterans multiple times.
For enrollment information, visit Admissions' Frequently Asked Questions page.
MEDIA CONTACT:
Chris Thomes, Chris.Thomes@DaytonaState.edu
Marketing & Communications, Marketing@DaytonaState.edu
A Member of the Florida College System
Daytona State College prohibits discrimination and provides equal opportunity in employment and education services to all individuals without regard to age, ancestry, belief, color, disability, ethnicity, genetic information, gender, marital status, national origin, political affiliation, race, religion, sex, sexual orientation or veteran status. For more details, read our policy at DaytonaState.edu/hr/equalaccess.html or contact Lonnie Thompson, Director of Equity and Inclusion, (386) 506-3000 ext. 3973, or Thompsl@DaytonaState.edu. The Office of Equity and Inclusion is located at 1200 W. International Speedway Blvd., Daytona Beach, FL 32114.