Daytona State wins Literacy Council Spelling Bee - 4th time in a row
DAYTONA BEACH, Fla. (June 3, 2013) – For the fourth consecutive time, Daytona State College has won the Annual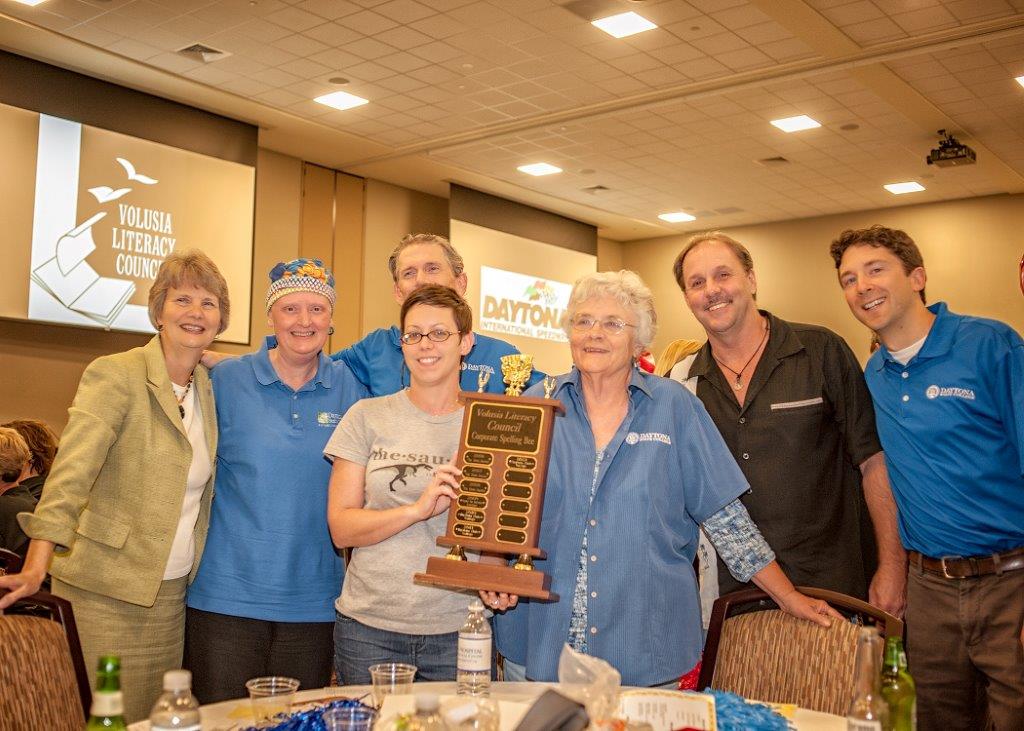 Adult Team Spelling Bee benefitting the Volusia Literacy Council. The DSC team took the 20th annual competition by correctly spelling the final word, 'Schipperke,' which is a Belgian dog.
The event started out with 20 teams of eight each and a large group of spectators who came to cheer for their favorite team. After a thrilling spell off with Daytona State, Embry Riddle Aeronautical University came in second. The Daytona Beach News-Journal finished a close third.
The judges were Dr. Carol W. Eaton, president of Daytona State, and Bob Davis, president of the Hotel and Lodging Association and a Volusia Literacy Council board member. The event was held on the ERAU campus, hosted by Dr. John Johnson, ERAU president, and his wife Maurie.
In addition to the keen spelling competition, the evening featured a 'spirit' contest for the corporations that sponsored each table. Florida Hospital won the award by dressing as "Super Healers," closely followed by Halifax Health with a six-foot replica of the France Tower as a table center piece and "Spelling Bee" costumes. The ERAU team came dressed as "Nerds" with propeller heads to top off their costumes.
Adding additional flair and surprise, a Daytona Beach Police cruiser drove up for Literacy Council Executive Director Bill Hinebaugh to "arrest" the eliminated teams for bad spelling, have their mug shots taken and give them a fine for charity. The Spelling Bee raised over $16,000 for the council, a United Way partner agency providing free tutoring in reading, writing and math for illiterate adults throughout Volusia County.
Caption: Winning team from Daytona State College, left to right: President Carol Eaton, Rachel Owens, Frank Gunshanan, Kristen Davis holding the trophy, Ellen Nielsen, Ted Wygant and Ben Graydon.
###
---
MORE: Offering more than 100 certificate, associate and bachelor's degree programs, Daytona State College is the leader in education and workforce training needs of Volusia and Flagler counties and beyond for more than 60 years. The College enrolls nearly 25,000 students a year at its seven instructional sites, with graduates serving in critical fields including healthcare, emergency services/public safety, business, education, hospitality, engineering, technology, digital media, and more.
Daytona State has been recognized as a leader in higher education numerous times, consistently by U.S. News & World Report, which ranks the College among the Top Tier Best Online Bachelor's Programs. The U.S. Department of Education's College Affordability and Transparency Center has ranked DSC among the top 50 most affordable public four-year institutions in the country, with less than half the tuition of the national average. Community College Week, a leading publication in higher education, annually continues to feature the college in its list of Top 100 Associate Degree Producers. And U.S. News & World Report has ranked DSC among its Top Online Bachelor's Programs for Veterans multiple times.
For enrollment information, visit Admissions' Frequently Asked Questions page.
MEDIA CONTACT:
Chris Thomes, Chris.Thomes@DaytonaState.edu
Marketing & Communications, Marketing@DaytonaState.edu
A Member of the Florida College System
Daytona State College prohibits discrimination and provides equal opportunity in employment and education services to all individuals without regard to age, ancestry, belief, color, disability, ethnicity, genetic information, gender, marital status, national origin, political affiliation, race, religion, sex, sexual orientation or veteran status. For more details, read our policy at DaytonaState.edu/hr/equalaccess.html or contact Lonnie Thompson, Director of Equity and Inclusion, (386) 506-3000 ext. 3973, or Thompsl@DaytonaState.edu. The Office of Equity and Inclusion is located at 1200 W. International Speedway Blvd., Daytona Beach, FL 32114.