Daytona State's PTK chapter earns recognition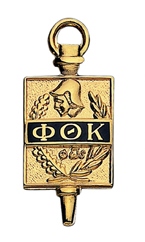 DAYTONA BEACH, Fla. (June 10, 2013) - The Mu Rho Chapter of the Phi Theta Kappa Honor Society at Daytona State College has been designated a "Two-Star Chapter" by the international organization. The recognition was announced at PTK's Florida Regional Convention held this spring in Tampa, Fla.
"We are very proud of the accomplishments of our PTK chapter, particularly the fact that seven of our members this year were named to the Florida All-Academic Team," said Daytona State President Carol W. Eaton. "The fact that our Mu Rho Chapter inducted 110 new members this year, 60 more than the previous year, shows that our students are demonstrating the leadership necessary to grow their organization and make a difference in our community."
The Mu Rho Chapter honor is part of the international organization's Five-Star Chapter Development Plan that serves as a blueprint for building strong PTK chapters. As chapters reach various milestones, they progress through each level of the Five-Star Plan, ultimately reaching the pinnacle Five-Star Level.
"Using the Five-Star Plan as a guide, chapters enhance their strategies to recognize eligible students, provide significant personal and professional development opportunities through Honors in Action, and build a working relationship with the college administration by becoming active on campus and in the community," said PTK Executive Director and CEO Rod A. Risley.
Phi Theta Kappa is the scholastic honor society for students attending two-year colleges. Founded in 1918, it is the only internationally acclaimed honor society serving institutions which offer associate degree programs. The purpose is to recognize and encourage scholarship among associate degree students. To achieve this purpose, Phi Theta Kappa provides opportunity for the development of leadership and service, for an intellectual climate to exchange ideas and ideals, for lively fellowship among scholars, and for stimulation of interest in continuing academic excellence.
###
---