Classroom of the Future blends old-school teaching with high-tech learning
DAYTONA BEACH, Fla. (Sept. 27, 2013) – One of the biggest experiments taking place at Daytona State College is not happening in a science lab. Rather, it's in Davidson Hall, room 216, where students and faculty who enter are stepping into the future, the Classroom of the Future, that is.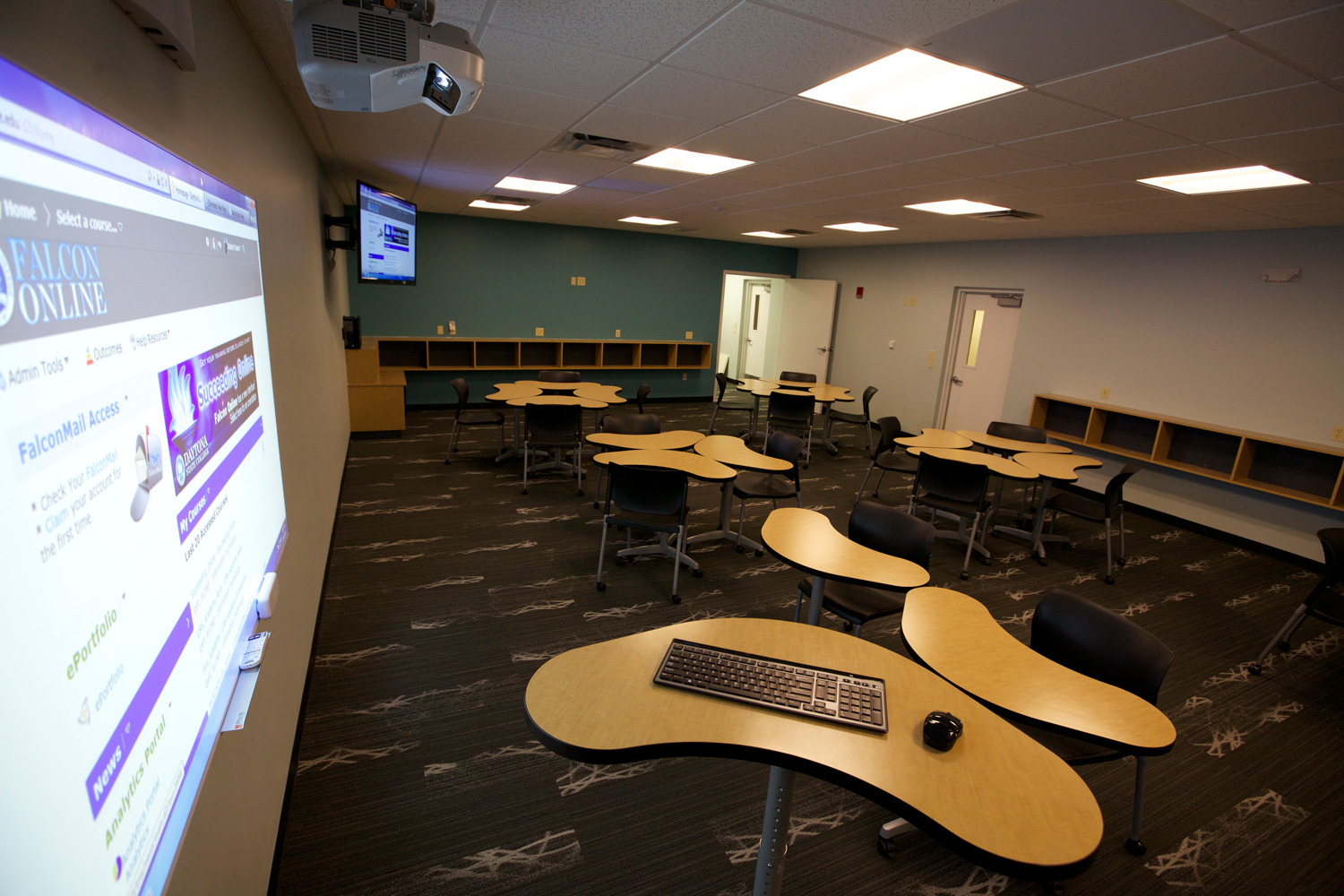 While Davidson Hall was the first building constructed on the Daytona Beach Campus in 1959, make no mistake about it, this is not your grandparent's old classroom. Not your parent's either. It's not even your big sister's, even if she just graduated last year.
The Classroom of the Future leverages best practices in the use of educational technology, according to Robert Saum, executive director of instructional resources. This fall semester, faculty began using the classroom in three-week blocks, after training in the new Mobile Academy, to sample how effective they can be in this high-tech teaching environment. Thirty faculty members have been trained to date, with 50 more upcoming who are e-mentors from across the college and disciplines.
It's a grand experiment that may ultimately become a template for all classrooms at the college; while, with the speed of technology change, that template will likely evolve.
One thing is certain. A committee Saum co-chairs with English Professor Ben Graydon has developed a prototypical teaching environment that leverages the ability of teachers and students to incorporate mobility, collaboration and flexibility into their classroom experience. "The message we got from the faculty in our group, as well as other faculty, was that they wanted a collaborative space where they were untethered and can move about and teach from anywhere in the classroom, rather than at a board or a bunker," he said.
The team of college technology professionals and faculty convened in early 2012 to form Daytona State's EXCITE (Excellence in Curriculum and Instruction through Technology Enhancement) Committee. Their mission: To study, evaluate and recommend new ways to incorporate technology into the academic process that will result in continuous quality enhancement.
Among those initiatives was the Classroom of the Future, which has now gone from concept to reality, and launched through the Faculty Innovation Center.
It features an interactive smart projector flanked by two 55-inch smart TVs on either side with hardware to capture lectures on high-definition digital video that can be repurposed for online classes or to stream to other classrooms. Touch-screen panels have replaced those old-fashioned whiteboards.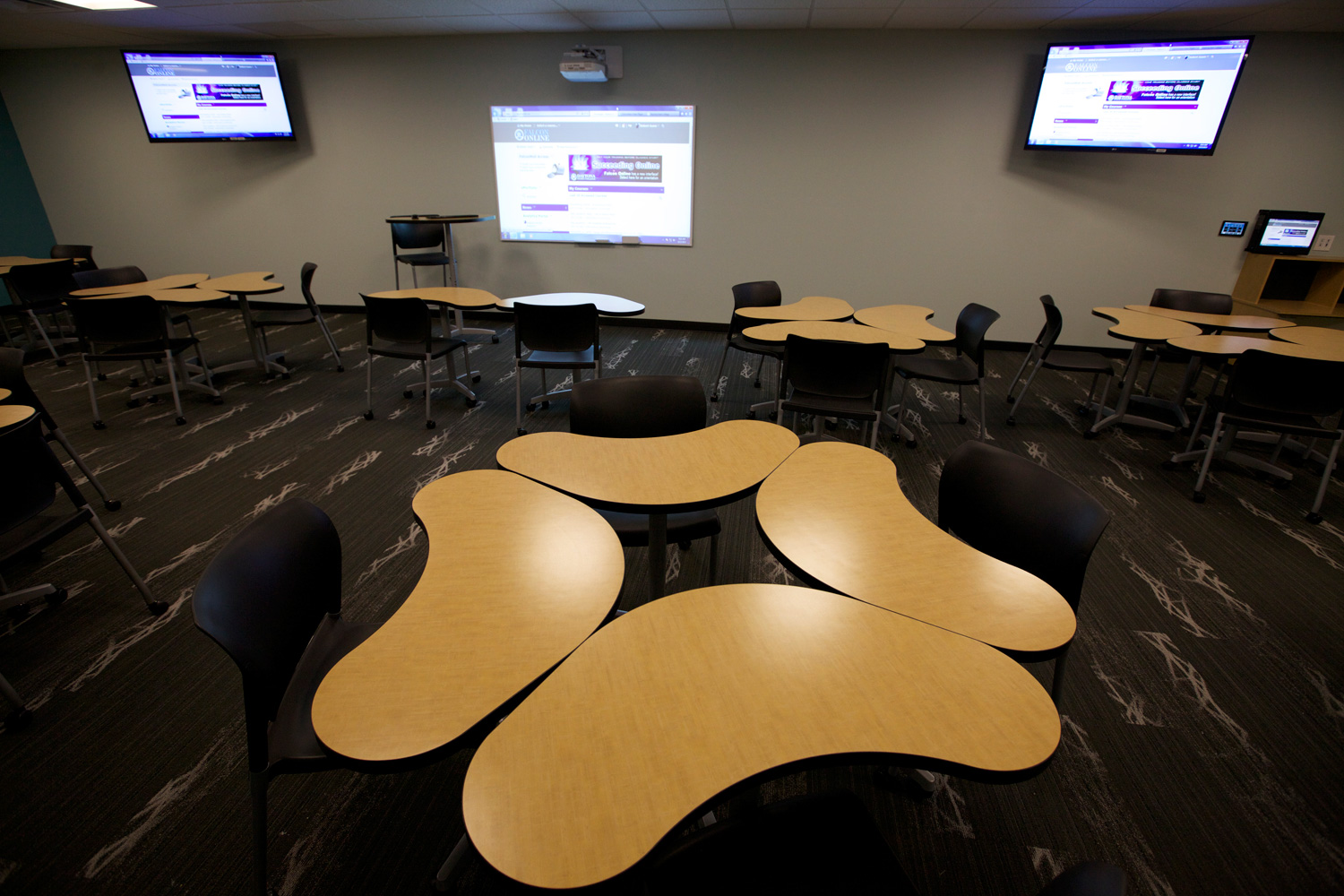 Gone are the traditional-style desks, replaced by configurable work stations that allow students to collaborate in groups. These students come to class with their own mobile devices rather than textbooks and notepaper. They make their presentations by logging in to the Wi-Fi system and streaming their work to one or more of the classroom's digital screens.
Gone, too, is the notion that the instructor must stand at the front of the classroom to present the day's lecture. In the Classroom of Future, the instructor can move about the room with a tablet device and stream a presentation onto the digital screen or directly onto the student's own mobile device. Wall outlets support various electronic equipment, including charging stations for mobile devices.
Pedagogically speaking, the use of technology in the classroom has always had its hawks and doves. On one side are the traditionalists, who question how effective such technology immersion enhances student learning. Others view the trend as mere glitz.
Graydon, who co-chairs the EXCITE Committee, holds the alternative view. "It certainly puts more demands on the instructor than the more traditional classrooms do," he said. "You have more choices to make, but you also have more options on the table at every decision point in terms of daily classroom activities. I believe it lends to more creativity. It places the teacher in the process of continuous reinvention. For some of us, that's motivating."
Committee member and professor Max Nagiel agreed, saying the fundamentals of teaching and learning do not change when one steps into the Classroom of the Future. "Often, people think that technology in the classroom is just a gimmick or that it will replace the teacher," he said. "The fact is, we've seen technology evolve, but how learning has taken place for hundreds of years remains the same. It is the communication between individuals. It happens to be best when it's face-to-face, where there is some bond between the student and the teacher. We know as instructors that if we want our students to do well, they need encouragement. They need to be inspired to go out and learn. The reality is that behind all this technology is still the concept of 'chalk and talk' that will lead to effective teaching and learning."
What has changed are the demands placed on teachers and the expectations of students, he added. "These changes involve issues of time, both for students and instructors. Students want it now, and they want to be entertained in the way they acquire information. That is the new expectation. It's a matter of student engagement."
Since this summer 350 students already have used the Classroom of the Future. And another 165 are using the QUANTA (cross-curricular learning) classroom, which opened this fall.
###
---
MORE: Offering more than 100 certificate, associate and bachelor's degree programs, Daytona State College is the leader in education and workforce training needs of Volusia and Flagler counties and beyond for more than 60 years. The College enrolls nearly 25,000 students a year at its seven instructional sites, with graduates serving in critical fields including healthcare, emergency services/public safety, business, education, hospitality, engineering, technology, digital media, and more.
Daytona State has been recognized as a leader in higher education numerous times, consistently by U.S. News & World Report, which ranks the College among the Top Tier Best Online Bachelor's Programs. The U.S. Department of Education's College Affordability and Transparency Center has ranked DSC among the top 50 most affordable public four-year institutions in the country, with less than half the tuition of the national average. Community College Week, a leading publication in higher education, annually continues to feature the college in its list of Top 100 Associate Degree Producers. And U.S. News & World Report has ranked DSC among its Top Online Bachelor's Programs for Veterans multiple times.
For enrollment information, visit Admissions' Frequently Asked Questions page.
MEDIA CONTACT:
Chris Thomes, Chris.Thomes@DaytonaState.edu
Marketing & Communications, Marketing@DaytonaState.edu
A Member of the Florida College System
Daytona State College prohibits discrimination and provides equal opportunity in employment and education services to all individuals without regard to age, ancestry, belief, color, disability, ethnicity, genetic information, gender, marital status, national origin, political affiliation, race, religion, sex, sexual orientation or veteran status. For more details, read our policy at DaytonaState.edu/hr/equalaccess.html or contact Lonnie Thompson, Director of Equity and Inclusion, (386) 506-3000 ext. 3973, or Thompsl@DaytonaState.edu. The Office of Equity and Inclusion is located at 1200 W. International Speedway Blvd., Daytona Beach, FL 32114.